Intel clarifies HD Playback on GN40
No BluRay for you.
Published Mar 10, 2009 10:25 AM CDT
|
Updated Tue, Nov 3 2020 12:37 PM CST
1 minute & 7 seconds read time
Intel has finally made an official statement about the GN40 chipset and its ability to reproduce HD content.
According to Intel the new GN40 chipset will do 1080p HD resolutions but will not be able to decode BluRay. This means that most of your Internet based HD content will work perfectly on the new GN40 but don't count on hooking up your BluRay player.
Of course I still keep going back to the issue with the size of netbooks.
I have always thought they were meant to get on the Internet, do some office work and be small and portable. If my screen is only 10-12" most of which are only 720p capable (at most) where does 1080p come in and why does anyone really care about it on these low power devices?
Read more
here
.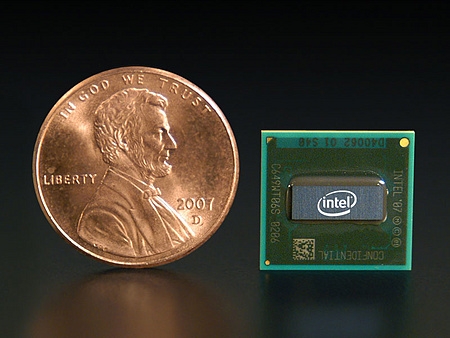 This is what the product managers from intel have to say: "GN40 is designed to do 1080P HD playback for typical broadband internet content; it is not designed to enable full Blu-ray capability where the bitrates and demands of multi-layer content are significantly higher than that of internet HD content."

The way we understand this statement is that some 1080P content from the internet might have a chance, but not as extensive as the one you find on Blu-ray discs. We are quite sure that Microsoft's 1080P WMV file format should work, while 1080P decoding of H.264 and VC1 might not.

Nvidia made us care about 1080P, but when you think about it, there won't be any 10-inch netbooks with a 1080P capable display for a while. However, on the desktop side, Nvidia's Ion might have a good chance to beat Intel's new chipset.
Related Tags