Intel Nehalem Xeon EP Chips Available March 31
Still coming in first quarter.
Published Mar 8, 2009 11:27 PM CDT
|
Updated Tue, Nov 3 2020 12:37 PM CST
0 minutes & 53 seconds read time
The Register
is reporting that Intel will be launching the Nehalem Xeon EP processors on March 31.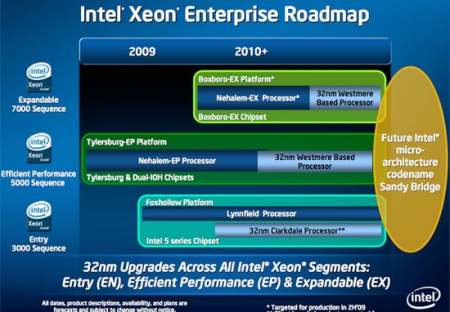 Intel hinted a few weeks ago that the chips were currently in production and that they were expecting a launch this quarter. Sun Microsystems Mill be showing off their new servers are March 30th, so the launch needs to be right in line with that.
The new Xeons will be branded under the Xeon 5500 series and will be paired with the Tylersburg chipset along with DDR3. Early benchmarks have shown nearly an 80% increase in performance.
There will probably be some grumbling about the DDR3 main memory used with the Nehalem EPs being hotter than DDR2 memory, but if the chips are priced correctly and the thermals work out to be about the same at a system level, then some customers will be ready to buy no matter how bad the economy looks. (More than two million servers did ship in the fourth quarter, after all, and that was not a great time to spend cash on anything). Toss in better support for virtualization and expanded main memory to support more virtual machines per physical server, and you might just have enough of a sales pitch as IT managers try to consolidate machines and reduce administration headaches and increase resiliency in their data centers by going virtual.
Related Tags