Internet Explorer 8 Off Switch in Windows 7
IE possibly not as integrated as claimed.
Published Thu, Mar 5 2009 9:23 AM CST
|
Updated Tue, Nov 3 2020 12:37 PM CST
In what I am sure will be a blow to the hounds at the gate (Google FireFox, et.al.) Microsoft looks to be adding in an IE kill switch into its Vista replacement.
According to tester of the latest build (7048) you can actually turn IE8 off through the Windows Features dialog box.
This throws a major wrench into the EU's current witch hunt into MS' inclusion of the browser in its OS.
I wonder what they are thinking right now?
Read more
here
.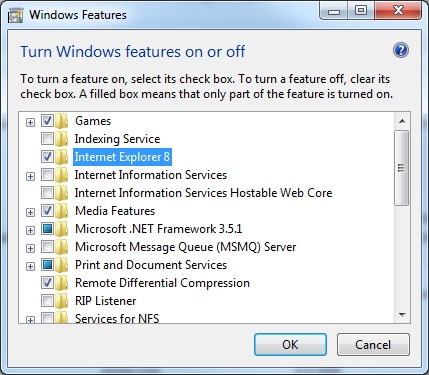 Microsoft has included in recent Windows 7 test versions an option to turn off the Internet Explorer 8 Web browser, according to testers who have used the recent builds.

According to Chris Holmes, build 7048 of Windows 7 includes Internet Explorer as one of many Windows components that can be turned on or off via a "Windows Features" dialog box. The control panel exists in the public beta version of Windows 7, but IE8 is not listed among the features that can be turned on and off.

Microsoft declined to comment on the feature's inclusion as well as the reasons behind the move. Others are speculating it might have something to do with the European Union's objection to the inclusion of a browser within Windows.
Related Tags