Well AMD is shouting about a new performance world record. This time they are showing off a score of
35,698
in 3DMark06.
The CPU in question was the Phenom II X4 940 pushed up to an astonishing 6.1GHz under Liquid Nitrogen (-188.4c). The GPUs used were two ATi 4870X2s with 830MHz core and 950MHz memory speeds. The CPU was the only part cooled by LN, the GPUs ran on the stock coolers.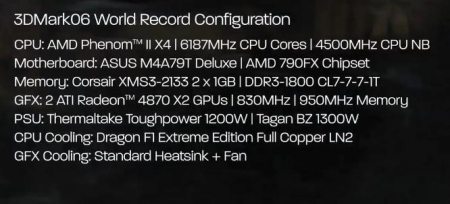 The madmen behind this feat are Macci and Kamu and are part of what they are calling Team Finland.
I guess we need to wait for the Intel crowd to respond, things are looking interesting.