D-Link Launches Xtreme N DIR 685 All-In-One Router
NAS, FTP, Print Server, USB Device Sharing.
Published Wed, Jan 7 2009 9:26 AM CST
|
Updated Tue, Nov 3 2020 12:37 PM CST
I can tell today is going to be a day for some pretty cool technology launches.
One of these comes from D-Link. D-Link has always offered more from their products than the competition, but has also always had a much higher price point.
The product in question today though is the D-Link Xtreme N DIR 685 All-In-One 802.11n router complete with a 3.2" LCD Display. The DIR 685 includes SharePort. SharePort is a compilation of features that includes a print server, NAS (has a built in slot for a 2.5" SATA HDD), and FTP server with remote access through the DIR 685.
Another great feature is the Green Technology that can dynamically adjust power based on cable length and connection.
Read the Press Release
here
.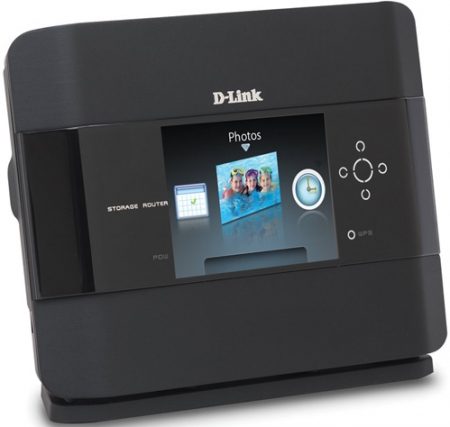 As a router, the DIR-685 features a sleek design made possible, in part, by the router's internal antennas. In addition, the network attached storage (NAS) feature supports both UPnP server functions and BitTorrent downloads. A built-in FTP server allows users to access documents, photos, music and other media locally through the home network or remotely over the Internet.

The DIR-685 employs D-Link Green technology that helps conserve energy in several ways -- by automatically recognizing port activity and cable length and adjusting power usage accordingly, by consolidating all functions to a single device instead of many separate products, and by using the idle mode which automatically turns off power to the LCD screen. A wide local area network (WLAN) scheduler can turn off the router's Wi-Fi module at a preset time, and the power adapter complies with Energy Star specifications for average power savings of up to 30 percent. The same power-saving features located in the gigabit ports are also included in the NAS drive.

Both USB ports located on the back of the DIR-685 utilize the new D-Link SharePort technology, enabling multiple users to seamlessly share USB devices -- including printers, multi-function printers (MFP), and external hard drives -- from any location in the home or office, in a Wi-Fi environment. SharePort turns the local USB ports located on the back of the 802.11n router into a fast and responsive virtual port by utilizing a new technology of USB over TCP/IP.
Related Tags