Core i7 sees new WR at 5510MHz on Rampage II
ASUS Rampage II Extreme doing what it does best.
Published Tue, Dec 2 2008 6:00 PM CST
|
Updated Tue, Nov 3 2020 12:37 PM CST
ASUS' new Rampage II Extreme for Core i7 showed immense promise right from the get go, giving extreme overclockers and enthusiasts a flawless base with a massive array of tweaking abilities to push the platform to its limits.
A Japanese overclocker who calls himself "Duck" seems to have nailed it with his Rampage II Extreme setup, taking a Core i7 CPU to world record speeds of 5510.9MHz. The validated CPU-Z screeny below gives confirmation of his latest feat :-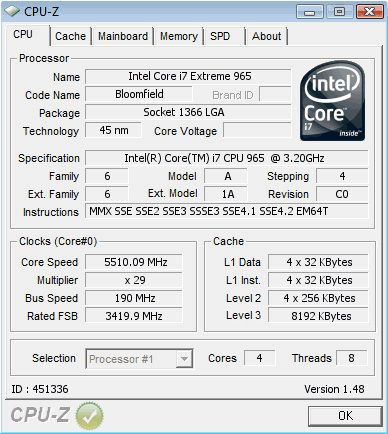 This isn't the first time Duck's been in the limelight, either. Last year he pushed a Pentium IV 631 CPU to an incredible 8180.4MHz, which still remains the highest frequency to this day. I wonder how long it will take for another talented overclocking veteren to step up to the plate and try bettering this result?
You can view Duck's validation page
here
.
Related Tags