A-DATA launches 8 New Tri-Channel DDR3 kits
For a total of 12.
Published Fri, Nov 14 2008 7:19 AM CST
|
Updated Tue, Nov 3 2020 12:37 PM CST
A-DATA is launching a whole range of Triple-Channel DDR3 kits for the i7 today.
The kits will be both 3GB (3x1GB) and 6GB (3x2GB) sizes with speeds ranging from 1333MHz CL9 to 1600MHz+ CL8.
A-DATA XPG X Series DDR3-1600X (1GBx3) Kit CL7-7-7-20 at 1.75V-1.85V
A-DATA XPG X Series DDR3-1600X (2GBx3) Kit CL7-7-7-20 at 1.75V-1.85V
A-DATA XPG + Series DDR3-1600+ (1GBx3) Kit CL8-8-8-24 at 1.65V-1.75V
A-DATA XPG + Series DDR3-1600+ (2GBx3) Kit CL8-8-8-24 at 1.65V-1.75V
A-DATA XPG + Series DDR3-1333+ (1GBx3) Kit CL7-7-7-20 at 1.65V-1.75V
A-DATA XPG + Series DDR3-1333+ (2GBx3) Kit CL7-7-7-20 at 1.65V-1.75V
A-DATA XPG G Series DDR3-1600G (1GBx3) Kit CL9-9-9-24 at 1.65V-1.75V
A-DATA XPG G Series DDR3-1600G (2GBx3) Kit CL9-9-9-24 at 1.65V-1.75V
A-DATA XPG G Series DDR3-1333G (1GBx3) Kit CL8-8-8-24 at 1.65V-1.75V
A-DATA XPG G Series DDR3-1333G (2GBx3) Kit CL8-8-8-24 at 1.65V-1.75V
A-DATA Standard Series DDR3-1333 (1GBx3) Kit CL9-9-9-28 at 1.5V
A-DATA Standard Series DDR3-1333 (2GBx3) Kit CL9-9-9-28 at 1.5V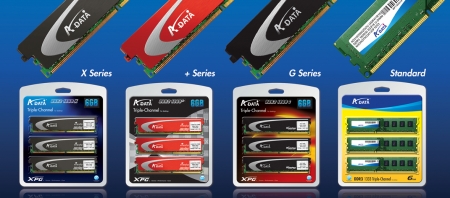 Related Tags