ASUS preps a Xonar for true audiophiles
first ever to achieve 124dB SNR with built-in amp.
Published Wed, Oct 22 2008 12:15 AM CDT
|
Updated Tue, Nov 3 2020 12:38 PM CST
ASUS will soon extend their Xonar family of sound cards with the Xonar Essence STX and Expreview have the
early take
on what this card offers.
Aimed at the real audiophile who wants the most accurate pure output for their music, the card is said to be the worlds first with a Signal to Noise Ratio (SNR) of 124dB with just 0.0003% distortion. Another unique feature of the card is the onboard headphone amplifier which is capable of driving headphones rated for up to 600ohms, with less than 100dB distortion.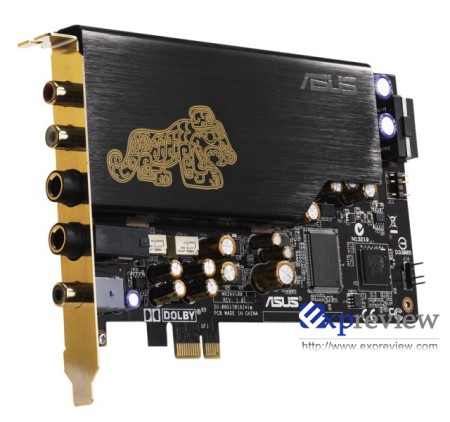 You can see there are independent outputs for both headphones and normal audio in the above shot; the card also boasts high quality Nichicon capacitors and the ability to change the stock op-amp ICs without the need to solder.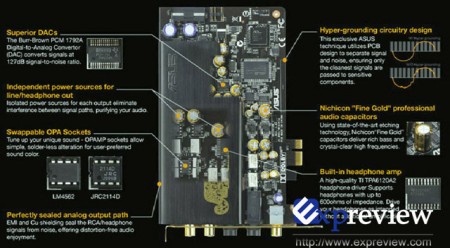 You can find the full report on the Xonar Essence STX
at Expreview
.
Craving for the clearest audio source to support your precious headphone and speakers? Then let Xonar Essence STX amaze you. Being the world's first audio card to achieve 124dB in signal-to-noise ratio, and capable of driving headphone with highest impedance under lowest 100dB distortion, your only concern will be hard to stop the heavenly music playback from Xonar Essence STX.

Designed in Essence
Perfectly sealed by improved EMI shield, Xonar Essence STX's analog output path generates the purest audio ever from a sound card -124dB signal-to-noise ratio and 0.0003% distortion.

Fine-selected Components
With premium-quality digital-to-audio converter and audio-specific capacitors selected, Xonar Essence STX provides <10~90kHZ frequency response and 124dB dynamic range for your unlimited pleasure.

Shines your beloved headphones
Drives up to 600ohms headphones with less than 100dB distortion, the built-in headphone amp supports every available headphone in the market with unbelievable audio quality.
Related Tags