Smoothcreations out with new Netbook: "Wedge"
Wedge into any tight place... or so we were told.
Published Sep 17, 2008 11:05 PM CDT
|
Updated Tue, Nov 3 2020 12:38 PM CST
0 minutes & 54 seconds read time
Our good friend Mario Gastelum sent out a press release today announcing yet another 10-inch netbook from the folks at Smoothcreations.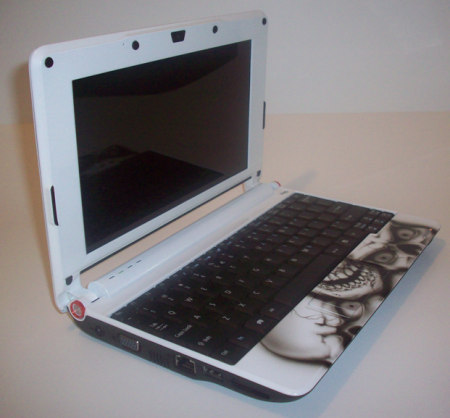 This new baby is called the "Wedge" since it will supposedly, err wedge, into any tight place. It features the usual kick ass Smoothcreations paint job with several scary-looking skulls on the front under the keyboard and a large single skull on the back side of the screen.
The "Wedge" netbook is powered by an Intel Atom CPU at 1.6, with a 120 GB Hard drive, and 1.0 GB of Gskill memory, built in wireless, along with a nice 10 inch display. The CEO of SmoothCreations, Jim Saling, the "Wedge" netbook was designed to be a reliable on-the-go mobile solution for professionals, business people, students and ordinary folks that want a compact yet powerful mobile computer solution. The "Wedge" netbook is reliable, compact and affordable. To the enlightenment of pc users - the "Wedge" netbooks come pre-installed with Windows XP and are also available with Vista.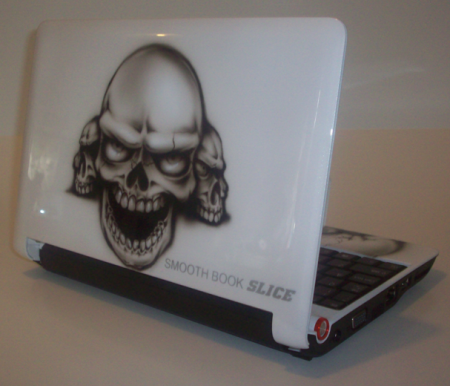 Wedge netbooks are available now for immediate delivery and if you want to go all out, custom artwork designs, configurations, and upgrades are available. Each "Wedge" netbook is custom painted and serialized. You can grab one for around $500 USD, from what we were told.
You can find more details on the Wedge netbook over at the press release which we uploaded,
right here
.
Related Tags