How to Convert DVD with Handbrake or WinX DVD Ripper
Have some old DVDs laying around that you want to make digital for future safe keeping? Read on.
Published
3 minutes & 26 seconds read time
Who is still buying DVDs? Surely collectors are. A hard copy is always tempting for collectors. Also, old-fashioned DVD serves you well when movies are hard to find or even not available online on Netflix. Just remember to do a backup of your new disc once you get it.
Copy the video from DVD and get it to USB or streaming to your servers like Plex, NAS, etc. Then you will be able to play the videos on laptop, Android/iPhone tablet or HDTV without carrying around a DVD player. For those who don't buy DVD any more but still have some old ones, digitizing DVD is also a nice try.
But what file format do most devices accept for best video and audio? As of now, converting DVD to MP4 remains the most preferred option. What software should be used? You have two possible answers, depending on what kind of source DVD you have: HandBrake and WinX DVD Ripper.
Use HandBrake for Homemade DVDs and WinX DVD Ripper for Protected Ones
Both HandBrake and WinX DVD Ripper are good DVD ripping software, constantly updated and hardware accelerated. The difference lies in the input source. HandBrake is an expert mainly for ripping homemade ones and transcoding digital videos for free. But it is a little tricky to deal with commercial DVDs.
WinX DVD Ripper accepts various types of DVDs, be them non-commercial, region-coded, 99-title, etc. The well-rounded features in DVD decrypting, editing and re-encoding are what sets WinX DVD Ripper apart. And it is now a free DVD ripper thanks to the on-going Giveaway. A full-featured WinX DVD Ripper is offered for free with license.
Get a licensed copy of WinX DVD Ripper for free at: https://www.winxdvd.com/event/dvd-ripper.htm
How to Convert a General DVD with HandBrake
Step 1. Download and install HandBrake 1.2.0 from its official website. Windows 7 or later (macOS 10.10 Yosemite and later) is required. FYI, AMD VCE and NVIDIA NVENC GPU accelerated video encoding now is possible with the latest version HandBrake. 1.2.0.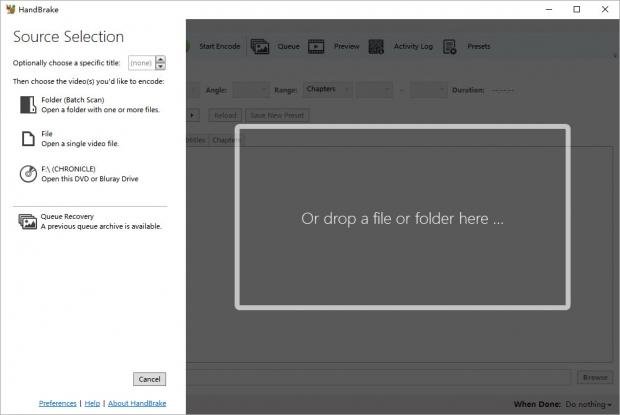 Step 2. Insert your DVD disc into the drive. Open HandBrake, click "Open Source" and then select DVD to load the content.
A general DVD will be read instantly, but an alert box with "HandBrake does not support the removal of copy-protection from DVD discs" will show up if it is a commercial DVD. Installing libdvdcss can solve part of the problems, but you may have to resort to WinX DVD Ripper when dealing with strictly encrypted ones.

Step 3. Set video parameters.
Video codec: H.264 (x264), H.264 (Intel QSV), H.264 (NVIDIA NVEnc), H.265 (Intel QSV), h.265 (NVIDIA NVEnc)
Framerate: Same as source
Quality: CQ is recommended rather than ABR. RF value for ripping a DVD is between 19 and 21. Don't go above an RF of 19. It only leads to huge file size without better quality. For your information, Apple TV 2 presets (RF 20, Encoder Profile High, Encoder Level 3.1, Video Codec H.264) will output video in 925MB per hour.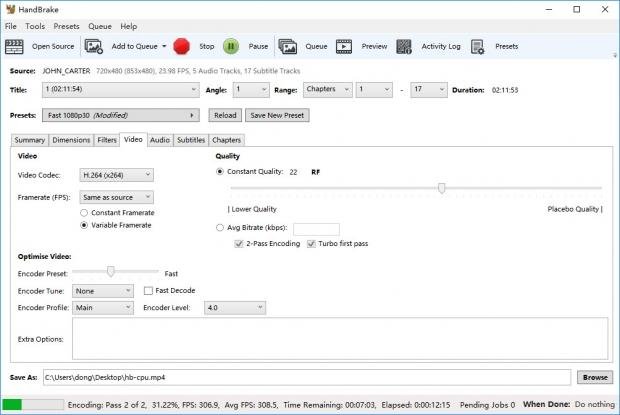 Step 4. Set the output file name and folder, and then click "Start Encode".
HandBrake Test Results on Windows 10
The test is running on a PC with Intel i7-8700K CPU and NVIDIA GeForce GTX 1080 GPU. Source DVD is 2h 12 min and the output preset is MP4 (Fast 1080p). Different presets take different time range to finish the DVD ripping, and file size varies. Normally, GPU acceleration helps rip fast but x264 and x265 output file in better quality and smaller size. Please choose based on your need.
Time to rip DVD to MP4 using x264: 19min 22s
File size: 849 MB
Time to rip DVD to MP4 using H.264 (NVEnc): 17min 54s
File size: 849 MB
How to Rip Homemade or Protected DVD with WinX DVD Ripper
Step 1. Download and install WinX DVD Ripper
- To download a licensed copy of WinX DVD Ripper, go to the Giveaway Page and click "Get Free" button.
- Unzip the file after download and double click the .exe file in the folder to get it installed. - Find the giveaway license in the "read me - license key.txt" file, open the software, click "Register", input your email to activate the license.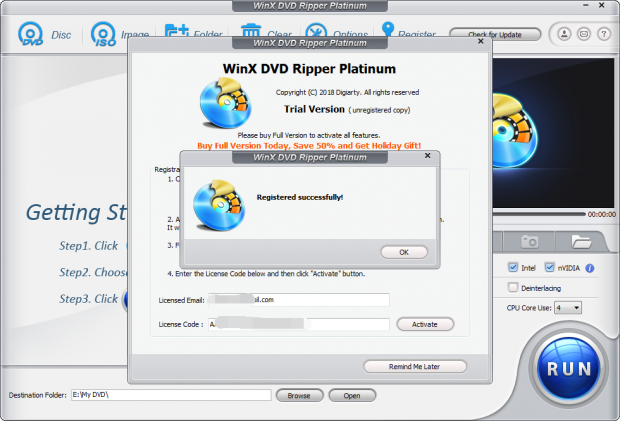 Step 2. Load source DVD
Put your DVD disc into the drive and click "Disc" in WinX DVD Ripper to get it loaded. Before you know it, the whole process of copy protection removal is done, including title scanning, analysis, decrypting and right title selecting.
Step 3. Choose an output profile
There is a long list of output presets. Entry-level users better choose according to the final device you put it on, from general platforms like Apple, Android, Microsoft, Sony, Web to detailed gadgets like iPhone, iPad, iPod, Apple TV, iTunes, iDVD, iMovie, Final Cut Pro, etc. The professionals can set desired video codec, bit rate, frame rate and more.
Step 4. RUN the DVD conversion
Specify the destination folder, check the "Hardware Accelerator" and click button RUN to start the encoding.
WinX DVD Ripper Test Results on Windows 10
Same testing environment as HandBrake
Time to rip DVD to MP4 using QSV: 9min 16s
File size: 1.22 GB
Time to rip DVD to MP4 using NVEnc: 8min 45s
File size: 1.24 GB
Overview: HandBrake vs. WinX DVD Ripper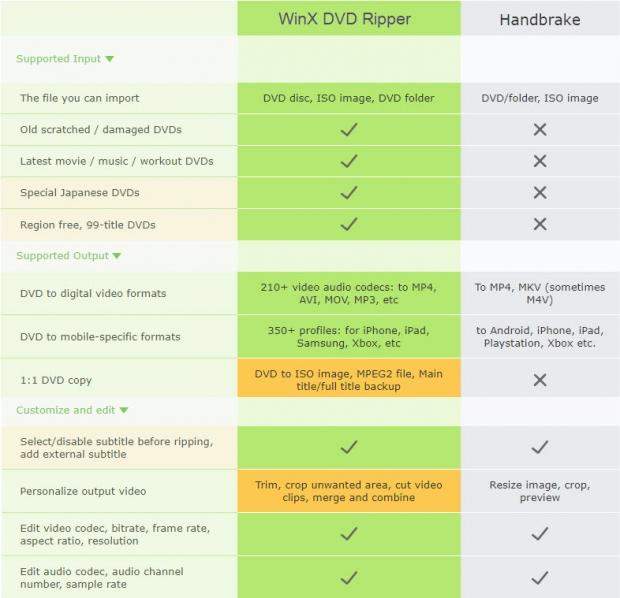 Please Note:
This is sponsored content and its contents may or may not represent the thoughts or opinions of TweakTown or its editors. You can read about TweakTown's
Editorial & Ethics Policy here
.
We openly invite the companies who provide us with review samples / who are mentioned or discussed to express their opinion. If any company representative wishes to respond, we will publish the response here. Please contact us if you wish to respond.