Five Tips On How To Make Your PC Perform At Its Best
Want additional power on your Windows 10 rig? Auslogics BoostSpeed 10 is the trick you need.
Published
5 minute read time
We live in a world where even the slightest lag or under-performing app or software package can bring your PC to a crawl, especially if you don't have a multi-core CPU or faster SSD for your operating system. There are plenty of things you can do to speed your PC up, so we're going to give you a few tips on how to get your PC running optimally with a couple of tweaks to Windows 10, and some software you can install that will do lots of the heavy lifting for you.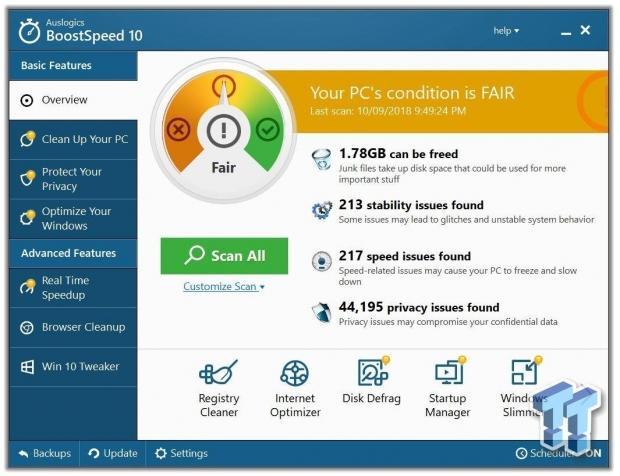 Limit/Disable Software That Starts With Windows
One of our favorite speed up tips for any Windows 10 machine is to limit how many applications start up with Windows, as it can get out of control over the years of using your machine. In order to access this, you'll need to do a few simple steps:
Right click the Taskbar

Click on Task Manager

In the bottom left, click More details

The fourth button is 'Startup', click it

Right click any unwanted software and click 'disable'
Tip: this will only disable the software from starting with Windows, it won't disable the software permanently.
Tip: once you've finished this, reboot your computer.
Make Sure Windows Is Updated
Microsoft updates Windows 10 at a pace unlike any of their previous operating systems, so this is a key thing that any user should be doing. There are larger updates that you should download and install, but there are times when updates aren't totally necessary and can sometimes break your machine. Always back your important data up, or keep it on the cloud - that's what I do.
To update Windows 10, follow these easy steps:
In the Search bar, type 'Settings'

On the left you'll see 'Windows Update', click that

Next you'll see 'Check for updates', click it
Your PC will check for updates, download them, and then install them. You might need to reboot after, and even if your PC doesn't make you reboot, I would do that anyway.
Remove Unwanted/Unneeded Software
After months or years of using a PC it will be filled with software you simply don't need anymore. You'd be surprised how much HDD space this can take up, and how many resources a bunch of unwanted software will use on your PC. This is another easy thing to fix.
In the Windows 10 Search Bar type 'Settings'

Click/open Settings

Click Apps, then Apps & Features

Choose any and all Apps you want to uninstall

Click Uninstall
Tip: You can do this to any software you no longer use.
Tip: Reboot your computer once you're finished.
Upgrade Your RAM
I wouldn't build a PC in 2018 without 16GB of RAM, and while you might not use all of that 16GB of memory your apps, software, games, and web browser sure will. 8GB of RAM would be a bare minimum, with an upgrade path to 16GB but if you're buying a new PC get 16GB on day one.
If you're using an older PC with 4-8GB, check your motherboard manual to see what RAM your system uses (DDR3, DDR4) and then what speed/make the other DIMM of RAM in your system is. If you can't match it, you might want to buy a new kit of RAM (2x8GB for 16GB total) and then sell or giveaway (or use it in another machine if you have multiple computers).
Upgrade To An SSD
Upgrading to an SSD is the best thing you can do to your PC if you haven't already, as using an older mechanical HDD is one of the slowest parts of any PC these days, especially when you're using Windows 10.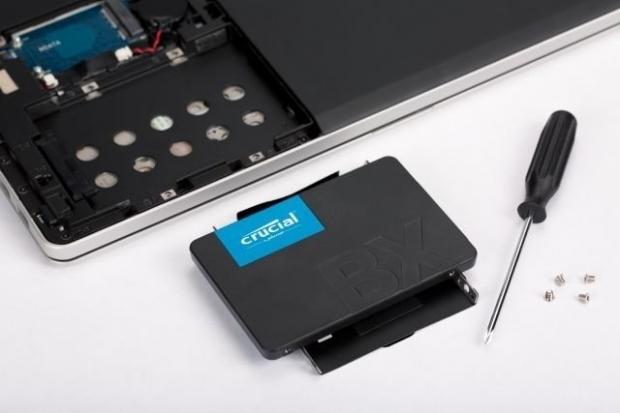 If you're using a modern PC that is within the last 10 years, you'll have no problems buying any 2.5-inch SSD on the market. You won't need to plonk down hundreds of dollars, as you can buy 240/480GB drives on the cheap these days. Hell, you can buy the Crucial MX500 entry-level SATA SSD which comes in at a large 480GB for just $79.99.
I would advise a full fresh install of Windows 10 if you do this, but the results will be night and day if you were using a mechanical HDD. This effect is doubled if you were using a 5400RPM drive, whereas a 7200RPM drive is much faster (than the 5400RPM drive) but doesn't compare to an SSD at all. SSDs blow them out of the water in Windows load times, software and game load times, and everything in between.
Software: Auslogics BoostSpeed 10
There are plenty of things you can do to your PC that will speed them up, with lots of tips above that will help with major things - upgrading/using an SSD, having more RAM, updating Windows, and more. But there are software solutions that will also help, with Auslogics BoostSpeed 10 being one of them.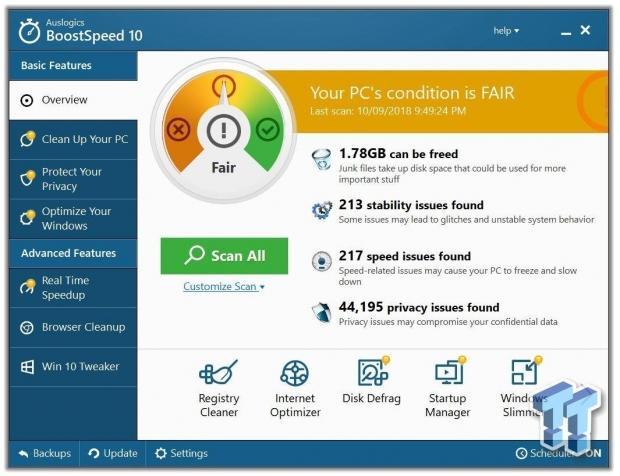 The company reached out to us to see if we would like to check their software out and told us explicitly that we didn't need to brag up their software - so I'm not. This is an article that will help you get your PC running quicker or smoother, with less bloat - especially if you've removed apps starting up with Windows 10. That is annoying, and can slow down boot times by huge chunks.
Auslogics' software is small, robust and powerful - with BoostSpeed 10 having a billion-and-one options to tweak and play with. The best part is that most of it is automatic once you've run the software, it will provide you with paths to take to fix many areas of your PC. BoostSpeed 10 lets you do some of the 'basic features' which will clean your PC up, protect your privacy, and optimize Windows.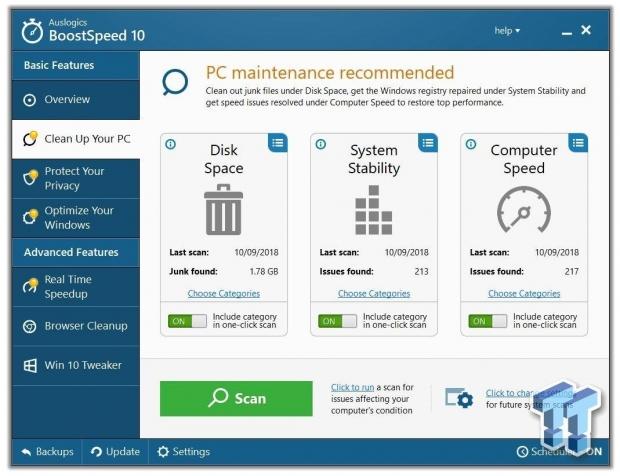 First up we have the 'Clean Up Your PC' option that will remove junk found in your Recycle Bin (as you can see I have 1.78GB that I can free up by doing this). BoostSpeed 10 has a one-click scan function that is incredibly simple to use, as you can select Disk Space, System Stability, and Computer Speed and Auslogics' software will look after the rest for you.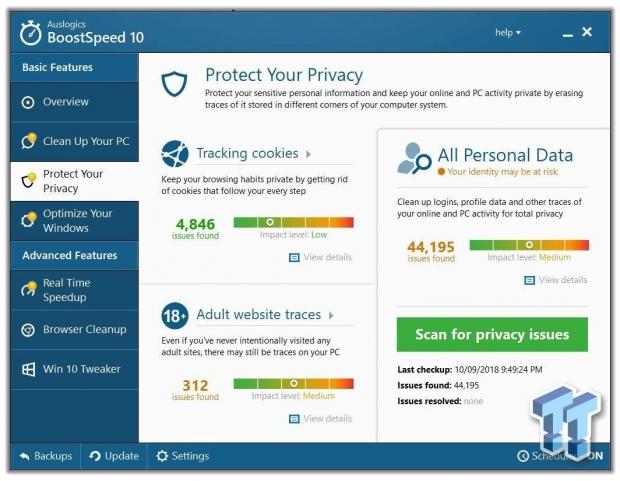 The privacy part of BoostSpeed 10 isn't perfect as it picks up CableMod and Virgin Australia as something worthy of flagging... but for everything else, this is great.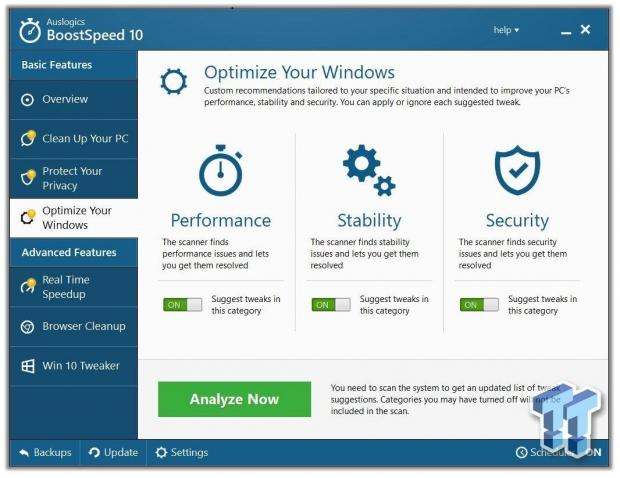 BoostSpeed 10's other feature in the 'basic features' set is the Optimize Your Windows part, which will improve performance, stability, and security. Running the scan takes a few seconds, but it'll provide you with some options to choose from to optimize your PC experience.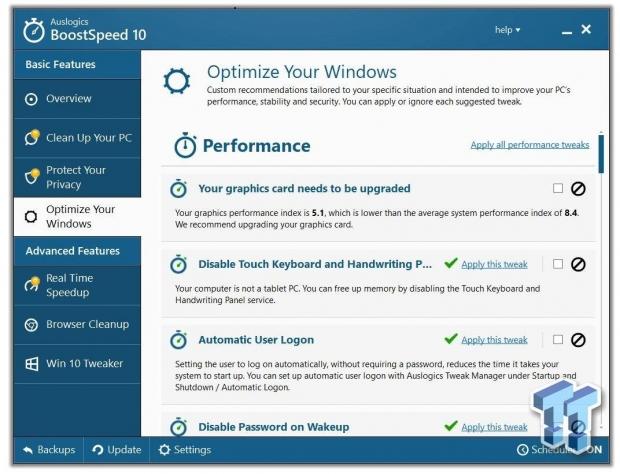 BoostSpeed 10 thinks I need to upgrade my graphics card, which is a TITAN Xp. Sure. Other than that, there are HEAPS of tweaks it will apply that are all going to speed your PC up, or make it more convenient to use.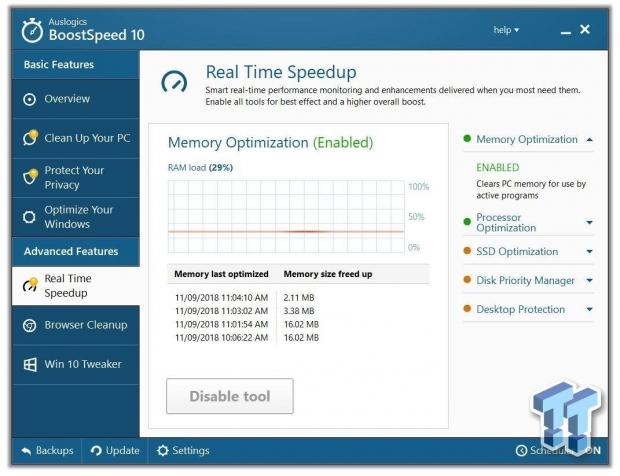 The 'Advanced Features' of BoostSpeed 10 are a little more complicated, but if you deep dive into them you'll find there are some great tweaks that can be applied from them. One of them is Memory Optimization, which will optimize your RAM in real-time from it being sucked away by rogue software like web browsers (at the time of writing, Opera was using 4GB of RAM which is a LOT if you're only using 8GB of system RAM).
There's also processor optimization, SSD optimization, disk priority manager and desktop protection that you can tweak.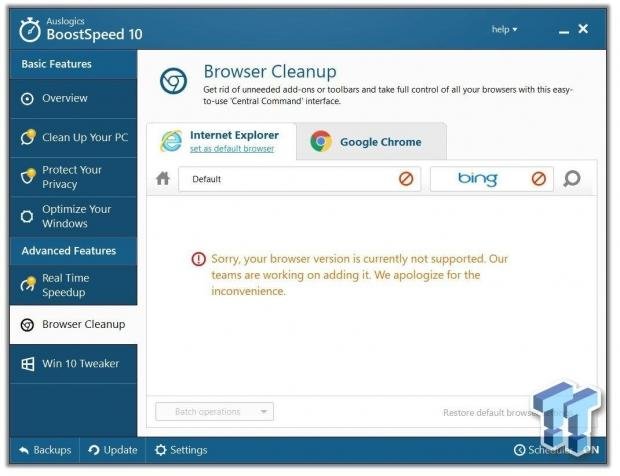 Auslogics includes a Browser Cleanup tool in Advanced Features, but it only works with Internet Explorer and Google Chrome for now. This feature will "get rid of unneeded add-ons or toolbars and take full control of all of your browsers with this easy-to-use 'Central Command' interface. We've all seen those PCs with a billion-and-one toolbars from a malware infestation, well BoostSpeed 10 will take care of that for you - as long as you're using IE or Chrome, that is.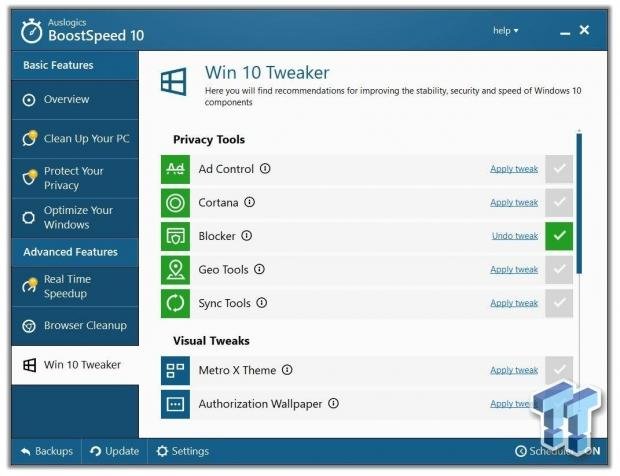 The last option is 'Win 10 Tweaker' that will "find recommendations for improving the stability, security and speed of Windows 10 components". This part has a bunch of different options where you can adjust the Privacy Tools, Visual Tweaks and System Tweaks in Windows 10. Some of these tweaks include Ad Control, Cortana, and Geo Tools while visual tweaks lets you adjust the Metro X Theme, Lock Screen and Aero Peek View.
Auslogics has offered a 30% special discount for TweakTown readers: https://store.auslogics.com/registration/paddle/boost-speed/step1?clear&coupon=SRC30IY3OOPHO
Please Note:
This is sponsored content and its contents may or may not represent the thoughts or opinions of TweakTown or its editors. You can read about TweakTown's
Editorial & Ethics Policy here
.
We openly invite the companies who provide us with review samples / who are mentioned or discussed to express their opinion. If any company representative wishes to respond, we will publish the response here. Please contact us if you wish to respond.