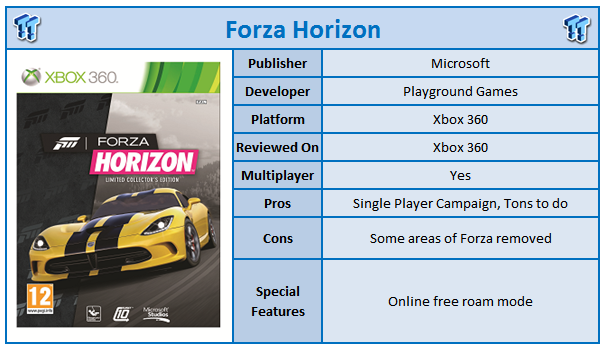 How did it come to this? How did in one single generation Sony let Microsoft and its Forza series not only catch up to Gran Turismo, but in many ways overtake it? During a time when Polyphony Digital commented car manufacturers wouldn't allow damage in Gran Turismo, Forza had damaged cars. Just one example of where Turn 10 has completely upset the apple cart of racing games. Forza Horizon however is a slight departure from the usual game. Gone is the hard-core focus on tweaking cars to the nth degree and instead an arcade style racer is in its place. However to call Forza Horizon an arcade racer is to completely undermine its quality, especially when compared to its big brother, Forza Motorsport.
The first major difference becomes apparent when you realize the game has a story and premise aside from getting lots of money and gaining cars. Of course that forms a key part of Forza Horizon, however there is a side story where you have to become the champion of the Forza Horizon event. The game is set in one huge car and music festival placed in Colorado. For a few days each year the story goes that the organizers of the Horizon event take of a patch of Colorado land and open it up for free racing and events. The fusion of music festival and car festival fits perfectly and the game feels like one big party. The series level and feel of Forza is thrown out the door with the focus definitely being on having fun.
This is reinforced by the number of different events on offer. Whilst there is circuit racing, you will also find point to point races, street races for money and showpiece events. Showpiece events are one of the more enjoyable aspects of this game and quite a novelty. Instead of just racing cars, these events are inspired by crazy events you may see on the Top Gear show. For example in one event you will be racing against a Mustang Fighter in a Mustang car. These events are slowly unlocked as you progress in the career mode and are the cream of the crop.
Aside from the actual races that are on offer, there is a ton of other things to do in the world as well. Being an open world racing game you can drive around anywhere you want at any time right from the start. The developers have not locked off any of the areas at the outset. As you cruise around the world you will find challenges such as speed cameras, point to point speed cameras and with certain cars in the world you can challenge them to a race as you cruise by. This keeps Forza Horizon from being to formulaic and becoming boring quickly. If you are a bit bored of circuit racing, you can go for a spin and try and find some of the games hidden secrets. Or try and find some discount boards for the equipment or hidden cars in barns.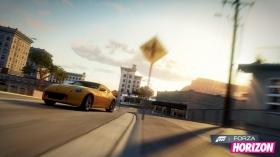 The presentation of the game is impressive as well. As you cruise the world it's very easy to determine where to go next and where a secret goal is near. As you progress in the career mode, updates are carried via the radio stations in the game. For example, as you take out one of the main contenders, there will be a news story on the radio about the hot new rookie. There are other elements as well that remind us of games such as Project Gotham Racing and Burnout (not surprising considering some of this team is from Bizarre Creations).
For example, as you drift and pass cars you gain points which is used to increase a popularity with fans rating (sounds like Kudos doesn't it?). As you gain more popularity, more showcase events are unlocked for you to participate in and so it becomes an important element in the game. There are also some elements of Burnout where you gain points for near misses and good passing, etc.
Those who are not that into cars will still find a lot to love with Forza Horizon and the game is very suitable for the casual gamer. Instead of asking you to select upgrades for cars, if the game feels your car is going to struggle in the upcoming race, it will let you know and also can recommend upgrades for you.
This makes it very easy to progress in the game and you are generally always only a few button presses from the next race. There is a lot to do in this world. Even if you mainline the story it will take you around eight hours to complete and that is almost impossible to do anyway. At some point you will not have enough money to buy a required car.
When it comes to where it matters, the game engine, it is as impressive as ever. Whilst the game has toned down the ultra-physics engine of the big brother game, it still can be a challenging simulation for those who turn off all the assists. The car physics feel fine when driving around and each individual car has its quirks. The models of the cars are second to none and in photo mode the game looks absolutely unbelievable. One area which is very impressive is that all the cars have their own individual dashboards modelled for in car view, right down to the exact place each knob is on the dashboard.
As well as the cars, the world the game is set in is also impressive. It contains both city and country areas and morphs between the two perfectly. Each track on offer has a challenge, but is also generally enjoyable to try. There were only a few times in the game where we felt a track was boring and unchallenging and surprisingly that was more towards the end of the game. The day/night cycle present adds challenge to the game as well with it being harder to see at night and that adds a completely separate challenge because of this. As you move around the world you unlock the ability to fast travel between locations for a cost.
[img]2[/img]
The developers have put a huge effort into multiplayer as well. Aside from the regular races you would expect there is also the ability to cruise around in a free roam mode with up to seven other players and some unique gameplay modes such as infected. In infected one car starts as the infected car and has to crash into the others to infect them. The last player surviving wins.
It goes without saying with impressive cars and impressive environments that the visuals of the game are often stunning. The draw distance is nothing short of mind boggling for such a large area and there is no pop in to the view at all. Everything in the world just cohesively works to build an incredible ecosystem for the game. On the sound side of things Forza Horizon delivers as well. The soundtrack fits the game well with the only disappointment being that you cannot use custom soundtracks with the game. As expected the engine and car sounds are incredibly authentic and each individual car has its own sound tone.
Forza Horizon began as an offshoot to a formidable series. However, in many ways, the apprentice has become the master. There is a lot to love about this game that would be disappointing to not see it carry over to the main line of the franchise in the next generation. It's a complete package with good multiplayer, excellent and lengthy single player campaign, and a whole lot to do once you've finished the main story. Forza Horizon is one of the surprises of 2012 and should be played by every racing fan without a doubt.