NFL Blitz 2012 Edition PlayStation 3 Review
With an official NFL license in hand, how does EA go with the 2012 Edition of NFL Blitz on PSN? Read on!
Published Feb 6, 2012 8:46 PM CST
|
Updated Tue, Nov 3 2020 7:01 PM CST
Developer / Publisher: EA
3 minutes & 38 seconds read time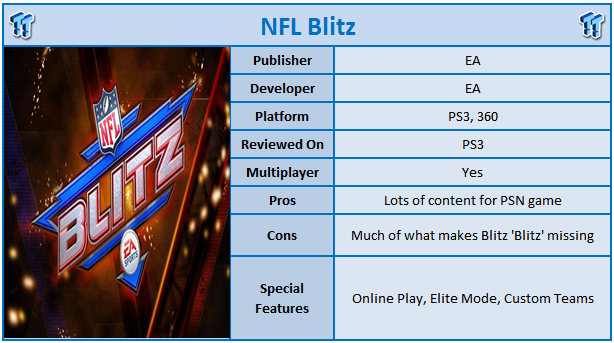 One thing that arcade sports do is get people who usually aren't into sports games, get into sports games. The most famous of which is NBA Jam, an over the top arcade basketball sim that was recently released. In the same vein, NFL Blitz got many people outside America into the sport of Gridiron. Huge hits, over the top plays and fast gameplay led to one of the best arcade games ever made and over the years there have been many iterations.
EA is the latest to take on the mantle of NFL Blitz and the results are mixed. Some of the bad decisions can be attributed to the 'No Fun League' (NFL) whilst some just seem like a gameplay issue, but overall this year's Blitz is flawed.
The first key point is that unfortunately the game suffers from its NFL licence. That may sound stupid, how an official licence can make a game worse, but in NFL Blitz case its clear from the first play that this is the case. This is especially true for those who remember the classic arcade games of the 1990s.
The main reason for this is the No Fun League has had its say. One of the key aspects of NFL Blitz was hard hitting action, over the top hits where players landed on their head, cringed in pain and in the most recent iterations of the game, visceral, graphical injuries are present. It is understandable why the NFL does not want its game portrayed in that way, but NFL Blitz 2012 Edition removes much of what makes the game fun. With no late hits, the game doesn't seem that over the top and in general it really feels boring to play.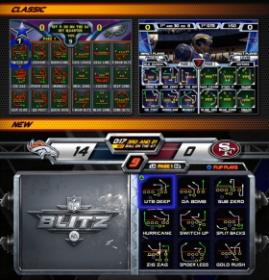 And it's a shame because as a package NFL Blitz offers quite a bit for the gridiron fan. There are the regular exhibition modes where you can take any of the official NFL franchises for a spin or play with a mate locally. The meat and potatoes of the game come from the Gauntlet mode which amounts to the single player campaign. We have to say for a $15 PSN game there is a lot of value in Blitz in terms of quantity, but the quality is not where we would like it to be for such a revered franchised.
Gauntlet mode is very much like a single player campaign of a fighting game - taking on a new club on a ladder, every so often facing boss characters and ultimately becoming the champion. It is this mode where a lot of the crazier characters can be unlocked. As you progress, boss teams will challenge you. If you beat them, they become unlocked and this is one area at least where the crazy side of NFL Blitz comes out to play. You will see teams made of horses, monkeys, cheese heads and lions just to name a few. You can also build your Gauntlet team from the NFL players in the game which gives it another layer of depth.
The other modes are very much online focused. There is the elite league which is somewhat like FIFA Ultimate Team aside from the fact you do not use real-world cash to buy packs of players, and you actually play the game against other players. So, you buy a pack of players, see how you go and hopefully can improve your team. You buy packs with Blitz Bucks that are earned by beating players online. It's a nice incentive to keep playing, but progression is slow.
[img]2[/img]
Once you start a game it's where the main issues come to the head. The first thing is the game does have the Blitz feel (jumping quarterbacks, multiple passes), but the over the top hits and players cringing for some reason are heavily missed. In many ways it reminds us of the Madden Wii game. Cartoon style graphics and over the top gameplay, but nothing so crazy that aside from the 30 yard instead of 10 yard first down rule, and a few big hits you would never pick it to be a Blitz game.
[img]3[/img]
Once you get past the changes EA has had to make to get the NFL happy, the game does play very solidly. Tight control systems are complimented by the option to have icon passing or not (where each receiver has a button icon above them) or use a more fluid system where the selected receiver is highlighted. It does take a little while to get accustomed to NFL Blitz gameplay again, but once you are there, it's easy to throw double passes, jump around and smash the AI players on the lower levels.
NFL Blitz is not a bad game per se, but given that its part of a franchise with history, in terms of the Blitz franchises, it is. We have to wonder if it may have been better for EA to release a Blitz game with false teams and an editor like the more recent games and it comes down to what's more important; an official licence or the gameplay everyone loves. For us it's the gameplay, but for some it will be the licence. EA is caught between a rock and a hard place and the result is NFL Blitz. Not the worst game in the franchise, but definitely not the best.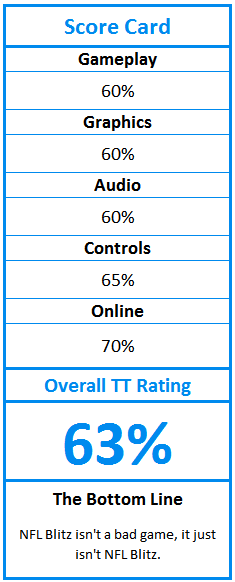 PRICING: You can find products similar to this one for sale below.

United States: Find other tech and computer products like this over at Amazon.com

United Kingdom: Find other tech and computer products like this over at Amazon.co.uk

Australia: Find other tech and computer products like this over at Amazon.com.au

Canada: Find other tech and computer products like this over at Amazon.ca

Deutschland: Finde andere Technik- und Computerprodukte wie dieses auf Amazon.de