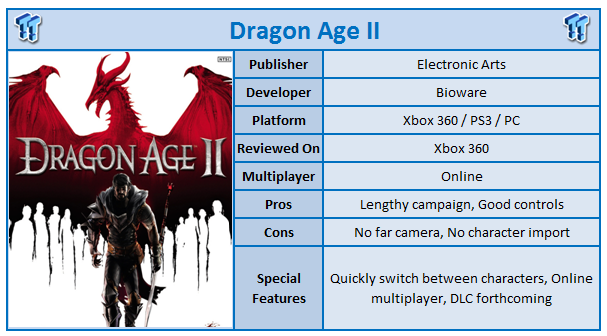 To say that Dragon Age II has had an interesting development cycle would be the same as saying the sky is blue. Ever since the original game, it seemed like BioWare wanted to try something new with Dragon Age to reach a wider audience with it, and as such they have made major changes to what you saw in the original game. However, in many ways these changes make the game better. Dragon Age II feels a lot more structured and streamlined for the console and on this review platform (the Xbox 360) that is a welcome thing, but PC fans do have some reason to be angry as well.
Dragon Age II takes place as expected after the Dragon Age Origins Expansion pack. You once again you play as the hero who removed the dark spawn, but instead of being able to customise your characters name, you are appointed Champion Hawke in either a female or male format depending on your preference. What this has allowed BioWare to do is have a more streamlined story, but in many ways they have not taken advantage of the changes as well as they could have.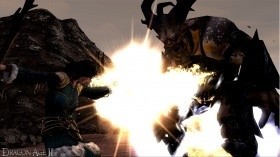 First of all, the introduction and first few hours of Dragon Age II does not really grab you at all. You arrive at the township of Kirkwall, refugees from the fight with the Dark Spawn and are once again a nobody. You come across a dwarf who wants to travel to a far away land filled with riches, but does not know a good way to get there and is unable to finance it. So for the first few hours you are tasked with gathering gold (and this takes a long time) and finding these maps. Not the high adventure we were expecting, that is for sure. Those who stick with it, though, beyond Act 1 will find the time well spent.
BioWare obviously know they are onto a good thing with Mass Effect and have shoehorned in the same sort of chatting style. That is, there are moral choices and these choices have an affect on the game and your character. This in our opinion is an improvement to the game. THere is no doubt Mass Effect has one of the best dialogue systems around and to expand this into Dragon Age seemed like a no brainer.
[img]2[/img]
The other change as mentioned is the camera. Instead of being able to zoom out and take in the whole battlefield, it is shown from a third person view which is more suitable for console than PC. However, what BioWare has not changed is where the first problems creep in with this decision. Like in the original game, you can pause and give commands to your party. In Dragon Age this was incredibly intuitive as you were able to zoom out and see all the characters. Instead, now you really can only see your character on screen. You can still switch between controlling characters (this is done with the shoulder buttons), but again you can really only see the currently controlled character.
One thing which works well in the game is the quest system and more specifically knowing where to go for a quest. Many of the locations in the world have both day and night missions and rather than rely on a day/night cycle like many games, BioWare has allowed you to enter an area in the game in either the day or the night.
As well as this, above each area in the world map you can see what quests can currently be progressed in that area, which means in general (there is a few exceptions to this) it's almost impossible to get stuck.
Another problem we noticed is that the game does tend to spike in difficulty at one point. Those who pick up and play the game and choose easy would expect to be able to complete the game without too much fuss, however this is not the case.
You can change the difficulty at any time, but even on the lowest difficulty level there are some big challenges, and having the right characters in the right place is a large part of success in Dragon Age II which is one way the game significantly differs to Mass Effect 2.
[img]3[/img]
Although the game doesn't have much of a main quest (it is significantly long, but it's not a huge epic story), it does a good job of keeping you on the right path if side quests mean nothing to you as a gamer. The interface displays which quests are optional and which are mandatory, but even the side quests have significant dialogue and cut scenes which means they do not feel like throwaway quests in ways many other RPG game side quests do.
One thing which has carried over from Dragon Age and will either make you happy or have you cringing again is the blood splatter. After each fight characters talk to each other absolutely smothered in enemies blood and whilst it has become a trait of Dragon Age, it doesn't make it any less ridiculous.
Aside from this, the graphics are impressive, although another ridiculous trait appears to be the size of the ladies breasts. Again, fast becoming a Dragon Age trait. Voice acting is done well, but the dialogue at times comes across as cheesy and trite, but overall does carry the story to the player well.
Dragon Age II is a good game, but does not feel like a direct sequel to Dragon Age for a number of reasons including the fact you cannot import previous characters, plus the storyline is really encapsulated within this game. There are slight references to the past games, but not as much as you would expect.
However, if you can look past this fact and see Dragon Age II for what it is, it is easy to see that it is a solid RPG game that fans of the series and one that any self respecting RPG gamer should at least look at.