I need some help choosing a 32GB kit of DDR3 RAM
I'm after a 32GB kit of RAM, which brand should I choose?
Question by
Jeremy from United States
| Answered by
Anthony Garreffa
in
RAM
on May 5, 2013 10:45 PM CDT
I am in the middle of a new PC build and have almost all of my components except memory and a few other misc items. My motherboard is the ASUS Rampage Extreme IV and I am wanting to go with a 32GB kit.

I have been searching forums and trying to get a clear answer on what is the best but no luck so far. In the past I have had Corsair but recently been looking at Geil, G.Skill, and a few other brands. My PC will be a gaming machine and want something that will perform extremely well as well as overclocking too. Any help and feedback would be much appreciated.

Thank you.
Hi Jeremy,
When looking at any high-end kit of memory, they're each going to be great. Choosing Corsair, G.SKILL, Geil or any other brand will give you some kick-ass memory that you won't regret purchasing.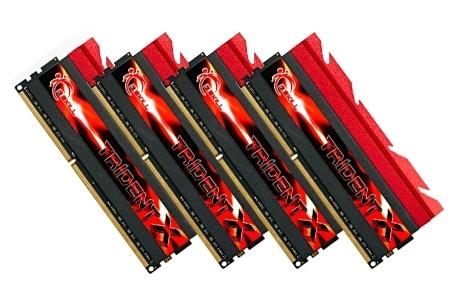 I think it'll come down to two kits, G.SKILL's TridentX memory, or Corsair's Dominator kit. You can get the G.SKILL TridentX 32GB kit at 2400MHz, which I think is the best option, especially if you want it to have some overclocking headroom.
Alternatively, you can look at something like Corsair's Dominator kit, which comes in 1600MHz.
G.SKILL's TridentX memory is probably the way to go, and you can score this from Newegg's website for $309.99.
Last updated: Nov 3, 2020 at 07:10 pm CST
Related Tags