Introduction, Specifications, and Pricing
Ample low-cost flash that outpaces demand brings more than just cheap SSDs. Companies have used these periods to explore other avenues to sell flash and one of the most popular has been portable SSDs.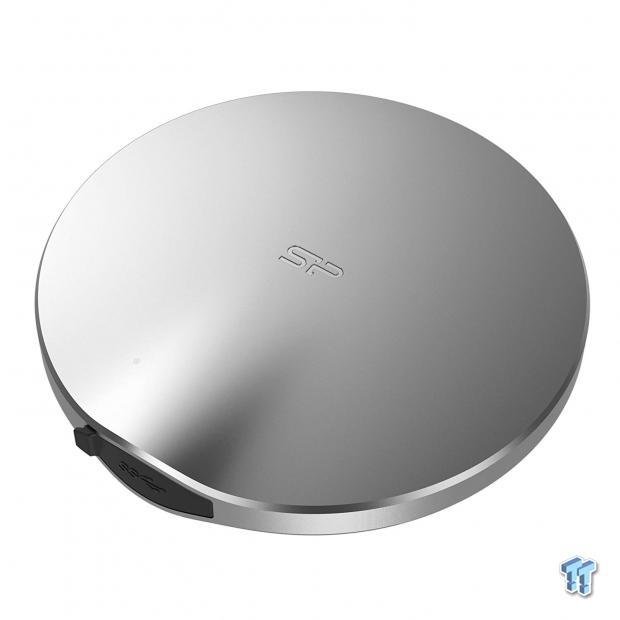 With so much flash available for new device categories, we get companies building different designs for specialized purposes. Some portable drives meet demands for ruggedness while others look pretty or take the shape of other objects that are not even PC related.
The Silicon Power Bolt B80 we have under the spotlight today takes the shape of a UFO while combining high style with rugged features. The B80 looks nice enough to set on your desk fulltime, is small enough to fit in your pocket, and strong enough to take on location or the road while you travel. It's also water and dusk proof with a proven IP68 rating (dust and waterproof beyond splash).
Specifications

Silicon Power released the Bolt B80 in three capacities, 120GB, 240GB, and 480GB. The series features a USB 3.1 Gen 2 interface even though the maximum performance only reaches the upper limits of USB 3.1 Gen 1. The company claims the same level of performance for all three sizes, 500 MB/s sequential read and 450 MB/s sequential write speeds.
As we mentioned, the drive looks a bit like a silver UFO. It's made of aluminum and measures 75mm, or just under three inches. The edges are sloped, so don't use it as a coaster.
Features
Unique shape and sophisticated design

Robust aluminum casing for high durability

Extremely compact and lightweight for easy transport and storage

Indicator LED

Uses the new USB Type-C connector

USB 3.1 Gen 2 interface for ultra-fast data transfer with up to 500 MB/s read and 450 MB/s write

IP68 dust-and waterproof

Smoothly textured Type-A to Type-C premium nylon braided cable with SR(Strain Relief)-enforced connections

Free download of SP Widget software for data backup & restore, AES 256-bit encryption, and cloud storage
If the rubber door is in the closed position, the B80 is IP68 rated for water submersion. This is the strongest rating IP rating code for these products. We often see portable SSDs rated for IP65. The first number is for particle resistance and the six means Dust Light, or resistant to fine particles. The second number relates to water. IP65 products are splash resistant, but you can't drop them in water for a split second or even spray them. The 5 in the second number means light splashes, more like something that may fall out of your mouth when brushing your teeth. There really isn't a specific instance in the ratings, so I'm just making up my own here.
That changes when you move to the IP68. With this rating, it is clear - you can soak the sucker! The exact terminology is "Protected Against Continuous Immersion In Water."
Pricing, Warranty, And Endurance
Pricing the Silicon Power Bolt B80 portable SSD has been difficult. The 240GB model was on Amazon in the US and selling for $104.99. The 120BG and 480GB were never on Amazon or Newegg even though we suspect both would be competitive in the market.
Silicon Power covers this series with a three-year warranty and doesn't seem to limit it through a specific endurance rating.
A Closer Look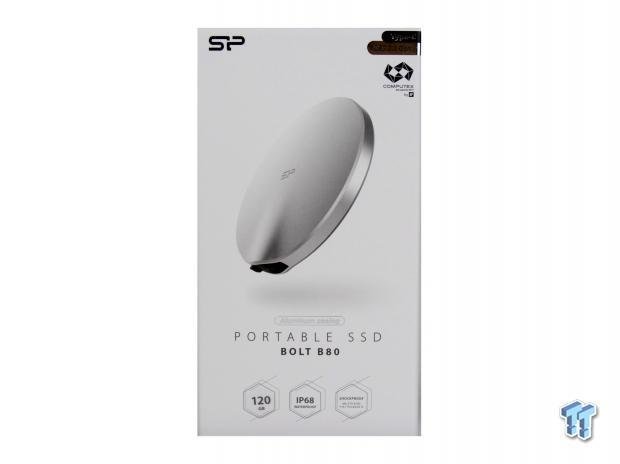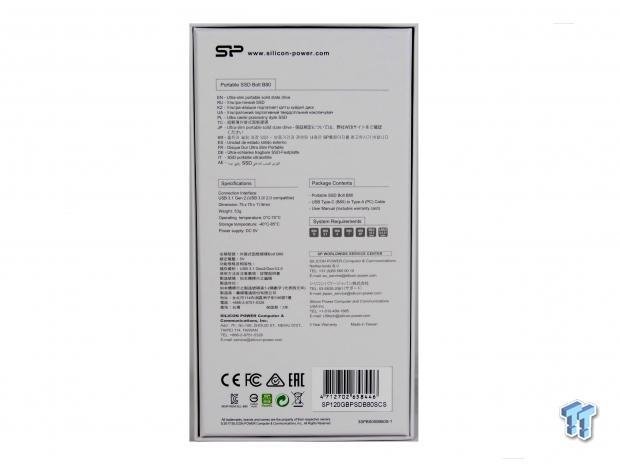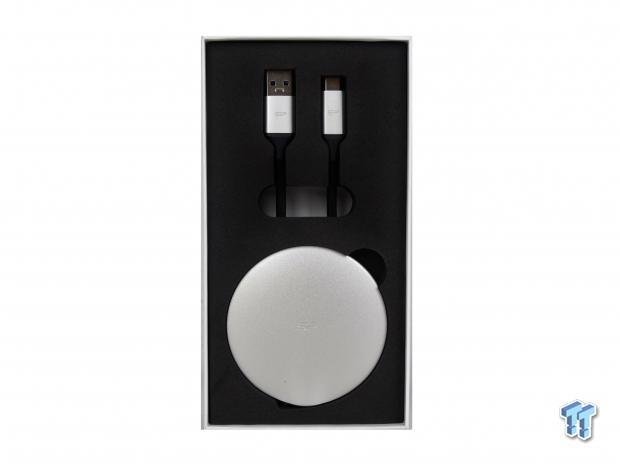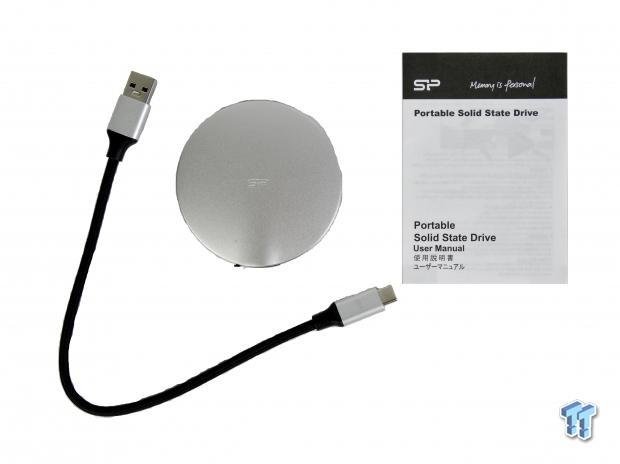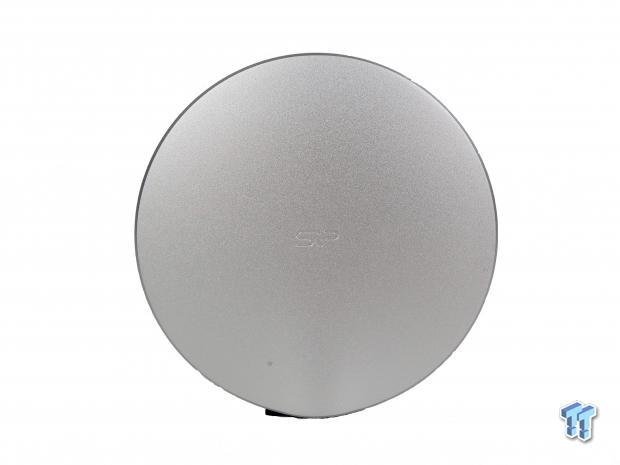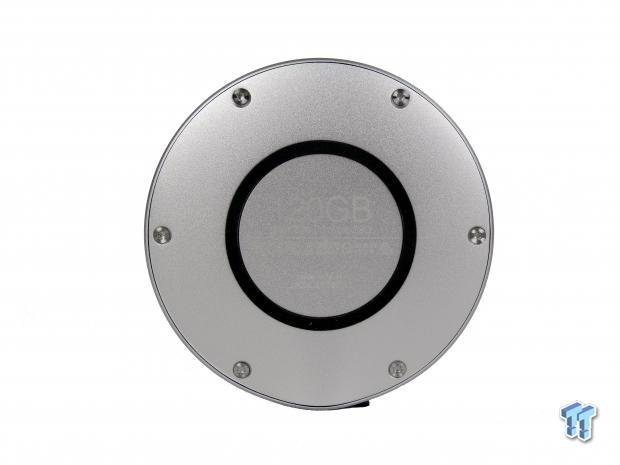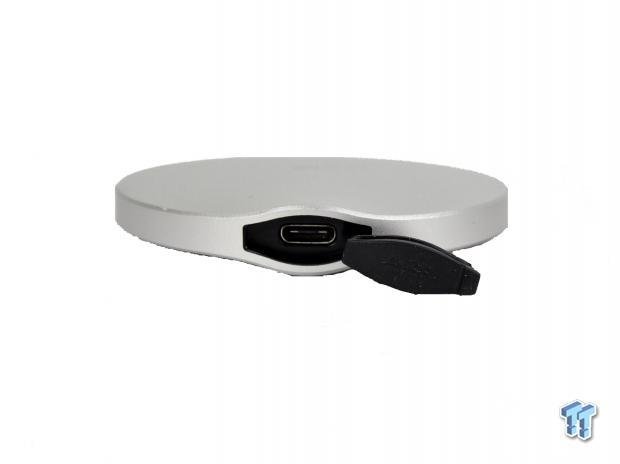 The Bolt B80 takes the award for the most difficult portable SSD to take pictures of against a white background.
The drive itself uses a USB Type-C connector, but the only cable supplied forces a USB Type-A to your host device. We often see companies ship drives with two cables or an adapter for Type-C to Type-A on the host side.
The drive is right around 11mm thick in the middle and 75mm around. It's small enough to fit in your pocket or purse without taking up a lot of room. A rubber ring on the bottom keeps the drive from slipping on your desk or airline tray, a nice touch for travelers.
With the rubber door closed, the drive is virtually impervious to liquids, and that includes submersion. You can drop it in, but I wouldn't make it a habit. It's a nice feature that you never want to use.
Performance Testing
Product Comparison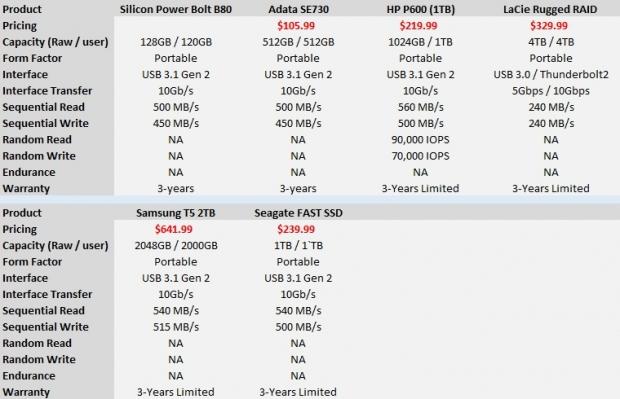 Silicon Power sent us the 120GB model. We rarely test this capacity for portable and even desktop SSDs. Usually, the economics of scale don't work in favor of 128GB class devices as the 256GB class devices sells just only a few dollars more.
We don't have any 128GB portable SSDs to compare to the Bolt B80 other than the very first generation portable SSDs like the long discontinued OCZ Enyo and Kingston HyperX Portable SSD.
We were never able to find a Bolt B80 120GB listed for sale in North America so we don't have pricing details for this model. The 240GB drive sells for a little over $100 or about the same price as the Adata SE730 480GB with twice the capacity and an IP65 rating for dust and water resistance.
Block Testing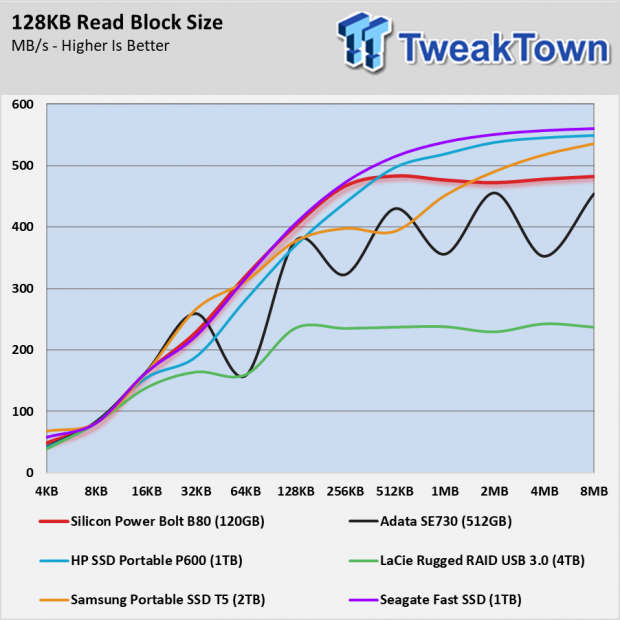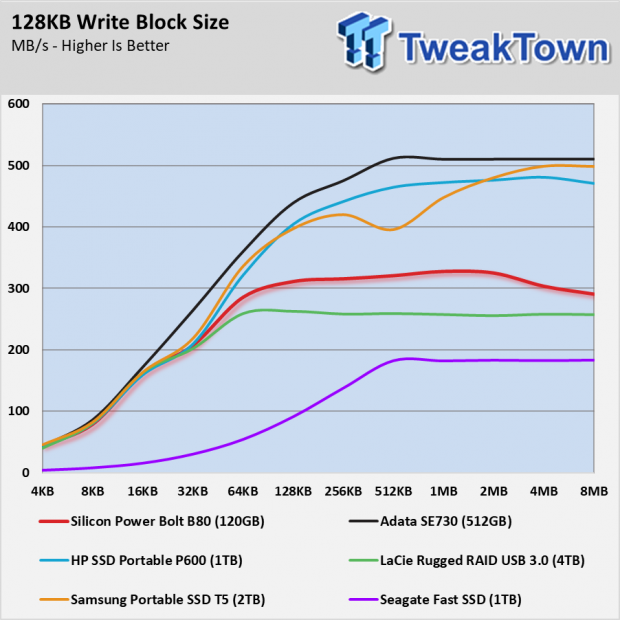 The smallest B80 in the series has a difficult time reaching the claimed 500 MB/s read, and 400 MB/s write claims. Our sample peaked about 480 MB/s read, and 320 MB/s write speeds using sequential large block size transfers.
Full User Span Performance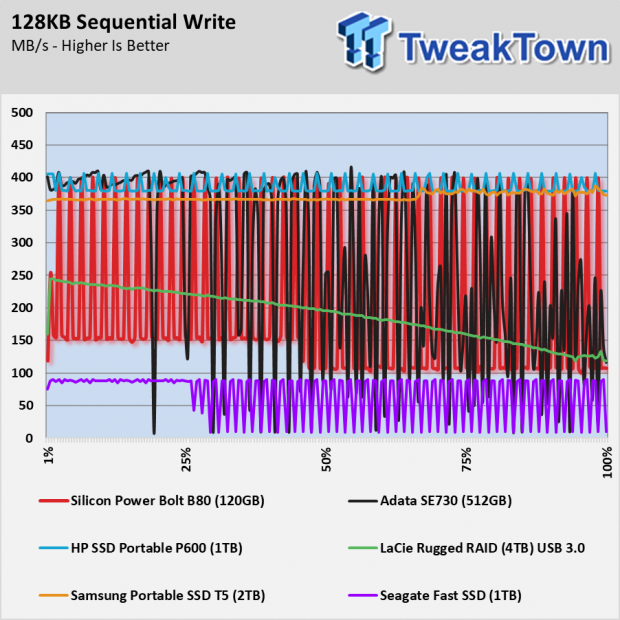 In this test, we transfer 128KB blocks to and from the drives to measure the performance of a single file transfer, like what you would see moving a movie to and from the devices. The 120GB B80 shows strong sequential read performance but the 3-bit per cell (TLC) memory uses an SLC cache to write data. The massive peaks come from writing the data to fresh SLC, and the dips show the performance when the buffer has to move data to the TLC while still writing data to the SLC. The B80 writes all of the data to the SLC layer first instead of writing excessive data directly to the TLC. This decreases performance but reduces wear to the flash.
File Transfer Tests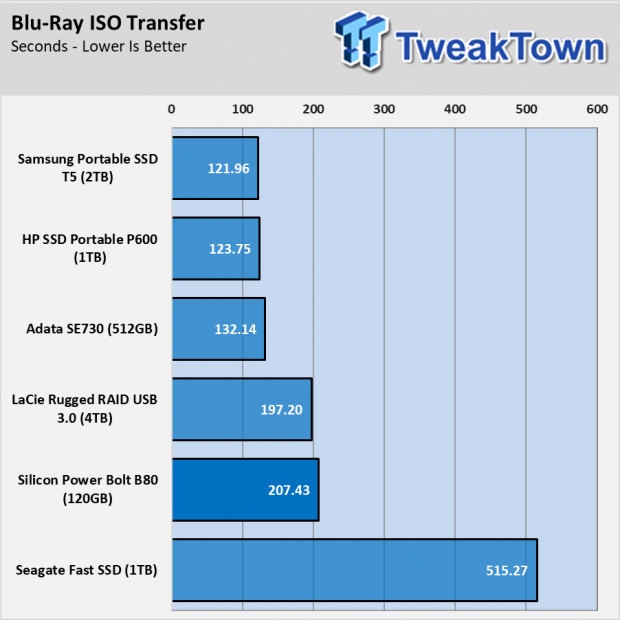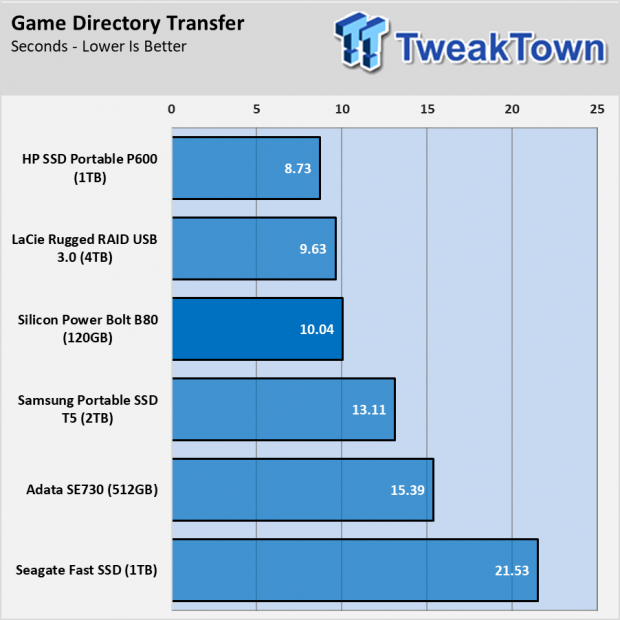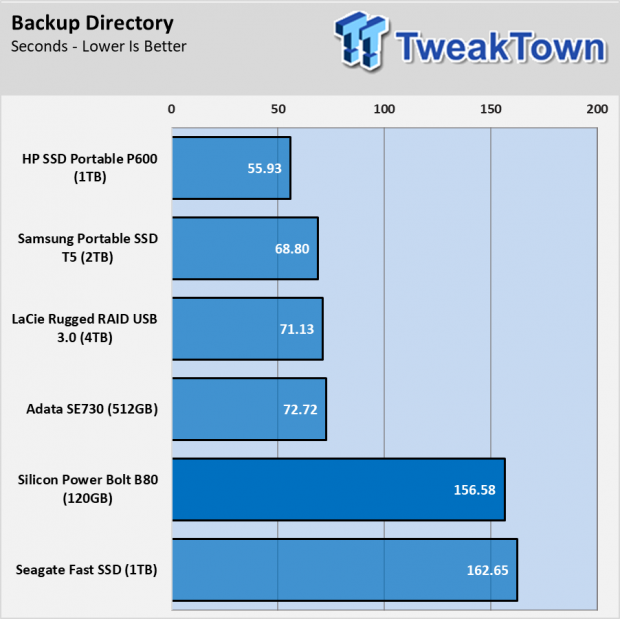 We rarely run applications on external or portable storage products. The typical workload is sequential in nature. Most of us simply read and write large pieces of data for archiving or transferring data from one location to another.
We often see performance measured in throughput, but time-based results are easier to interpret because the sense of time is universal. We tested transfer performance with a Blu-ray ISO. For the Game test, we used rFactor to transfer data from the post-installation directory to the portable drives. The Directory Test is a 15.2GB block of data that contains a mix of images, software installations, ISO files, and multimedia.
The Silicon Power Bolt B80 performs much better than we expect for a 128GB class portable SSD. The drive dropkicks the Seagate FAST SSD even though it's one eighth the capacity. The B80 works best to move smaller data sets, like in the rFactor (Game Directory Transfer) test. Larger transfers take longer due to the less desirable SLC writes for all data rather than the direct-to-die TLC writes when the buffer is full.
Final Thoughts
The Silicon Power Bolt B80 isn't an ultra-high-performance portable SSD for power users or enthusiasts that demand every last drop of throughput. The drive does fill the needs of casual computer users that just want low-cost, reliable storage that is easy to carry and manage.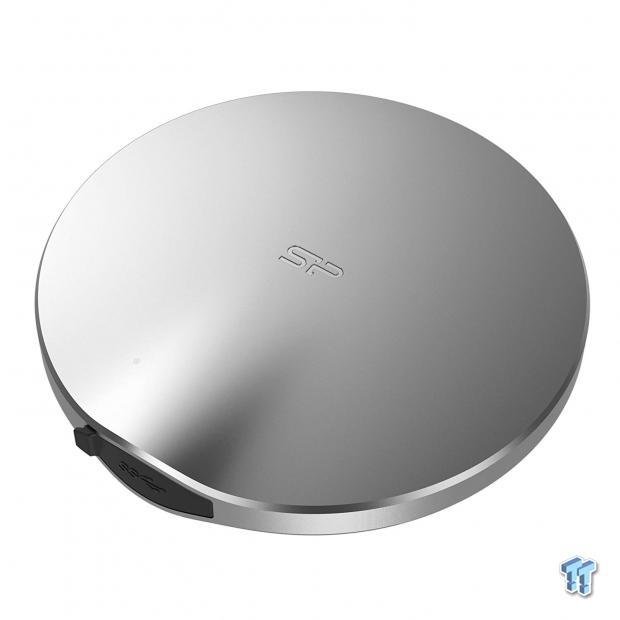 We would have enjoyed testing the larger 240GB or 480GB models more than the smaller 120GB. I don't think this capacity allowed us to see the performance this series is truly capable of. Historically 120GB drives lack parallelization with modern die densities to saturate the SATA 6Gbps bandwidth. At the heart of the B80 is an mSATA SSD and that's why we observed sequential performance that couldn't surpass USB 3.1 Gen 1 speeds even though the device's interface gives us access to twice the bandwidth.
In the US and likely other areas, the Bolt B80 is a rare product. Silicon Power shipped most of these to Asia from what we've seen looking through Google. A few did land on this side of the pond on Amazon, but it looks like the numbers are limited. It's a shame because the drive does look really good and there are very few full IP68 rated portable SSDs available. I hope that we will see more B80 portable SSDs listed on Amazon in the near future. The series isn't the fastest, but it is a well-rounded product with good features and a very nice look.