Intel Optane SSD 905P 1.5TB Review - Massive 3D XPoint
It's not voodoo magic, 3D XPoint memory is the fastest non-volatile storage media shipping today and makes the fastest SSDs.
Published Oct 24, 2018 10:05 AM CDT
|
Updated Tue, Nov 3 2020 6:57 PM CST
8 minute read time
Introduction, Specifications, and Pricing
3D XPoint memory is my favorite storage technology to discuss. Intel's Optane series comes falls under the SSD category, but that is misleading. Every SSD before Optane used NAND flash technology that needs a figurative running head start to reach peak performance. The early products focused on enterprise workloads capable of reaching high queue depth loads; several IO requests happening at the same time.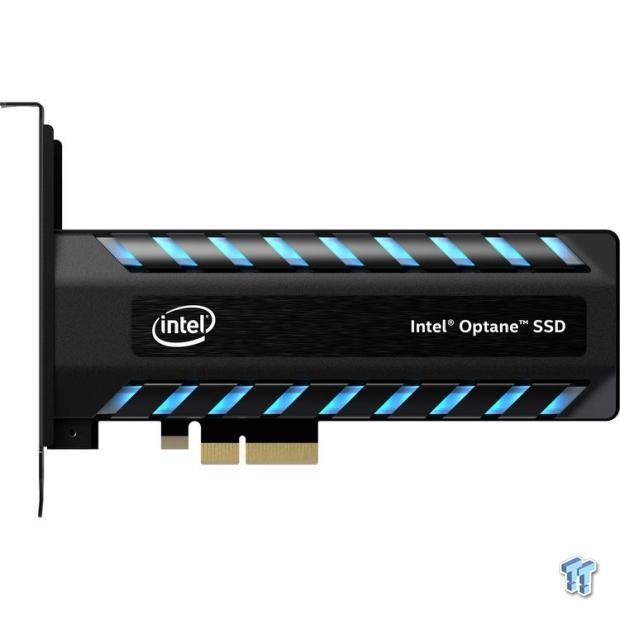 In a normal user workload, even with a workstation-level multitasking, the real-world queue depths are very low and almost never allow flash-based devices to run at full speed. 3D XPoint memory, the technology used in Intel's Optane series products is different. The memory can reach much higher speeds, at significantly lower latency, at common user-level workloads.
Due to the marketing materials, and lack of other "beyond-NAND" technologies, we still we still compare next-generation storage media products to flash, but it's not a fair comparison. The marketing martial dilutes the performance of 3D XPoint and amplifies flash. The technology has skeptics that have not experienced it firsthand and are complicit in passing judgments without opening the book. We always feel the need to set the record straight when we talk about Optane SSDs
Intel targets professional users with a large capacity requirement for application workloads with the latest 1.5TB Optane SSD 905P. The expense will keep gamers and many PC enthusiasts away from this large capacity model, but professional users looking to accelerate processing time to gain larger profits will benefit from the latest in the ultra-high-speed series.
Specifications

Intel has slowly increased the capacity of the Optane SSD 900P/905P in planned stages that coincide with stuffing more 3D XPoint die in each package. The new 1.5TB is the largest Optane SSD we've tested and the largest we've spotted on leaked roadmaps. The performance matches the 960GB and 480GB 905P models, and slightly higher than the 480GB and 280GB 900P drives.
Intel claims sequential read performance at 2,600 MB/s and, sequential write performance of 2,200 MB/s. The sequential performance is lower than Samsung's 970 Pro NVMe SSD. This is the first instance where the paper numbers differ from reality. We will talk about this in more detail in the review.
Similarly, Intel's claimed random read performance of 575,000 IOPS and random write IOPS rating of 550,000 are not as high as some new flash-based SSD's rating of 600,000. We will show in the testing portion of the review why neither performance rating is applicable to most users.
The new 1.5TB model ships in two form factors, the add-in card we have to test today and a smaller 2.5" U.2 model that is easier to combine with other drives in RAID using hot-swappable drive bays.
Pricing, Warranty, And Endurance
One of the biggest complaints about the Optane SSD 900P/905P series rests in the cost of ownership. These series straddles the line between enthusiasts and professional user groups. The lower capacity drives, 280GB (900P) and the 480GB (both 900P and 905P) are affordable enough for enthusiasts and power users with drives selling for $320.99 and $509.99, respectively. The 905P 960GB shoots the cost up to $1,317 at the time of writing. The new 905P 1.5TB we're testing today sells for $2,199.99 in both the 2.5" U.2 and add-in card form factors. We managed to find both just prior to publishing this article, but availability was not as widespread as the smaller size models previously released.
Optane series SSDs garner attention for performance but these products also deliver exceptional endurance that goes well beyond the capabilities of flash. The new 1.5TB Optane SSD 905P gives users up to 27.37PB of data written to the media.
A Closer Look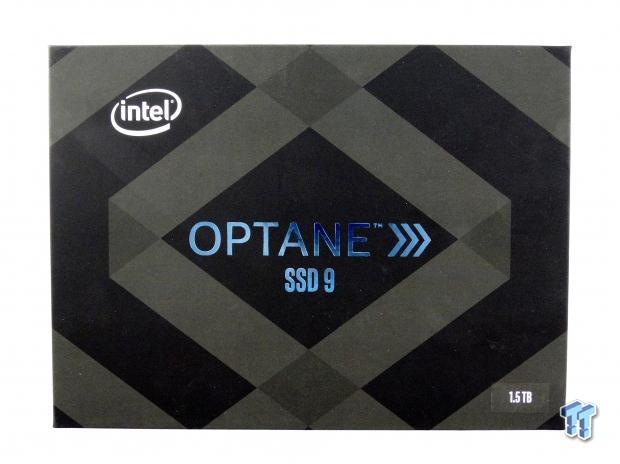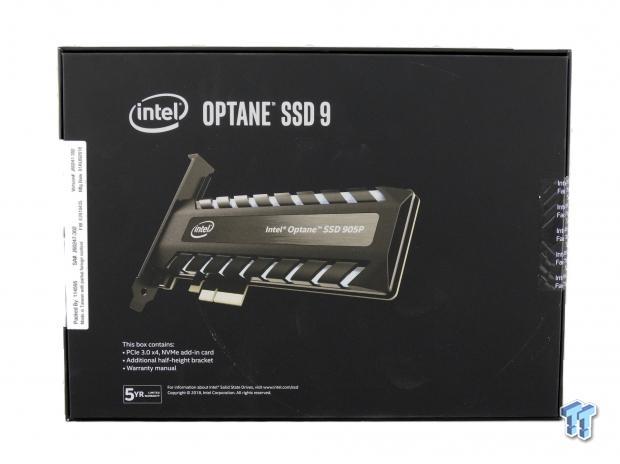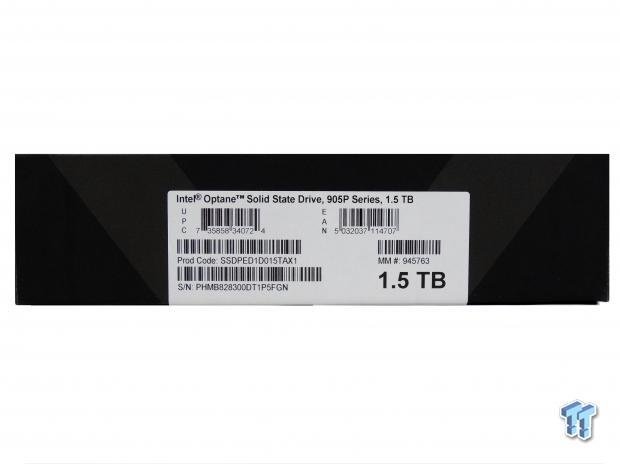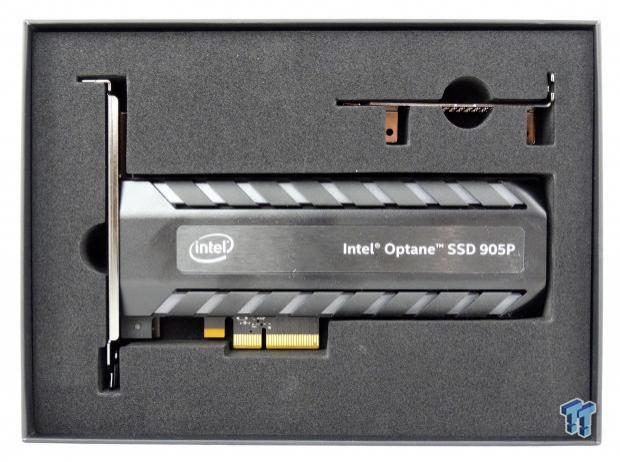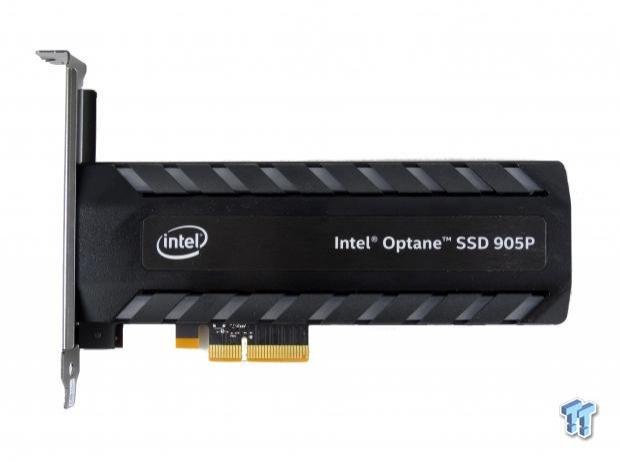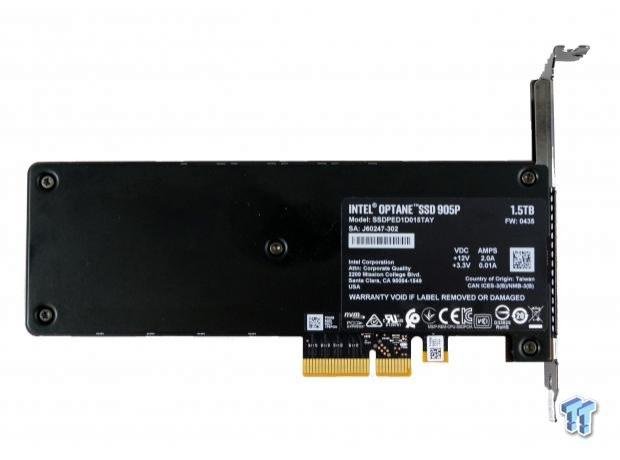 The add-in card features LED lighting defaults to the blue hue. Users can change the diffused lighting to red or green using a command line tool. You can also turn the lighting off to conserve power. What fun is that?
Most looking at the 1TB Optane SSD 905P will never actually see the drive. HP Z-Series workstations don't have windows on the side of the case.
1TB Class Performance Testing
Product Comparison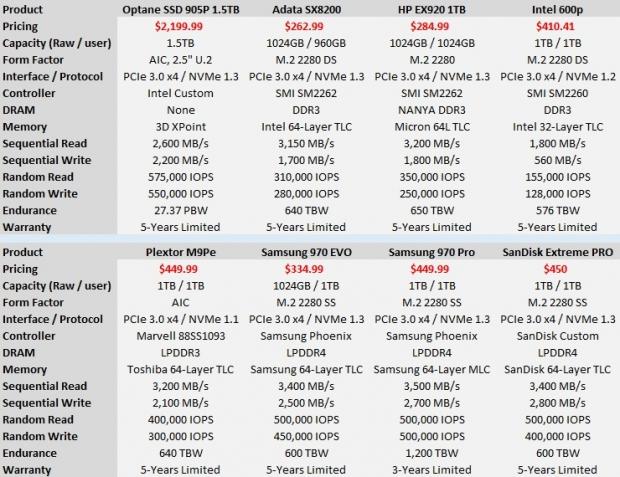 With performance being nearly equal across the 900P/905P product lines, we turn our attention to the flash-based competitors. With so few 2TB and even fewer 1.5TB products shipping we grabbed our 1TB result group that includes popular NVMe SSDs from Adata, HP, Plextor, Samsung, and SanDisk. The entry-level Intel 600p is also in the group because it was a very popular NVMe SSD last year.
Sequential Read Performance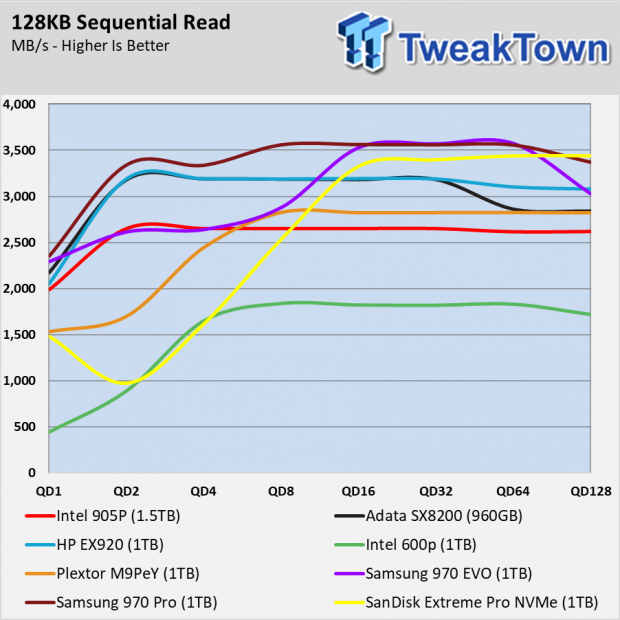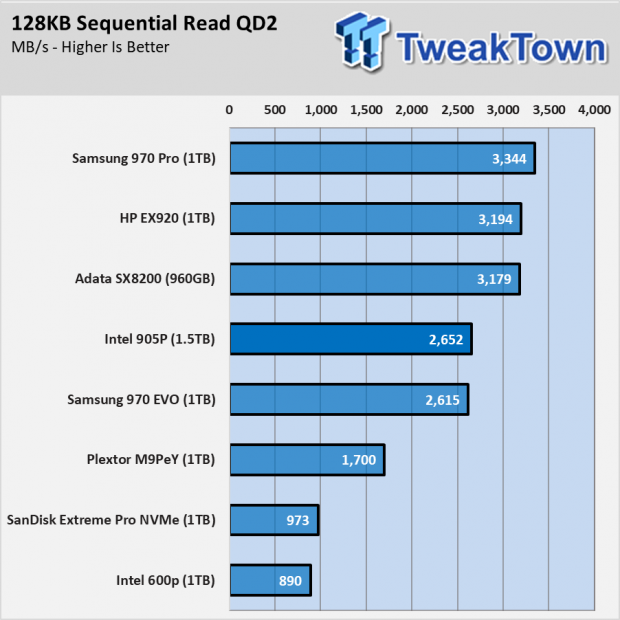 As we mentioned on the previous page, the Optane 905P lacks the same peak sequential performance as flash SSDs. The sequential read chart with escalating queue depth shows that the best flash-based drives and the Optane 905P both start with queue depth (QD) 1 performance between 2,000 and 2,400 MB/s. As we ramp up the 100% read test, something many will likely not run outside of a specialized workload, the flash drives scale better.
Sequential Write Performance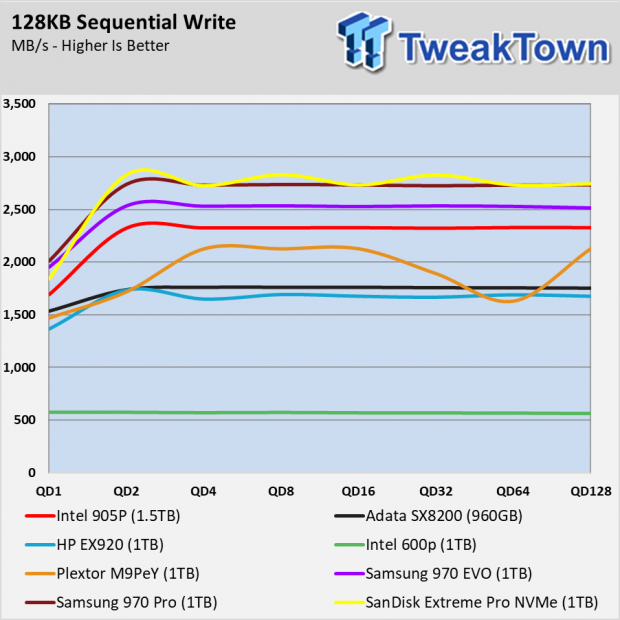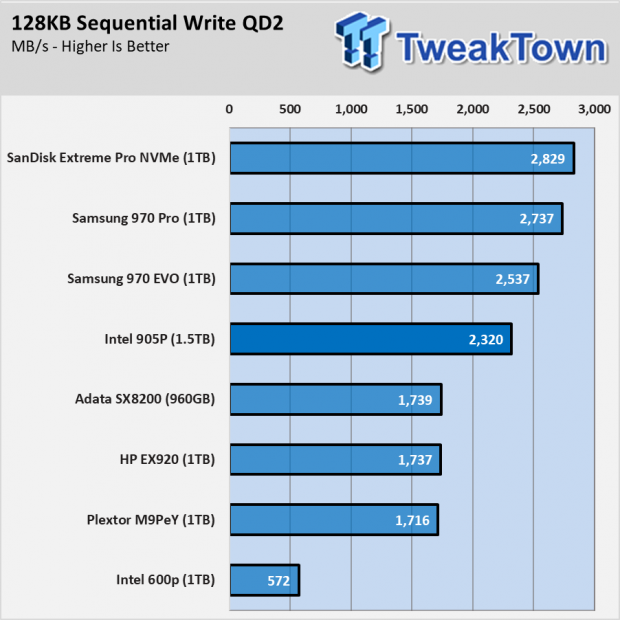 Moving over to sequential writes, we see a similar scenario using bursting data. The Optane SSD 905P is very close to the best NVMe SSDs at QD1, but lacks the same peak performance as we scale the workload.
Sustained Sequential Write Performance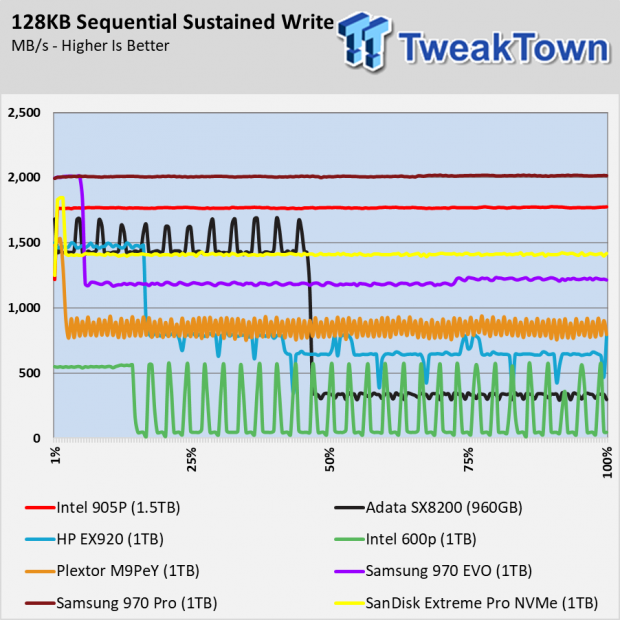 Nearly all modern SSDs currently use 3-bit per cell (TLC) flash that relies on a single-bit buffer to increase burst performance. Once you write data beyond the preprogrammed or dynamic single-bit cache, the write performance decreases. The Samsung 970 Pro is the last remaining MLC flash SSD, and it doesn't use a SLC buffer, so it doesn't lose performance in the same way. There are more SSD models shipping with 3D XPoint memory than MLC flash.
Like MLC flash, the Optane 905P doesn't lose performance with simple large block size file transfers of data to the drive. There is a performance gap between the 970 Pro 1TB and the Optane 905P. Our tests at QD1 show a 300 MB/s difference with the advantage going to the Samsung 970 Pro.
Sequential Steady State Performance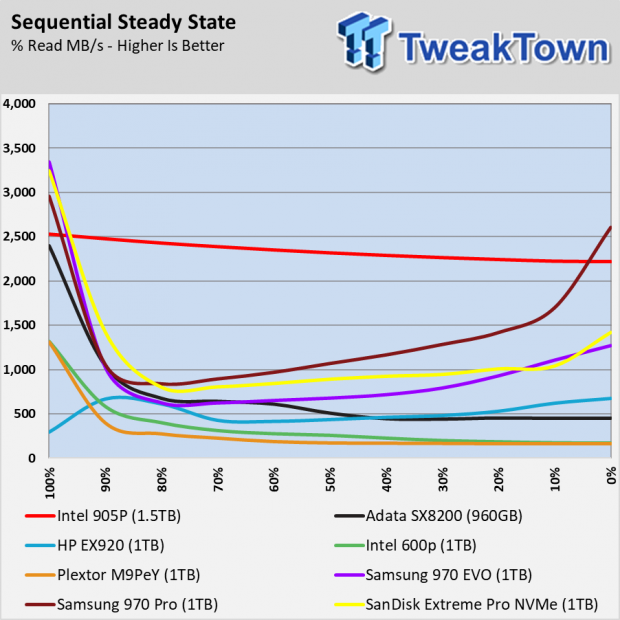 All flash-based SSDs with MLC, TLC, and new to market QLC must pass through a read, modify, write cycle to put new data on the storage media. When data already exists in that space, the process takes longer.
3D XPoint memory doesn't use the traditional read, modify, write cadence. The new data can "write-in-place," overwriting old data with new data without the extra steps that increase latency. This is a very important distinction in a professional workload where the SSDs don't have a lot of idle time for background management to clean free cells used to keep flash-based drives fast.
The Optane SSD 905P didn't outperform the other SSDs with 100% and burst loads, but shows a massive advantage in steady-state with mixed workloads. We will talk about mixed burst workloads a little later in the article.
Random Read Performance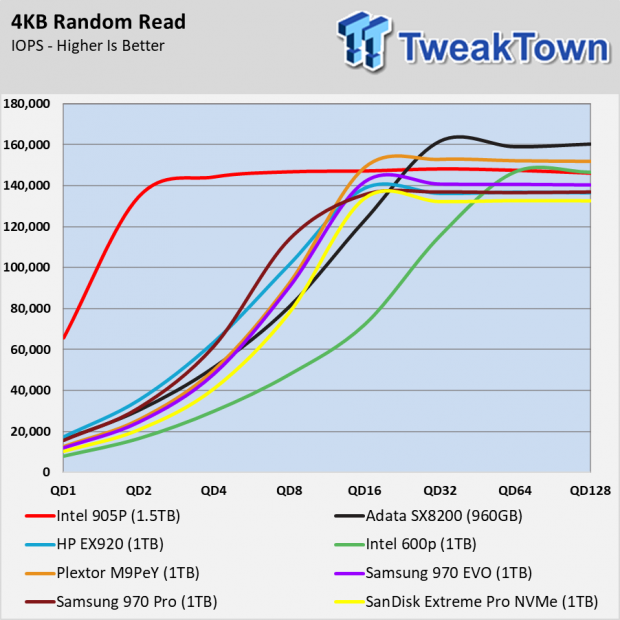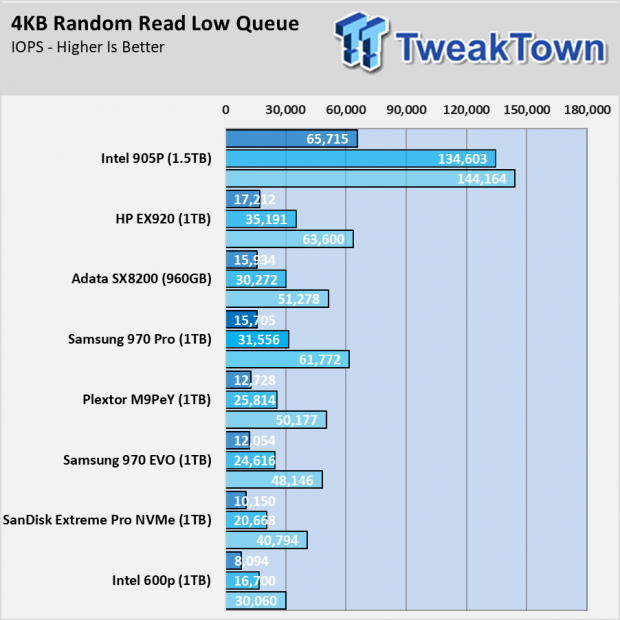 You don't need to push your Optane SSDs into steady-state to benefit from the technology. If you read more than a couple of our storage articles, you already understand the relationship between random read performance and the user experience. The two are so closely aligned that you don't even have to draw a line between them, they overlap.
At very low queue depths, where most desktop and workstation work actually happens, the Optane SSD 905P is more than three times faster than the best flash-based NVMe SSDs. At QD2 the 905P is nearly at peak performance with a single CPU core workload and the flash-based drives have barely started to ramp up performance in relation to peak performance. Which only comes later on in the flash drives at queue depths well beyond what a normal workload can reach.
Random Write Performance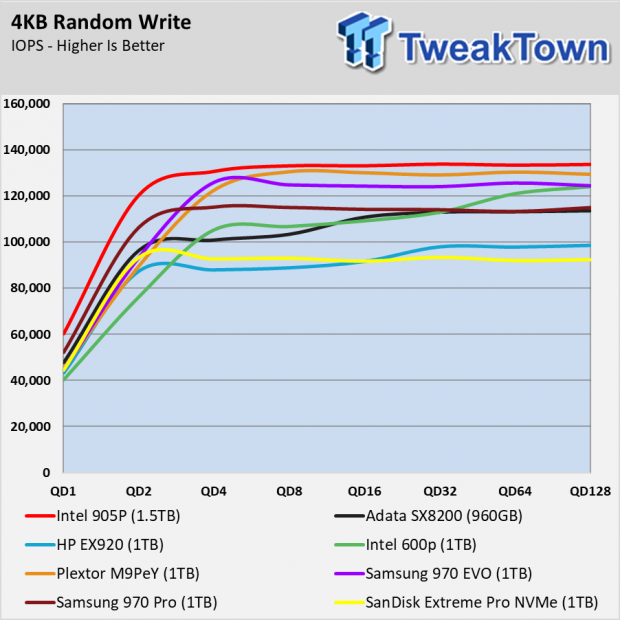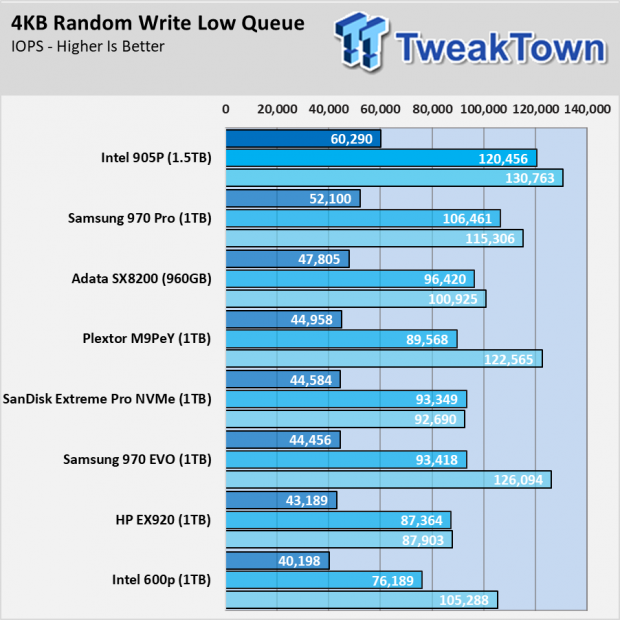 We see similar results in the random write burst test, but the Optane SSD 905P has less of an advantage here. The drive is still faster than the flash-based drives, but the SLC buffer helps to shield the native TLC performance.
Random Steady State Performance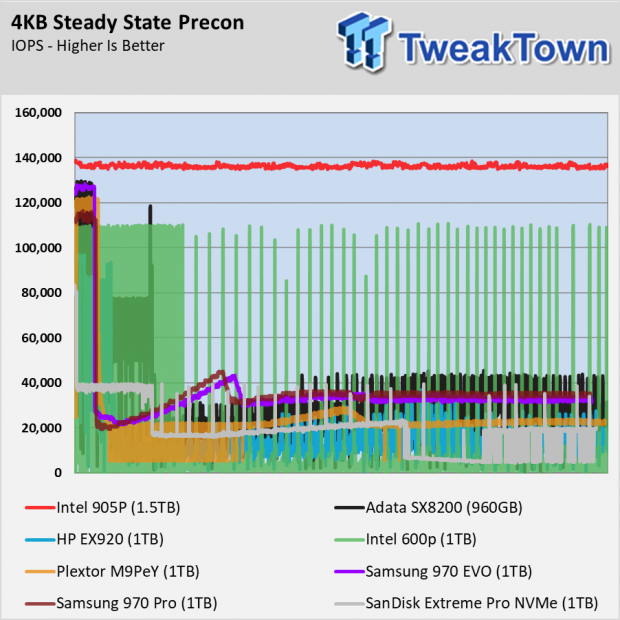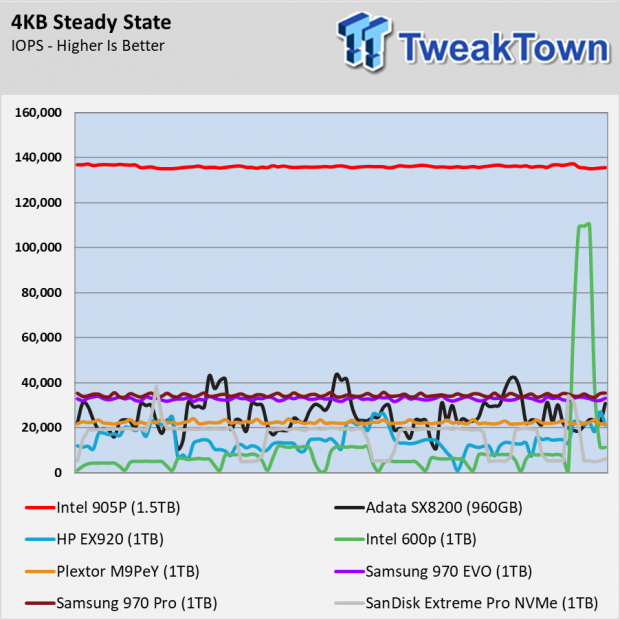 Pushing flash beyond the SLC buffer with random data has a severe impact on performance. Optane's write-in-place method eliminates the loss and allows the drive to perform the same with clear or dirty (data already at the location) areas of the media. At queue depth 32, the 905P shows a 100,000 IOPS advantage over the next closest drive on our charts in steady state.
70% Read Sequential Performance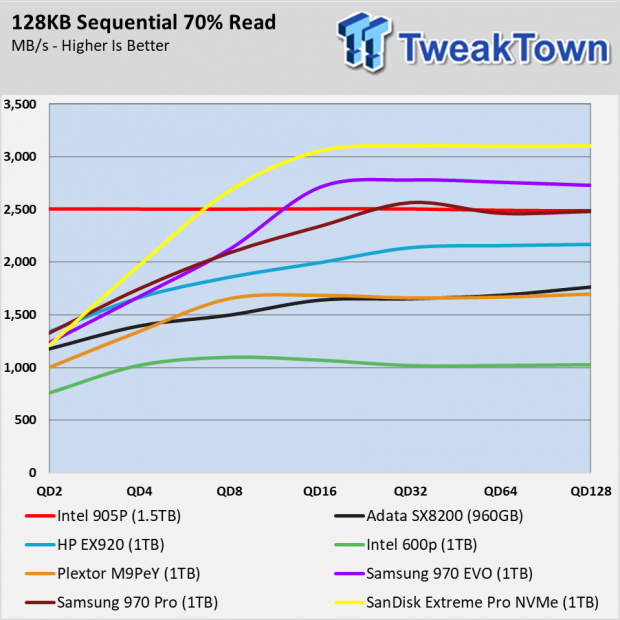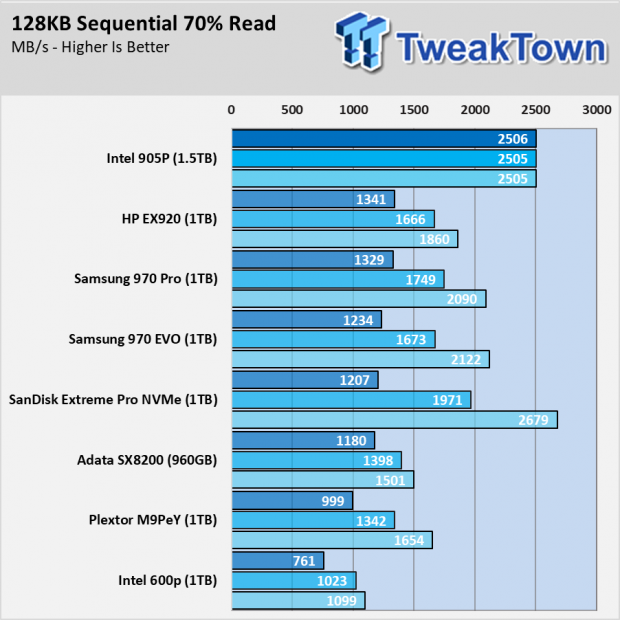 Mixed workloads are difficult for flash-based SSDs. The NVMe protocol increased mixed workload performance but NVMe paired with 3D XPoint memory unleashes the full performance of the PCI Express bus for storage.
At lower queue depths, the 905P chews through the sequential mixed workload at a very high rate of speed. Flash SSDs need more queue depth in the workload. The Samsung 970 Pro only matches the 905P at QD8 in our burst test.
70% Read Random Performance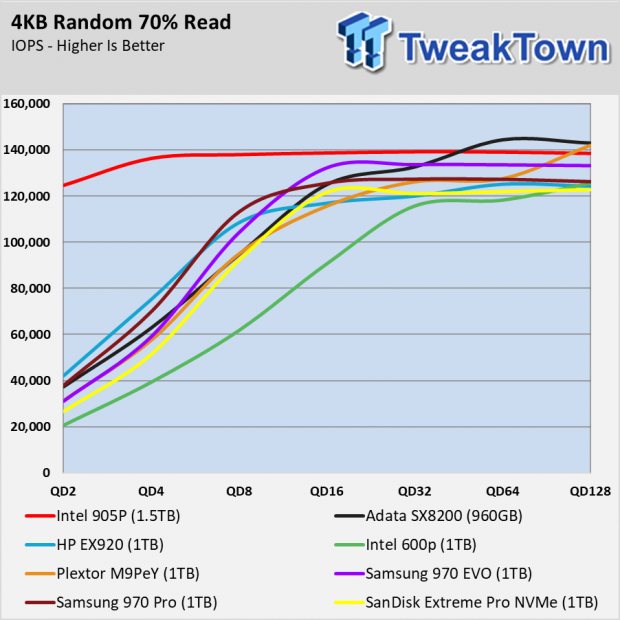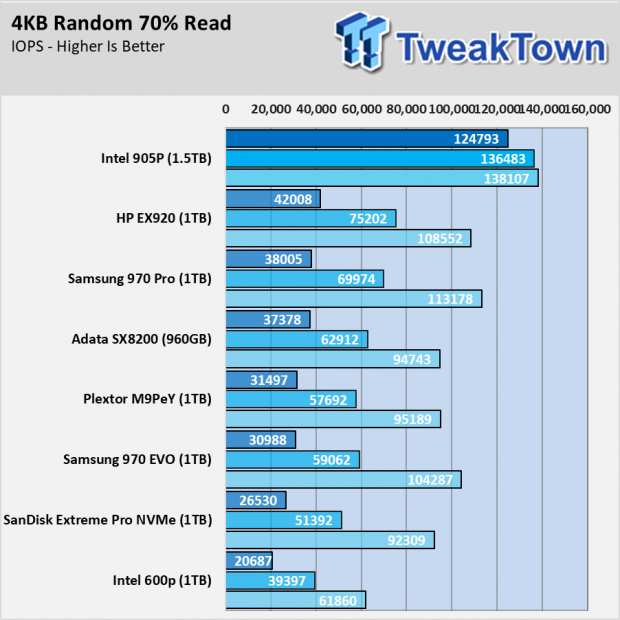 With random mixed data, the flash-based drives don't get anywhere near the 905P until QD16, well outside of what your workstation application is likely to reach.
1TB Class Real-World Performance Testing
Game Load Time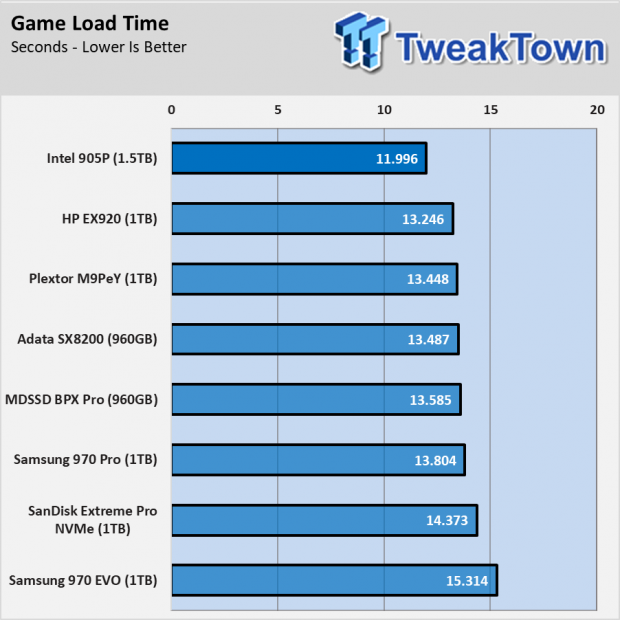 You don't need a professional application running on a powerful workstation to see a performance benefit with the Intel Optane SSD 905P. Loading Final Fantasy: Stormblood, a popular video game with a storage-focused benchmark, shows that the 905P is the fastest SSD for loading game levels. It doesn't take a 1.5TB 905P drive to achieve this level of performance. We've measured similar results with the 900P 280GB and 480GB models.
PCMark 8 Total Storage Bandwidth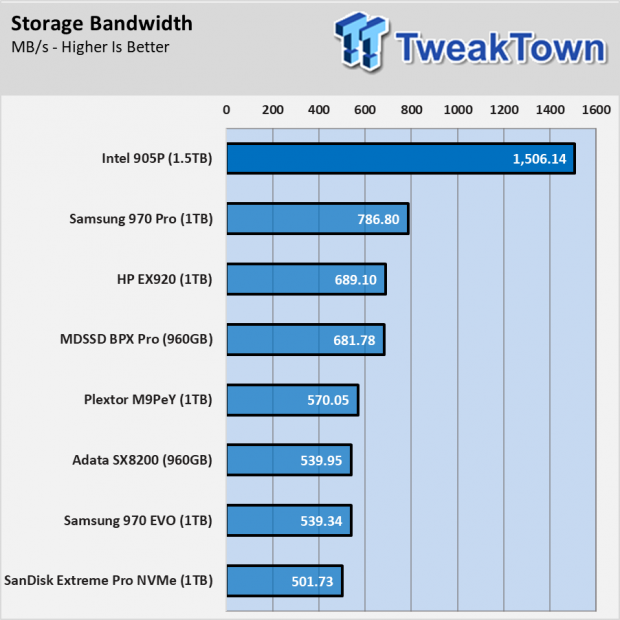 We've yet to find an application that does not benefit from 3D XPoint memory. The more complex the workload, the better the results. PCMark 8's Storage Test uses nine diverse applications to measure performance in ten tests. The applications range from simple tasks in Microsoft Word to complex and highly intensive loading in Adobe Photoshop. When it comes to the overall bandwidth, the Optane 905P delivers nearly twice that of the Samsung 970 Pro 1TB.
PCMark 8 Extended Storage Test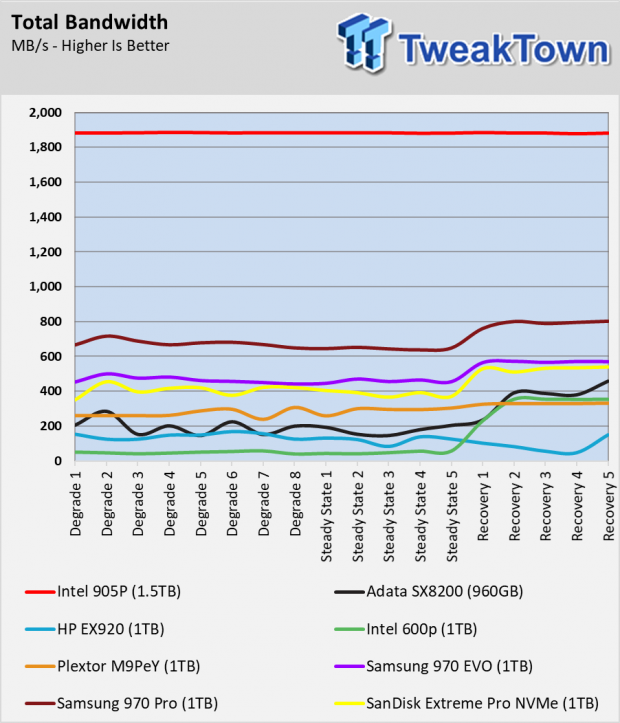 Pushing the Intel Optane SSD 905P hard with a relentless workload and not losing storage performance is the main benefit for this technology. Like flash-based SSDs, you pay for this feature. For instance, the Samsung 970 Pro in relation to the 970 EVO and to an equal extent, entry-level DRAMless NVMe SSDs to mainstream models like the SX8200 and EX920.
This is why we see entry-level SSDs perform so well under light workloads but fall flat when we amplify the workload or extend the IO for a longer time, like in professional applications. The Optane SSD 905P performs exceptionally well under light and extreme workloads, where modern flash fails to thrive.
Final Thoughts
The 1.5TB Intel Optane SSD 905P is the best and most interesting SSD ever brought to market, but its high cost makes it a pipe dream for many of our readers. This level of performance, in this capacity, and at this price, ensure this Optane SSD will only run in professional systems where storage performance is a bottleneck for specialized applications.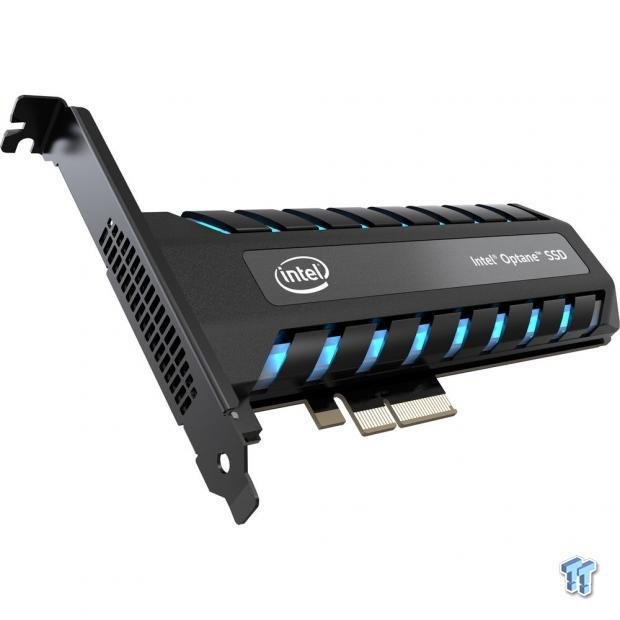 It's not the same for other 9-Series Optane SSDs. The 280GB and 480GB models are not as cheap as similar capacity flash-based NVMe SSDs, but they are obtainable for those willing to invest for the performance gains.
If your only concern is application performance and your space requirements demand volume beyond 960GB, the Optane SSD 905P is your only option. In time, we will Samsung's Z-NAND SSD, but have our doubts in its ability to deliver similar low queue depth performance. The drive we recently saw at a Samsung sponsored event should be in our hands in the coming weeks, but this drive is only 1/3 the capacity of the 1.5TB Optane SSD.
Flash-based SSDs in performance RAID can reach similar and even superior capacities, but also lack low queue depth performance. For many years, RAID was how we accelerated professional applications but NVMe technology, and later 3D XPoint memory, reduced or eliminated the usefulness of RAID. Intel's 9-Series is simply easier to work with, no complicated setup or monitoring, delivers significantly more write endurance, and delivers superior performance. In that sense, the Optane SSDs are a better overall value even though you pay more in upfront costs.
PRICING: You can find products similar to this one for sale below.

United States: Find other tech and computer products like this over at Amazon.com

United Kingdom: Find other tech and computer products like this over at Amazon.co.uk

Australia: Find other tech and computer products like this over at Amazon.com.au

Canada: Find other tech and computer products like this over at Amazon.ca

Deutschland: Finde andere Technik- und Computerprodukte wie dieses auf Amazon.de
We openly invite the companies who provide us with review samples / who are mentioned or discussed to express their opinion. If any company representative wishes to respond, we will publish the response here. Please contact us if you wish to respond.