Samsung X5 Thunderbolt 3 Portable SSD Review
Samsung's first Thunderbolt 3 portable SSD, called the X5, uses a magnesium case and speedy flash.
Published Aug 28, 2018 9:00 AM CDT
|
Updated Tue, Nov 3 2020 6:57 PM CST
5 minute read time
Introduction, Specifications, and Pricing
If Samsung isn't in a market, is there really a market at all?
Ultra-High-Speed portable SSDs over Thunderbolt 3 has been a niche market for close to a year now. The devices we've tested from this category all show impressive performance but you need a powerful computer with high-speed internal storage, and a healthy budget to fully take advantage of the technology.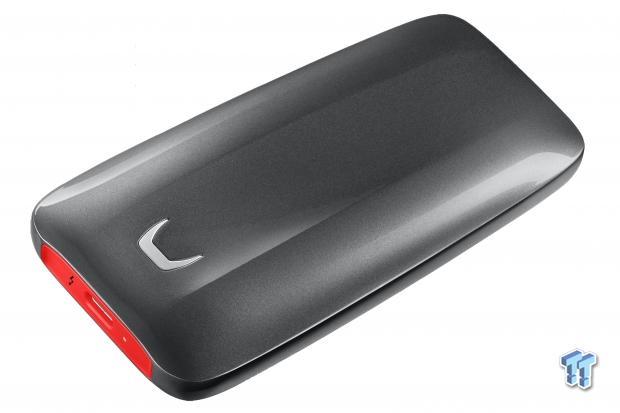 The drives we've seen all come from smaller companies that took the leap early. We're glad they did, but the limited number of products made it clear that the user base for such products wasn't there, yet. Even today, Thunderbolt 3 ships on less than half of all PCs sold today. It's a rich man's technology, available on premium motherboards and "creator" - type notebooks that often ship with the highest binned processors, ample system memory, high-resolution displays, and premium storage.
There is a market for ultra-high-speed Thunderbolt 3 storage. Content creators have begged for NVMe-based portable devices to transport high-resolution content with massive data sets. When time is money, a 6x performance increase adds up quickly.
Today Samsung jumps in the Thunderbolt 3 storage game with the Portable SSD X5. The premium series leverages NVMe technology and pairs it with a futuristic design that counters the challenges of combining high-speed storage in a compact design. Samsung also raised the bar for this category by doubling the capacity of existing products.
Specifications

Samsung didn't bother to build small capacity drives for this series. The Portable X5 is a creator's product for users with higher capacity needs. The X5 starts with a 500GB model, the smallest of the three sizes released today. The series takes the logical progression up with a 1TB and massive 2TB models.
The series operates over Thunberbolt 3 with standard Type-C cables. The 40-gigabit interface (32-gigabit for data transfer, 8-gigabit for video) is perfect for NVMe-based storage. Samsung claims up to 2,800 MB/s sequential read and up to 2,300 MB/s sequential write performance. Samsung does not specify random performance for the X5 series.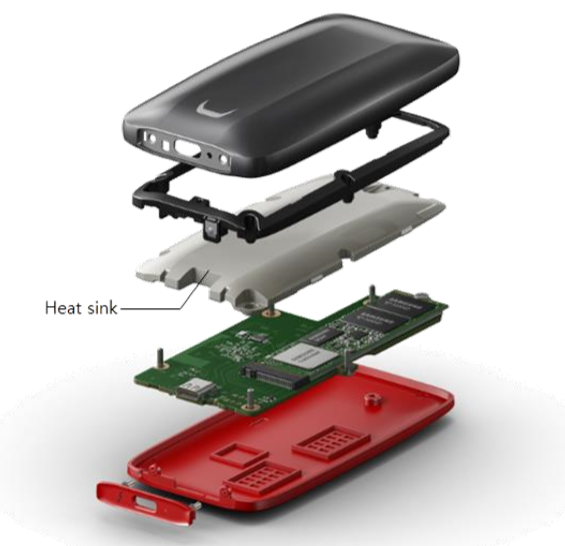 Inside the housing is an NVMe-based SSD like the 970 EVO with 3-bit per cell (TLC) flash using TurboWrite technology to improve sustained write speeds. The housing features a plastic shell covering a large magnesium heat sink. Magnesium is lighter than both aluminum and copper.
Features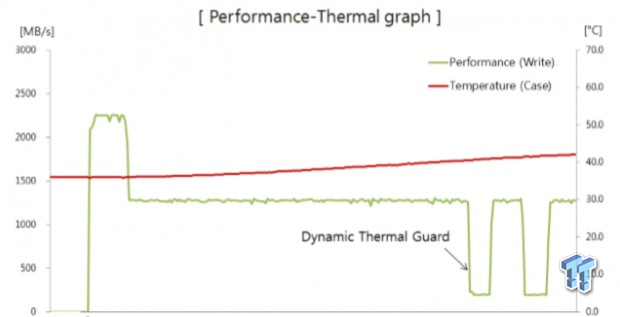 The magnesium heat sink makes the Portable SSD X5 one of the lighter Thunderbolt 3 drives available. It weighs just 150 grams (5.3 oz) or about a third of a pound.
Samsung also tackled some of the issues we've found on other Thunderbolt 3 devices. Many of these drives get very hot on the surface. The designs where the entire enclosure is a large heat sink, like the Patriot EVLVR (Patriot should have called this the Scorch), get insanely hot. Samsung reduced the thermal throttle temperature compared to an M.2 system drive; this ensures the surface never reaches above 45C.
Samsung includes AES 256-bit hardware encryption with an easy to use software that locks and unlocks the drive. Enabling encryption doesn't decrease performance as we've seen on some other models.
Pricing, Warranty, And Endurance
Samsung's most advanced portable SSD doesn't come cheap. The Portable SSD X5 500GB starts the series off at $399.99. That jumps to $699.99 for the 1TB model and then leaps to $1,399.99 for the only 2TB NVMe-based Thunderbolt 3 drive shipping today.
Samsung covers the series with a 3-year warranty. We reached out to the company to clarify the endurance portion of the warranty. Samsung didn't limit the coverage with an endurance rating. Given the extremely high endurance ratings for the 3-bit per cell flash in the 970 EVO series, it would be difficult to wear the flash cells out even with extreme use.
A Closer Look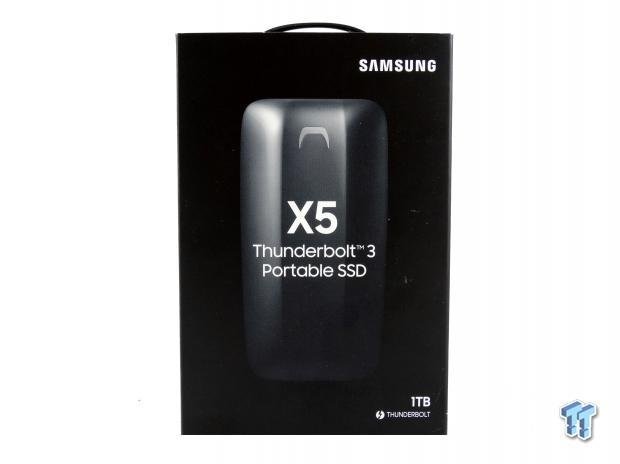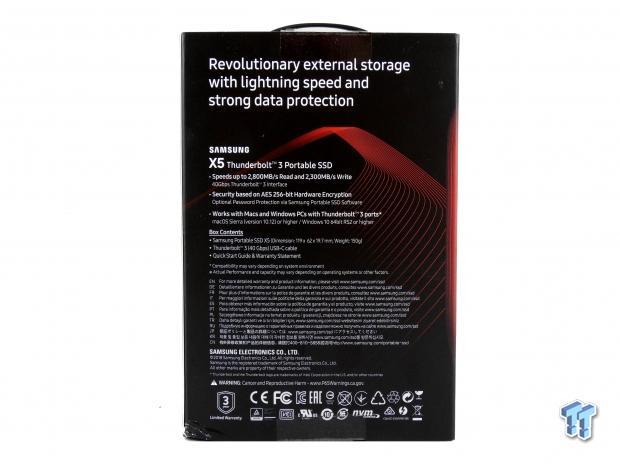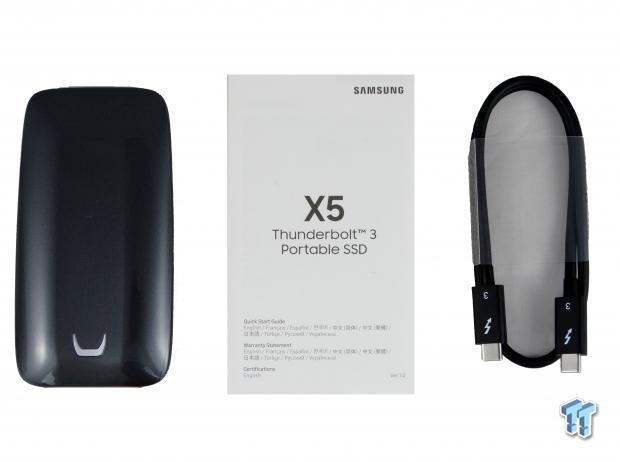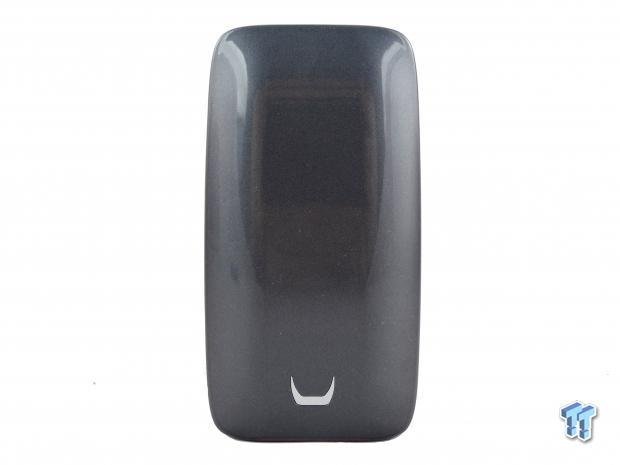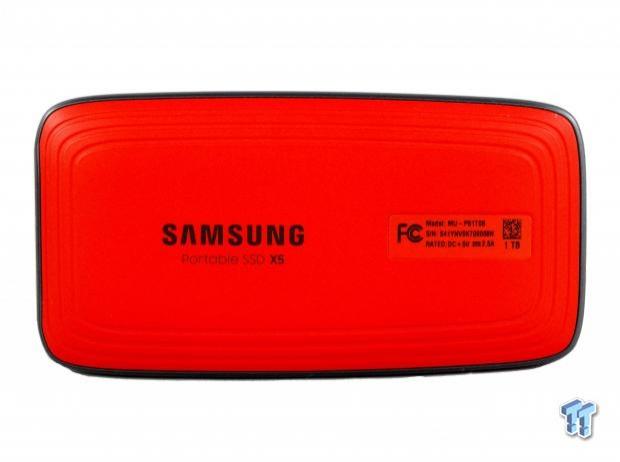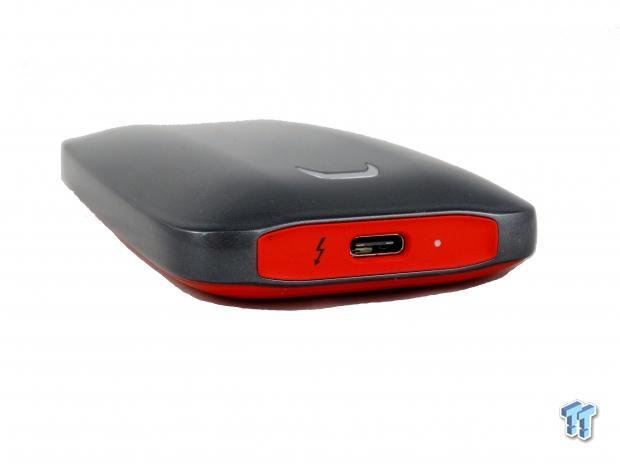 The design is straightforward in its use. There is a single Thunderbolt 3 Type-C connector and a solo LED that shows connectivity and disk activity.
The Portable SSD X5 ships with a Type-C cable and a paper manual that serves as a quick start guide, it also covers warranty information.
Performance Testing
Product Comparison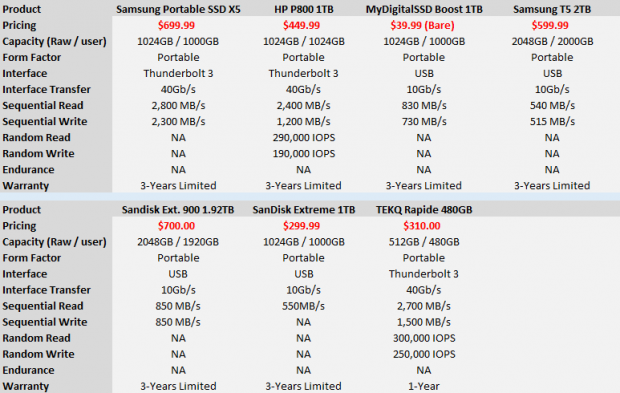 We pulled our fastest portable and desktop external SSDs to compare to the Samsung Portable SSD X5. This includes two NVMe-based portable SSDs, the HP P800, and TEKQ Rapide.
Thunderbolt isn't the only high-speed game in town. USB 3.1 Gen 2 delivers 10Gbps performance and comes standard on more systems. Drives like the SanDisk Extreme 900 Portable SSD utilize two SATA SSDs in RAID to maximize the bandwidth available.
Single-drive USB's like the Samsung Portable SSD T5 maximize value. Samsung's mainstream 2TB T5 sells for $100 less than the 1TB X5 we're testing today.
Block Testing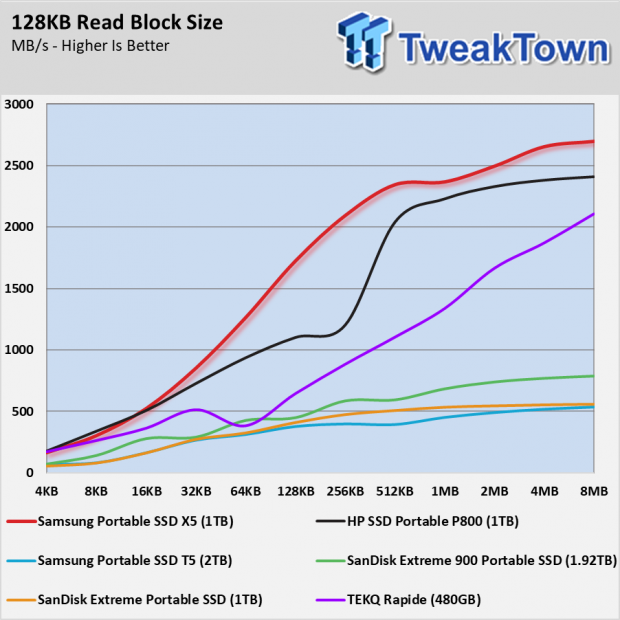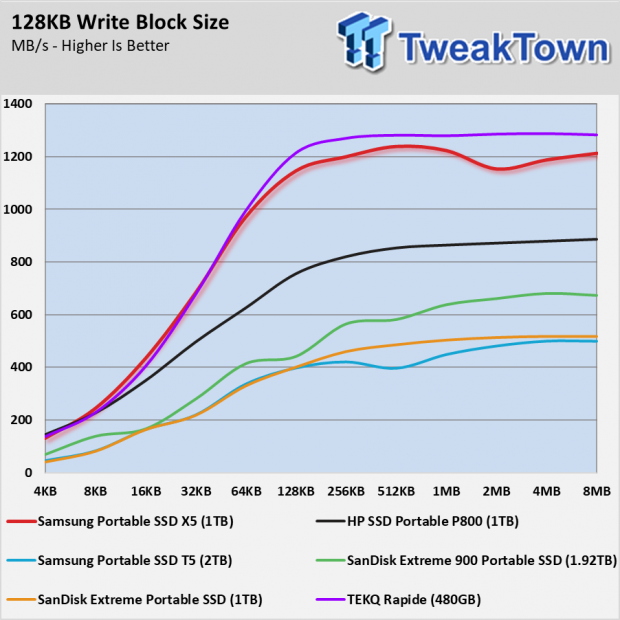 The Samsung Portable X5 leverages Samsung's strong V-NAND to deliver class-leading read performance. Most users will transfer videos, pictures, or other large block size files to these drives. Windows breaks those data blocks down into 128KB sized blocks and transfers them sequentially to and from the drive.
The Portable SSD X5 has some competition writing data from the TEKQ Rapide in our write speed test. The Rapide has a capacity disadvantage; TEKQ limited the size to 960GB for the largest model. It also uses an open-air metal heat sink design, so the outside case can get extremely hot under large data transfers.
Full LBA Span Performance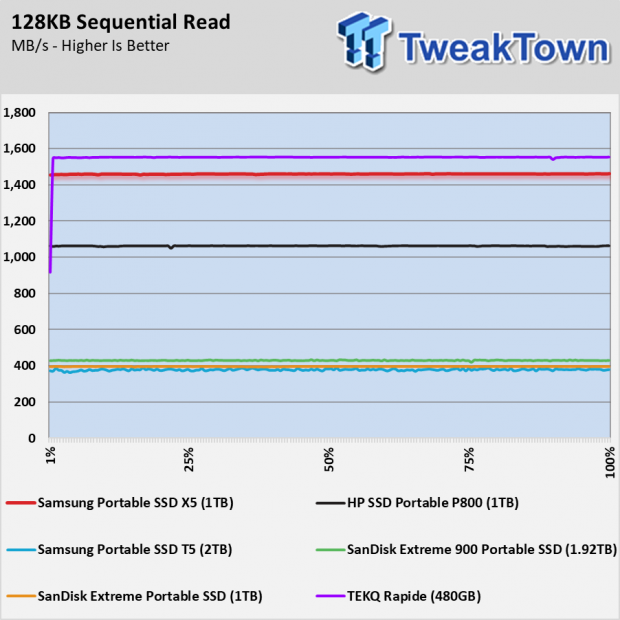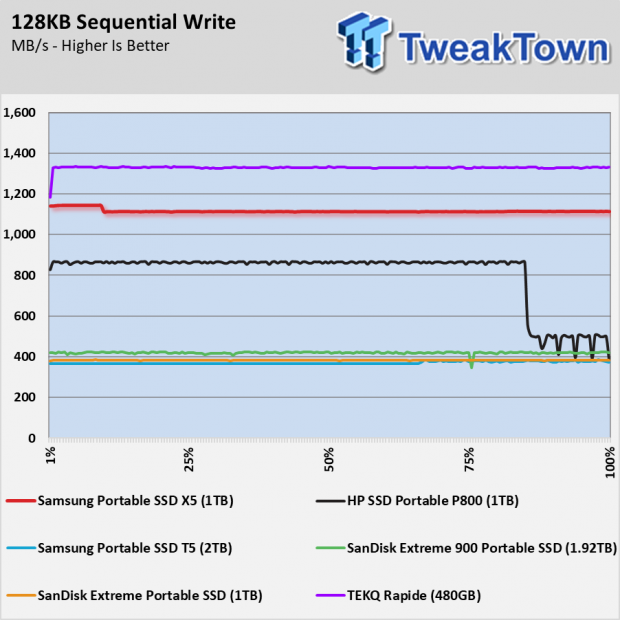 With a single large block size data transfer, the Samsung Portable SSD X5 moves files at 1,500 MB/s from the drive and 1,100 MB/s to the drive. There is a dip in write speed when you fill the TurboWrite buffer (SLC programmed cache).
Users reading or writing more than one transfer at the same time will benefit from the NVMe protocol's high-speed that scales with the workload.
File Transfer Tests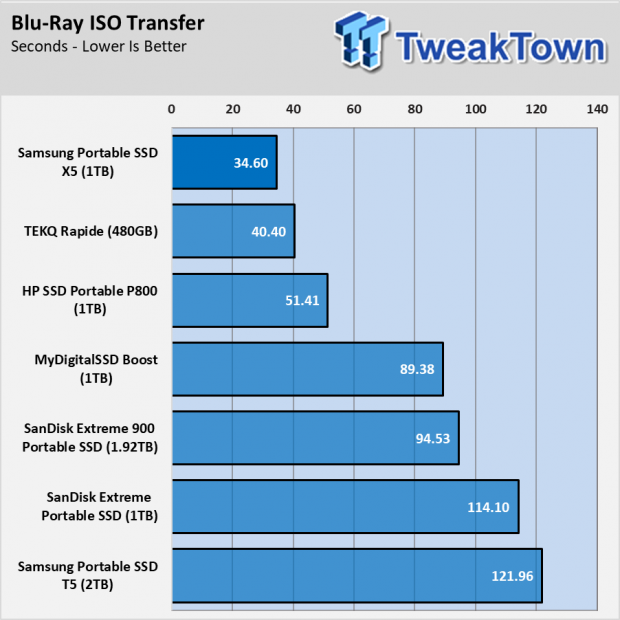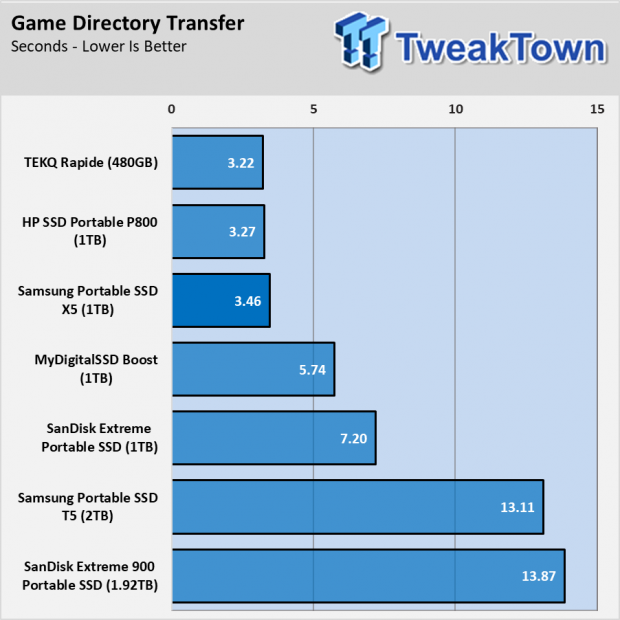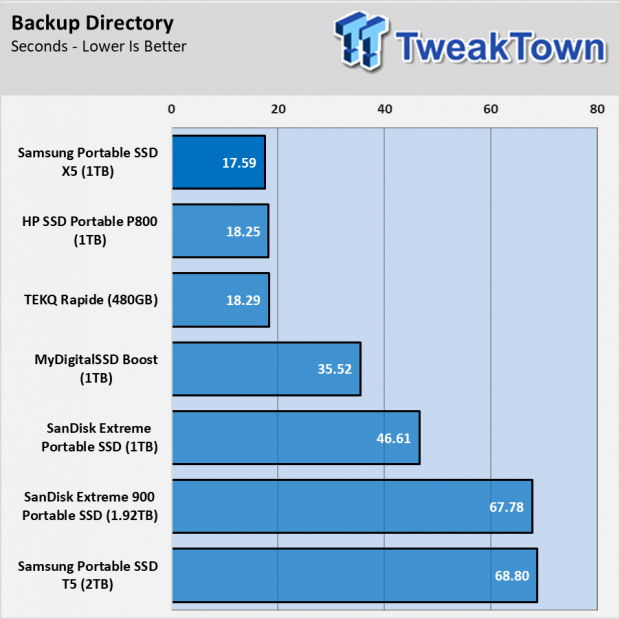 In real-world use, the Samsung Portable SSD X5 outperforms the other drives in two of the three tests. The two wins come in the long tests with the most data to transfer. The Blu-Ray Transfer test uses the ISO file from a popular movie that is just under 50GB. The Game Direct Transfer test comes from the installation files from rFactor 2.0 and uses a mix of small and large block sizes.
The Portable SSD X5 is competitive in this test but trails the two other NVMe-based portable SSDs. The Backup Director test is a collection of files found in an old 'My Documents' folder with a size of 15.2GB. It uses a mix of large block size files like pictures and web optimized videos, but also has several small block size files like text and Word documents. The X5 again outperforms the other drives in this test but the performance is very close to the other NVMe-based drives.
The real-world transfer tests show us how Samsung optimized the Portable SSD X5 for creator file types and didn't just stuff enclosures with 970 EVOs.
Final Thoughts
The Samsung Portable SSD X5 is the most refined Thunderbolt 3 drive we've tested. In our experience, most companies have simply pulled a retail or OEM grade NVMe SSD from the shelf and slapped it in a fancy enclosure. The smaller companies lack the resources to build firmware from the ground up which can then be optimized for the most common type of data transferred to portable storage. Samsung has the resources and has tapped them to build a better high-speed portable SSD.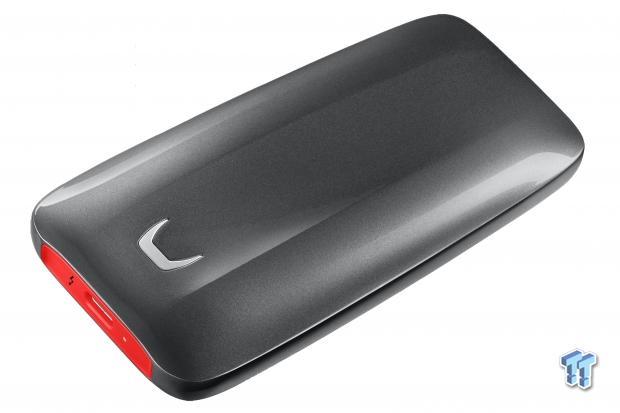 The Portable SSD X5 is one of the fastest drives we've tested thus far. As we mentioned in the article, this is more than just a high-performance desktop NVMe drive in an enclosure. The massive heat sink plays a role in the performance.
The magnesium heat sink keeps the controller cool during long file transfers. The plastic cover over the heat sink keeps the drive from burning your hand after a long file transfer, which is an issue we've had with other products.
The Portable SSD X5 may be one of the most user-friendly drives on the market, but we still have our doubts over the size of the market. To fully utilize the X5 you need a PC with an NVMe or an array of SSDs in the host system. Most systems armed with Thunderbolt 3 will have at least an NVMe SSD, but that is still a small portion of PC users.
Design professionals or "creatives" are likely to have at least one system, if not more with Thunderbolt 3 so they can fully take advantage of this drive. If you fall into this group, and have the need for portable NVMe performance, then the Samsung Portable SSD X5 is a strong, but expensive, option you should put in your cart.
PRICING: You can find products similar to this one for sale below.

United States: Find other tech and computer products like this over at Amazon.com

United Kingdom: Find other tech and computer products like this over at Amazon.co.uk

Australia: Find other tech and computer products like this over at Amazon.com.au

Canada: Find other tech and computer products like this over at Amazon.ca

Deutschland: Finde andere Technik- und Computerprodukte wie dieses auf Amazon.de
We openly invite the companies who provide us with review samples / who are mentioned or discussed to express their opinion. If any company representative wishes to respond, we will publish the response here. Please contact us if you wish to respond.