Introduction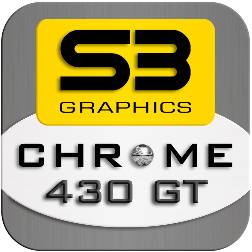 While I've heard of S3 Graphics in the past, I really don't know a lot about the company. Still being quite a young lad back in the mid 90s when S3 was ruling supreme, I was just at school and accepting hand me down computers from my dad.
Reading through the reviewers guide that was sent, a lot of familiar names did pop up; models like Trio, ViRGE and Savage were all terms I heard mentioned previously. In 1996 S3 owned over 50% of the 3D graphics market share. The thing is, looking over the guide it's quite depressing on a whole to see a company that dealt with some of the biggest names in the game and have some of the most power 3D graphics cards on the market to now be something that people only remember as a distant memory.
S3 hasn't stopped releasing graphics cards, but we just don't seem to hear much about them anymore. Hopefully that's going to change with the release of the Chrome 430 GT.
It's a low-end card that seems to be capable of taking on the big boys at NVIDIA and AMD.
The Package & Card
As you would expect for a low-end card, there isn't a whole lot to any of it. The box is small and just gives us a bunch of logos across the bottom, a picture of the card chromed along with some of the main benefits of the card.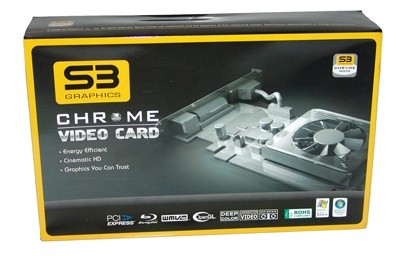 Turning the box over we go into some more detail on what the card can offer along with a 3DMark06 compare against what its main competition, the NVIDIA 8400 GS and Radeon HD 3450. We also see a star like system which NVIDIA uses to give you an idea on who the card is designed for.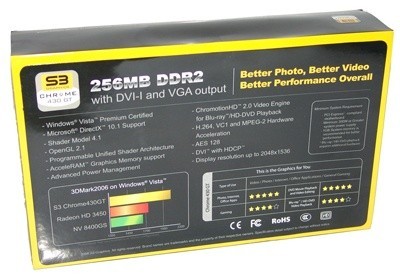 Moving inside the box there isn't a whole lot in the extras department; we have a driver CD, warranty card and DVI to VGA connector.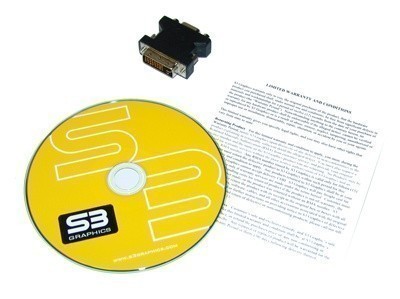 With the package out the way it's time to move onto the card itself; it doesn't come as any real surprise that there isn't a whole lot to it. The card is only slightly longer than the PCI Express connector and uses active cooling. The card is also of the low profile status.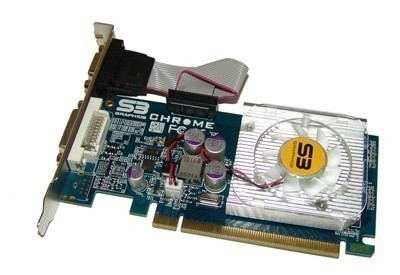 The I/O side of things is also pretty plain with just a DVI and VGA connector. We don't have any TV-Out connector.

Trying to fire up GPU-Z just resulted in an error due to none of it being able to be recognized, though the core comes in at 625MHz and there is 256MB of GDDR2 memory running at a speed of 500MHz DDR. We have a 64-bit interface, 64nm core, PCI Express 2.0 support, Direct X 10.1 and Open GL 2.1 support.
The card isn't exactly a beast in the specs department, but we will see how it goes against the low-end cards from NVIDIA and AMD.
Test System Setup and 3DMark06
Test System SetupProcessor(s):
Intel Core 2 Quad Q6600 @ 3GHz (333MHz x 9)
Cooling:
Corsair Nautilus500 (Supplied by
Corsair
) with Arctic Cooling MX-2 Thermal Compound (Supplied by
Arctic Cooling
)
Motherboard(s):
GIGABYTE X48-DQ6 (Supplied by
GIGABYTE
)
Memory:
2 X 1GB Kingston PC6400 DDR-2 3-3-3-10 (KHX6400D2ULK2/2G) (Supplied by
Kingston
)
Hard Disk(s):
Seagate 250GB 7200RPM SATA-2 7200.10 (Supplied by
Seagate
)
Operating System:
Windows XP Professional SP2, Windows Vista SP1
Drivers:
Catalyst 8.3 and Forceware 169.25
What we've done today is compare the S3 Chrome 430 GT against the HD 3450 and 8400 GS. We haven't actually included our normal Windows XP testing in a separate section; instead we've just included it in our normal graphs so we can see the performance difference between the 430 GT under XP and Vista.
Since we're not too sure what the deal is with the drivers from S3, we thought this was a good chance to have a look and see where more performance is coming from.
3DMark06Version and / or Patch Used:
Build 110
Developer Homepage:
http://www.futuremark.com
Product Homepage:
http://www.futuremark.com/products/3dmark06/
Buy It Here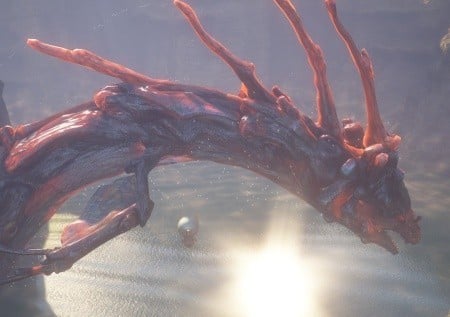 3DMark06 is the very latest version of the "Gamers Benchmark" from FutureMark. The newest version of 3DMark expands on the tests in 3DMark05 by adding graphical effects using Shader Model 3.0 and HDR (High Dynamic Range lighting) which will push even the best DX9 graphics cards to the extremes.
3DMark06 also focuses on not just the GPU but the CPU using the AGEIA PhysX software physics library to effectively test single and Dual Core processors.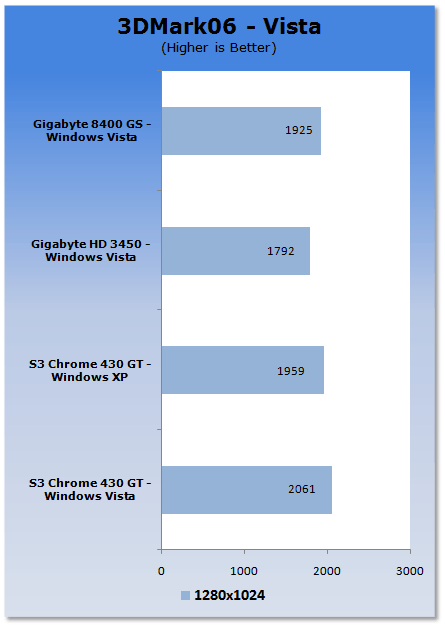 As the back of the box showed, the 430 GT is the fastest card under 3DMark06. Vista performance is also slightly better than XP.
Benchmarks - PT Boats: Knights of the Sea
PT Boats: Knights of the SeaVersion and / or Patch Used:
Benchmark Demo
Developer Homepage:
http://en.akella.com/
Product Homepage:
http://www.pt-boats.net/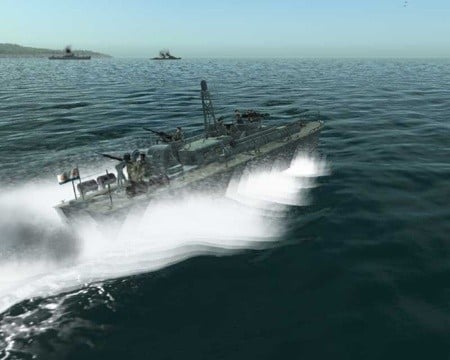 PT Boats: Knights of the Sea is a naval action simulator that places gamers in charge of a mosquito fleet of the Allied Forces, Russia or Germany during the height of World War II.
Using the latest Direct X 10 technology PT Boats - Knights of the Sea manages to apply a lot of stress to the components of today which in turn gives us quite an intensive benchmark.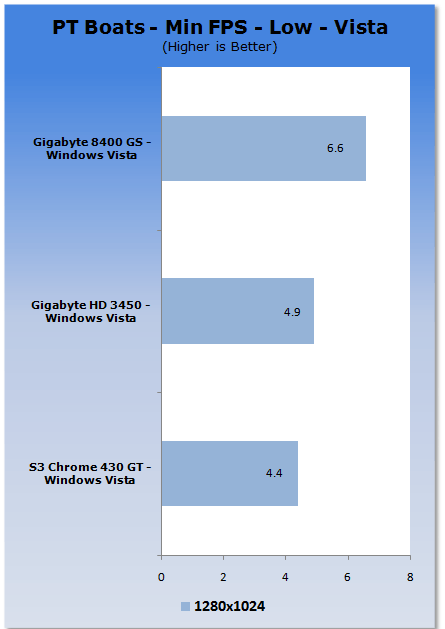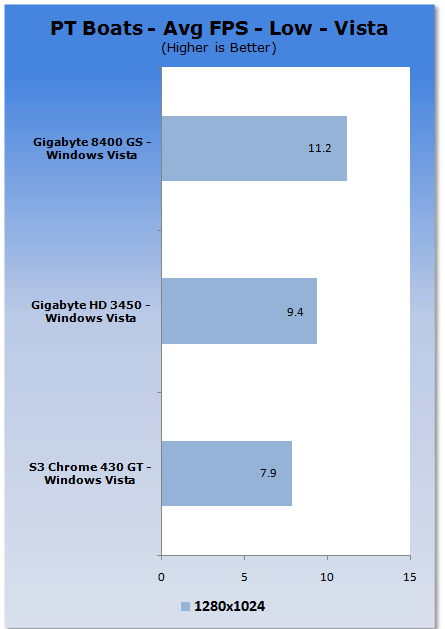 Moving to the DX10 based PT Boats and we can see that the more established offerings from NVIDIA and AMD come out ahead in this case.
Benchmarks - CINEBENCH R10
CINEBENCH R10Version and / or Patch Used:
Release 10
Developer Homepage:
http://www.maxon.net/
Product Homepage:
http://www.maxon.net

CINEBENCH is a real-world test suite that assesses your computer's performace capabilities. MAXON CINEBENCH is based on MAXON's award-winning animation software, CINEMA 4D, which is used extensively by studios and production houses worldwide for 3D content creation. MAXON software has been used in blockbuster movies such as Spider-Man, Star Wars, The Chronicles of Narnia and many more.
MAXON CINEBENCH runs several tests on your computer to measure the performance of the main processor and the graphics card under real world circumstances. The benchmark application makes use of up to 16 CPUs or CPU cores and is available for Windows (32-bit and 64-Bit) and Macintosh (PPC and Intel-based).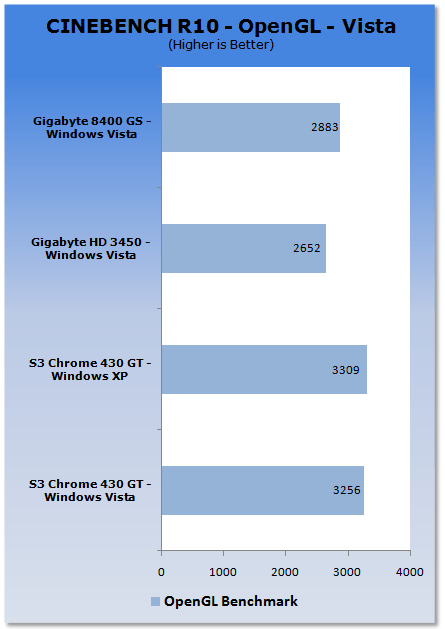 OpenGL CINEBENCH testing saw the 430 GT come out ahead by quite a decent margin against the AMD and NVIDIA offerings. We can see that the difference between Vista and XP is very small.
Benchmarks - World in Conflict
World in ConflictVersion and / or Patch Used:
1.0.0.5
Timedemo or Level Used:
Built-in Test
Developer Homepage:
http://www.massive.se
Product Homepage:
http://www.worldinconflict.com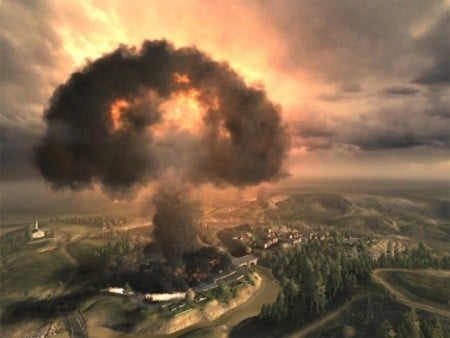 World in Conflict is a real-time strategy video game by Massive Entertainment and to be published by Sierra Entertainment for Windows (DX9 and DX10) and the Xbox 360.
The game is set in 1989 where economic troubles cripple the Soviet Union and threaten to dissolve it. However, the title pursues a "what if" scenario where, in this case, the Soviet Union does not collapse and instead pursues a course of war to remain in power. It is an intensive new game is sure to put plenty of stress on even the latest graphics cards and we use the built-in benchmarking for our testing.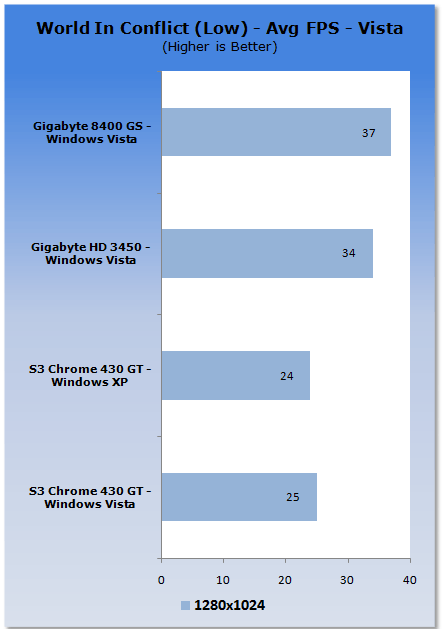 Moving to another real world game we see the 430 GT does lag at the back of the pack again, especially when we check out the averages. We also see that the performance between Vista and XP on the 430 GT is quite similar, with XP just trailing.
Benchmarks - Crysis
CrysisVersion and / or Patch Used:
1.1
Timedemo or Level Used:
Custom time demo
Developer Homepage:
http://www.crytek.com/
Product Homepage:
http://www.ea.com/crysis/
Buy It Here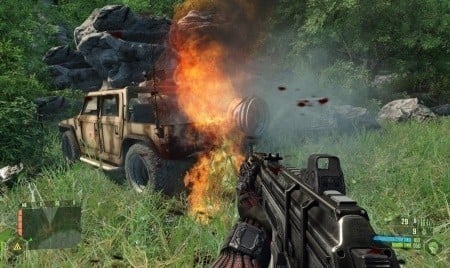 From the makers of Far Cry, Crysis offers FPS fans the best-looking, most highly-evolving gameplay, requiring the player to use adaptive tactics and total customization of weapons and armor to survive in dynamic, hostile environments including Zero-G.
Real time editing, bump mapping, dynamic lights, network system, integrated physics system, shaders, shadows and a dynamic music system are just some of the state of-the-art features the CryENGINE™ 2 offers. The CryENGINE™ 2 comes complete with all of its internal tools and also includes the CryENGINE™ 2 Sandbox world editing system.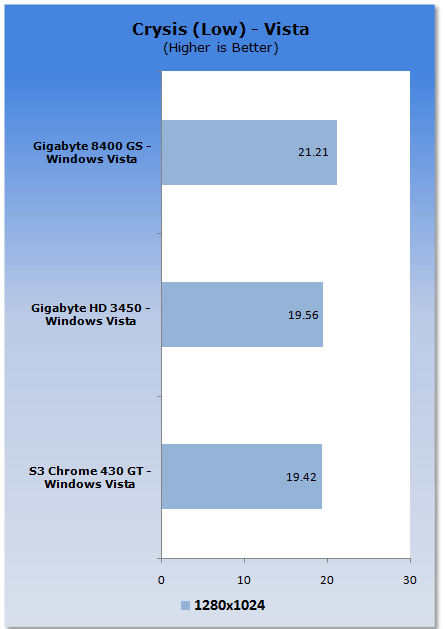 The intensive Crysis sees the AMD and S3 offering sit quite close together with the 8400GS just coming out ahead.
Benchmarks - Unreal Tournament 3
Unreal Tournament 3Version and / or Patch Used:
1.1
Timedemo or Level Used:
Developer Homepage:
http://www.epicgames.com/
Product Homepage:
http://www.unrealtournament3.com/
Buy It Here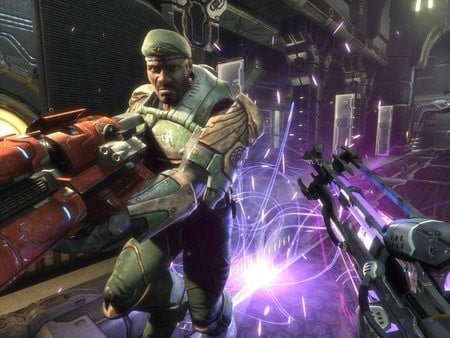 Following the formulae that made Unreal Tournament so great the third installment to the series has hit us recently with better than ever graphics. The games uses the latest Unreal Engine which like most modern day games when maxed out puts the pressure on our lineup of graphics cards.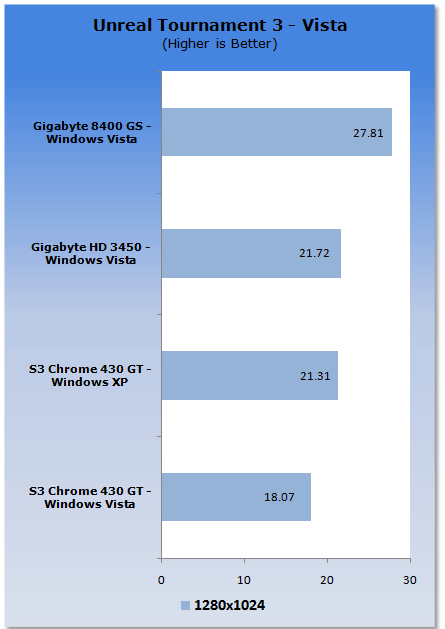 Here we can see that moving to Direct X 10 under Vista slows the card down slightly compared to its XP results. We also again see the card trailing behind the more established HD 3450 and 8400 GS.
Temperature and Sound Tests
Temperature Tests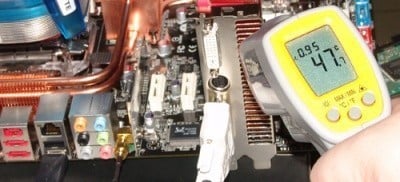 With the TES 1326 Infrared Thermometer literally in hand we found ourselves getting real-world temperatures from the products we test at load (3D clock speeds).
There are two places we pull temperature from - the back of the card directly behind the core and if the card is dual slot and has an exhaust point we also pull a temperate from there, as seen in the picture.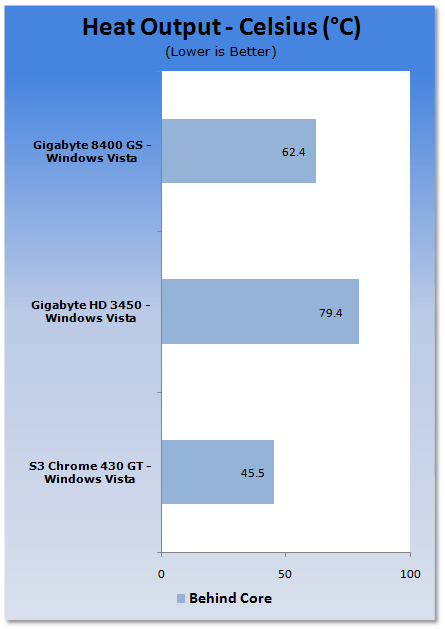 With the 430 GT being the only card with active cooling, it comes as no surprise that the temperature is the lowest on it.
Sound Tests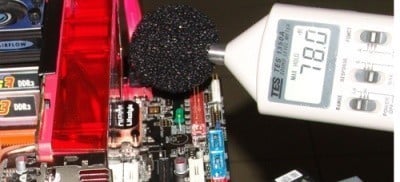 Pulling out the TES 1350A Sound Level Meter we find ourselves quickly yelling into the top of it to see how loud we can be.
After five minutes of that we get a bit more serious and place the device two CM away from the fan on the card to find the maximum noise level of the card when idle (2D mode) and in load (3D mode).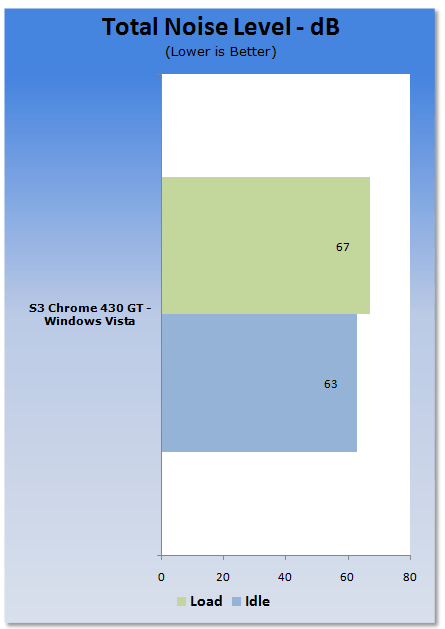 Noise levels on the card are pretty standard, sitting around the mid 60dB range.
Power Consumption Tests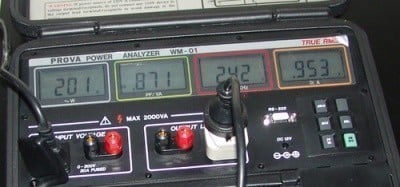 Using our new PROVA Power Analyzer WM-01 or "
Power Thingy
" as it has become quickly known as to our readers, we are now able to find out what kind of power is being used by our test system and the associated graphics cards installed. Keep in mind; it tests the complete system (minus LCD monitor, which is plugged directly into AC wall socket).
There are a few important notes to remember though; while our maximum power is taken in 3DMark06 at the same exact point, we have seen in particular tests the power being drawn as much as 10% more. We test at the exact same stage every time; therefore tests should be very consistent and accurate.
The other thing to remember is that our test system is bare minimum - only a 7,200RPM SATA-II single hard drive is used without CD ROM or many cooling fans.
So while the system might draw 400 watts in our test system, placing it into your own PC with a number of other items, the draw is going to be higher.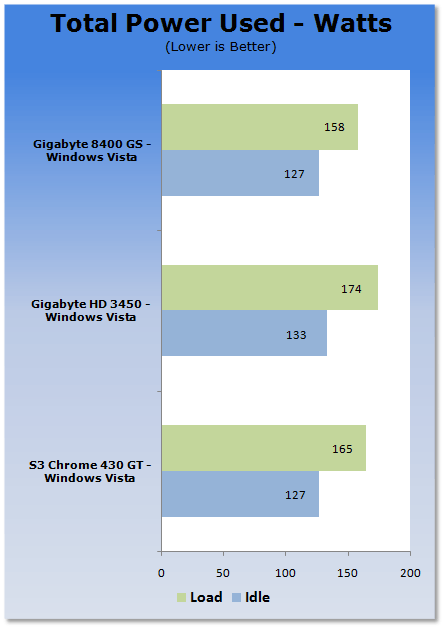 Power levels between all three cards are quite similar; the 430 GT and 8400 GS come in lower than the HD 3450, with the 8400 GS having the lowest load usage.
Final Thoughts
The Chrome 430 GT isn't too bad of a card, it's able to perform similar to the AMD and NVIDIA based games in some applications, and never really falls behind too much. The card is also cheaper than those two offerings; if that represents better value for money though, it's really up to you. Some people would prefer to pay slightly more and get slightly more performance.
On the downside, there are so many issues with the S3 Chrome 430 GT which don't relate to the card itself. The card on a whole is very good; it never missed a beat in our testing, had no issues with driver installation and just on a whole was a pleasure to deal with.
Where the problems lie is in reference to the driver support. How often are we going to get driver updates from the company? Getting a hold of the card might also be a problem as availability seems low. What is after-sales support going to be like? The guys at S3 have been fantastic about answering any questions we've had and they generally seem pretty enthusiastic about the product, but with the competition that is the VGA market who really knows how well they will go, it's not the first time that the best product hasn't come out on top.
Another cool feature of the card is that we have hardware decoding, which is great for people with low-end HTPCs that want to get their Blu-ray freak on. The thing is, this is where I really do begin to have some issues with the card.
What I would probably do is release a S3 Chrome 430 GT HD. What this card would consist of is passive cooling, low profile bracket, onboard HDMI w/ ability to transfer sound and a HDMI cable. No doubt that this is going to increase the price, we don't expect these extras to happen without a price increase, but S3 really need to stand out from the pack and offer something we don't have from other partners.
Who knows if S3 will ever become as big as they were in the mid 90s or if they will just continue to plod along creating low-end graphics cards that the market will probably never really up take.