It's not the first time I've entered the wonderful world of notebooks, but recently I've found myself getting a bit tired of sitting in front of the same desk in the same room so many hours a day. I thought that it was finally time to take the plunge and get back into the wonderful world that is notebooks.
As someone who constantly finds himself trying to justify a purchase and being able to do so with very little effort, the purchase of a notebook took very little convincing. I really had the notebook I wanted in mind, but I wanted to do a little bit more research. In the end I decided to go down the Dell route and two models really came to mind; it was a choice between the XPS M1330 and M1550.
With portability being the ultimate deal clincher, I decided to get myself an XPS M1330. Productivity was also very important, so moving to the WLED screen that dropped the weight and also going with the new T9300 processor meant that I received the smaller power supply, which again is helpful in the portability department.

There are three kinds of notebook users; those that get their notebook through work for business purposes, those that buy it themselves and say that they're going to use it all the time, but actually don't, and then of course the group of people who buy it and actually do use it. I hope to find myself in the latter; previously I was in the second group and found my notebook being used as a door stop more than anything else.
Tonight I find myself laying in bed with the TV on whilst writing this editorial; it feels nice not to be sitting in front of the normal work computer, but as someone who uses a 30" LCD carrying with it a massive 2560 x 1600 resolution, getting used to a 13.3" screen carrying 1280 x 800 and I can honestly say that I thought it would drive me mad at first. However, I find myself moving from one of the highest resolution monitors to one of the smallest on the market, and quickly adjusting to it.
If you find yourself mainly doing work on something like a 24" monitor that does 1920 x 1200, or the higher 30" resolution, you might be pleasantly surprised upon firing up a word document on the small 13.3" screen.
Zooming out to 70% is still very readable thanks to how close you generally find yourself sitting to the screen of a notebook. At 70% you're able to have two pages running side by side which is something that I do on my 30" monitor; the difference here is that this does manage to take up the whole screen while I would have 100% zoom on the 30" monitor, dual pages and MSN showing, Email, Pictures related to the article and generally some other stuff that might be useful as well. Here I find myself alt-tabbing a lot more, which isn't too bad as soon as you get used to it.
If you find yourself wanting a bit more real estate, moving to a 15" model might be a better option. Some models offer 1680 x 1050 at this size which is quite a fair bit of extra room over the 1280 x 800 option offered here on the M1330. Of course, this comes at the cost of extra weight and generally a few more dollars. The larger notebook tends to find itself with a higher end graphics card as well, which means that gaming is a higher possibility.
Of course, if you want to go more down the gaming route, 17" models which offer SLI are great for people thinking about getting a decent desktop replacement. Like every notebook though, there are pros and cons; the larger ones come with more weight, a higher price tag and terrible battery life. Each sized notebook really offers something for a different group of people.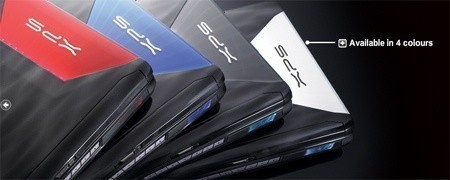 12"/13" offers great portability and excellent battery life, while graphics card options are limited and desktop space is on the low side of things. 17" models offer big resolutions and big specs, but with SLI graphics card options being available, the cost of them can really sky rocket and take one into the $3500+ region with very little effort. 15" models really are a bit of a happy medium; this is where you get some decent portability, a decent resolution and decent graphics card solutions. However, there is no denying that you don't get maximum portability that the smaller models offer, and they're not exactly the best desktop replacement due to limited hard drive options and other expandability.
It's easy to justify the purchase of a notebook when you're a bit of a geek, but I would honestly recommend that you really take the time to sit down and think long and hard about it. There are plenty of options out there and a different kind of notebook for different kinds of people. While the 13" option was perfect for me, it's not going to be for a lot of people. Hopefully I find myself just as enthused with my XPS M1330 6 months down the track as I am today, but with the time I've taken to think about it, I'm sure I will.