The Bundle - Do we really care?
Sometimes the only thing that separates one graphics card from another is the bundle. Some card makers choose to include a nifty extra from time to time, while others choose to include extra cables or converters. However, more often than not it's the game that separates the graphics cards apart, as it's one of the most noticeable additions to a package.
A few companies add something a little extra sometimes; on the higher end ASUS cards we find ourselves with a CD wallet usually. Foxconn tend to include some extra software in their graphics card bundles which would probably be better suited for a motherboard. Palit generally choose to include a game, though it's generally not something that stands out. GIGABYTE has lately been including quite a new release and high profile game title with their premium models carrying the TurboForce naming scheme.

The thing is though, it's all well and good for us to say it's nice to see that these extras were included, but you have to wonder; do we ultimately care about all these extras? - If I found myself working at a graphics card manufacturer I would probably attack the bundle a completely different way.
If you have a HTPC based card and its main feature is that it carries HDMI, logic says to include a HDMI cable. In Australia getting a HDMI cable isn't too difficult, but if we walk into one of our major retail chains, the costs are quite high with a limited range starting at over the $70 AUD mark. If you wanted to wait you could order something from ebay and get one for only a few dollars, so clearly the addition of a HDMI cable could be added at little expense when you think that these companies would be able to order in the hundreds and thousands.
Then we have the game bundle. It really seems like one of those pointless things to include for the simple reason that not everyone is going to be into that genre of game. Take for example GIGABYTE's bundle at the moment which carries with it a copy of Never Winter Nights 2. It's a great game if you're into that kind of thing; otherwise it's simply going to bore you to tears.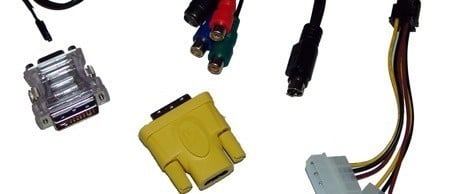 There are exceptions though; EVGA choose to include a copy of Crysis with some higher end 8800 models. Crysis is one of those games that everyone would probably like to have a crack at purely due to the amount of hype surrounding the game, but it doesn't matter which graphics card (or cards) you throw at it, you will find it runs quite poorly compared to something just as new like Unreal Tournament 3, which also manages to carry with it some stunning visuals.
If you turned around and installed your 8800GTX into your computer and fired up Unreal Tournament 3 at max detail with a 1920 x 1200 resolution, you would find yourself with an absolutely beautiful gaming experience. You then move on to try the same with Crysis and you find yourself with single digit frames per second.
It doesn't seem like we're the only one thinking this though; graphics card companies are now tending to put more effort into the card and less effort into adding frills to the package that you wouldn't really care about.
We are at the stage now where people realize that the difference between the $300 offering and the $350 offering is a game they don't want to play or a cable they're not going to need. Palit and Zotac are prime examples of companies who offer a more competitive priced card, yet also being a faster product under their respected Sonic and AMP! naming schemes.
The only other thing that tends to separate the cheaper cards from the more expensive ones is the length of warranty. While most stores in Australia only offer 12 months, the distributors tend to carry forth the manufacturing warranty of 2 or 3 years. The problem is that with the advancements in graphics cards being so fast nowadays, and prices continuing to drop at rapid rates people aren't keeping the products for as long as they used too.
You have to wonder; if we started receiving cards in some bubble wrap without any fancy boxes, would we really care? Freight to Australia is not cheap, and when you look at the size of some of the boxes we get you realize that this certainly doesn't help with the price premium tacked on.
The perfect graphics card bundle would probably simply involve the card itself, a good quality heatsink/fan combination, a decent overclock on the core and memory and a driver CD. Sure, have the option there to buy DVI to HDMI adapters and TV-Out cables, but don't jack the price up. Price search engines like Dealtime in the United States and Static Ice in Australia are so busy these days due to the simple fact that people don't want to pay any more then they have to. There are probably more keyword searches for "9600GT" than a particular brand of that model.
In an economy where price is the bottom line these days you have to really wonder, do we really care about the bundle of not only graphics cards, but all computer components?