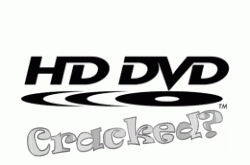 HD-DVD Content Protection already hacked? muslix64 believes so!
Ever since the next generation high definition movie formats were announced, consumers have been up in arms about the proposed content protection by Hollywood film studios known as Advanced Access Content System or AACS for short.
AACS is a content protection method employed to stop the copying of HD content at full 1080p (1920 x 1080 progressive) quality. It is the reason you are hearing so much talk about HDMI + HDCP lately or lack of in some cases when talking about manufacturer support. If you want to watch HD content at full HD quality, you'll need to have a display which supports HDCP through either DVI or HDMI. And if you want to watch HD-DVD or Blu-ray movies on your computer, you'll need a graphics card and drivers which supports HDCP, too. If you lack any of these components, you'll only be able to watch your movie at 480p or lower which is basically the same quality as standard definition TV - or worse, not be able to watch at all.
Some companies and consumers have said in various places around the Net that most HD-DVD's will not come with content protection until around 2010 or so. While that seems the case as of right now, at any tick of the clock Hollywood could start implement content protection into their media. In any case, and as far as we can tell from software companies like CyberLink, if you don't have HDCP support (graphics card + driver + monitor and so on), the ICT rule states that the player must stop playback after just a few seconds. And it does, we tested using a Windows XP system fully HDCP compliant using an Xbox 360 HD-DVD USB drive with
The Bourne Supremacy
which lacks content protection at this point and the newest version of PowerDVD Ultra indeed stops playback after a few seconds. In essence, this is worse, because if you go out and buy a HD-DVD movie, you won't be able to watch the movie at all, let alone at a reduced resolution. Of course though, you could solve the problem by going out and buying an uber expensive HD-DVD player but who wants to spend that much money and what if you want to play the movies on your PC or any computer like device connection to your HD display?
It all seems like a big fuss and hassle just to be able to watch the HD movies you buy at full quality but it would seem like a necessary evil, at least in the eyes of film producers and the studios. One annoyed consumer, going by the name of "muslix64", bought an Xbox 360 HD-DVD player over the holidays along with some HD-DVD's and was annoyed to discover he couldn't watch his movies at 1080p because his hardware lacked HDCP support. In what would seem like
an act of frustration
, the consumer set out about finding a way to playback his HD-DVD movies on a system without any content protection available. He believed it was not "fair" and that something should be done. He noted that, "
This software is a good way to protect your investment, because I have notice that this type of media seems very fragile, if it's scratched a little or dirty, it won't play. It seems less tolerant than DVD format. (Higher density!)
" It would also seem like the law would back him up to a certain extent in saying that consumers are legally able to back up one copy of their own DVD as long as they don't sell for profit but we're not sure about the law when it comes to HD-DVD and of course it's going to depend what country you are in.
The very basic software he created, self-described, allows you to backup copies of your HD-DVD movies as long as you have the decrypted title keys. How does the program work? According to the FAQ,
" This is a java based command line utility that decrypt video files (.evo) from a HD DVD disk that you own, to your hard drive and you can play them back with a HD DVD player software.
"
As long as you know how to find the encrypted title key and then know how to decrypt it, you can use the program and "backup" your movie. Naturally though, the software seems innocent but it's clear where this is headed. How long will it be before software is created which tells you the key? Surely not long. Interestingly, if you know what you are doing and I'd say most software programmers would consider this simple, you can follow
the PDF guide
which is publically available on the AACS website itself. On page 30 and onwards, it begins to talk about extracting the title key, decrypting it and even changing it - all publically available for download mind you - we assume for HD-DVD and Blu-ray developers to follow as guidelines.
So if this software by muslix64 actually works, what does this mean for the movie industry? First of it's probably going to mean that the HD-DVD standard is set back even longer from becoming mainstream or it could mean the implementation of a completely new content protection system but that could take years and hence doesn't seem practical. Either way, the team at Blu-ray are probably smiling right now but hoping their next gen standard is not next on the list. In any case and just by reading various forums and discussions around the Net, consumers are quite mad about content protection in next generation HD content and as the age old saying goes, "
Where there is a will, there is always a way...
" - and the will clearly is to abandon HD-DVD and Blu-ray, show the films makers who is boss or just keep cracking their content protection systems.
What are your thoughts on the subject? Will you buy HD-DVD or Blu-ray movies knowing that Hollywood is making you jump through hoops or will you try and show the film producers who is the real boss by not buying their next gen HD movies? Let us know your opinion by using the comment feature below!
PRICING: You can find products similar to this one for sale below.

United States: Find other tech and computer products like this over at Amazon.com

United Kingdom: Find other tech and computer products like this over at Amazon.co.uk

Australia: Find other tech and computer products like this over at Amazon.com.au

Canada: Find other tech and computer products like this over at Amazon.ca

Deutschland: Finde andere Technik- und Computerprodukte wie dieses auf Amazon.de
We openly invite the companies who provide us with review samples / who are mentioned or discussed to express their opinion. If any company representative wishes to respond, we will publish the response here. Please contact us if you wish to respond.