For the last three days, I have probably run the Grand Theft Auto V benchmark at least 300 times. Without a problem. I've been sitting here in my lab, running GTA V at 1080p, 1440p and 4K.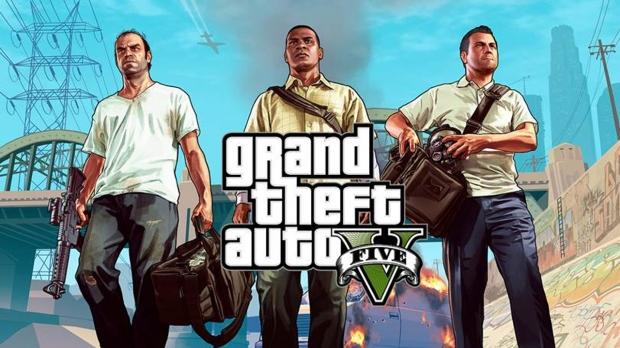 Rockstar has powered GTA V with its custom RAGE engine, which might be impressive for the consoles, but it's something else entirely on the PC. The studio has added in improvements to the engine that are just for the PC which include higher resolutions than the consoles are capable of, improved graphical details, denser traffic and pedestrians, better AI, new and improved weather and damage effects, and much more.
AMD and NVIDIA were quick to release their respective Grand Theft Auto V ready drivers, but during our testing we found that both sides of the VGA fence were great performers in single GPU solutions. But our SLI and Crossfire testing found NVIDIA coming out on top.
You can grab the AMD Catalyst 15.4 Beta drivers here.
You can grab the NVIDIA GeForce 350.12 WHQL drivers here.
As for our VGA line up, we have some extra goodies thrown in here. We tested the dual-GPU AMD Radeon R9 295X2, but we had a huge help from AVA Direct, which hooked us up with two NVIDIA GeForce GTX Titan Black Edition cards, which we started benchmarking with GTA V and will run through our entire benchmark suite in the coming weeks with some battle showdowns against the GTX 980, Titan X, R9 290X, and more.
As for the list of what we tested, here it is:
NVIDIA GeForce GTX Titan X SLI

NVIDIA GeForce GTX Titan X

NVIDIA GeForce GTX 980 SLI

NVIDIA GeForce GTX 980

NVIDIA GeForce GTX Titan Black Edition SLI

NVIDIA GeForce GTX Titan Black Edition

MSI GeForce GTX 980 4G Gaming LE

ZOTAC GeForce GTX 970 AMP! Extreme Core Edition

GALAX GeForce GTX 960 EXOC

AMD Radeon R9 295X2

SAPPHIRE Radeon R9 290X 8GB Vapor-X Crossfire

SAPPHIRE Radeon R9 290X 8GB Vapor-X

VisionTek Radeon R9 270X 2GB OC
As for the system we used, this is what we're running: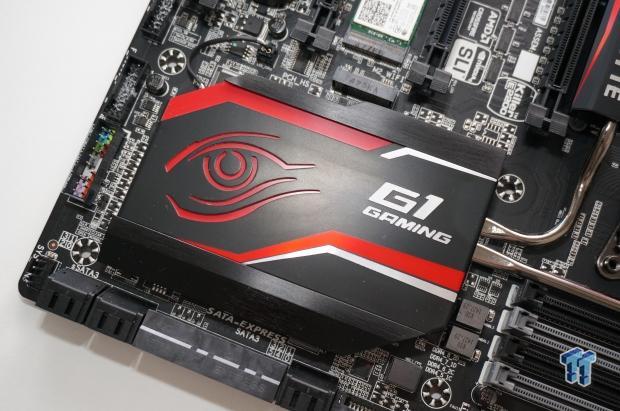 CPU: Intel Core i7 5820K processor w/Corsair H110 cooler
Motherboard: GIGABYTE X99 Gaming G1 Wi-Fi
RAM: 16GB Corsair Vengeance 2666MHz DDR4
Storage: 240GB SanDisk Extreme II and 480GB SanDisk Extreme II
Chassis: Lian Li T60 Pit Stop
PSU: Corsair AX1200i digital PSU
Software: Windows 7 Ultimate x64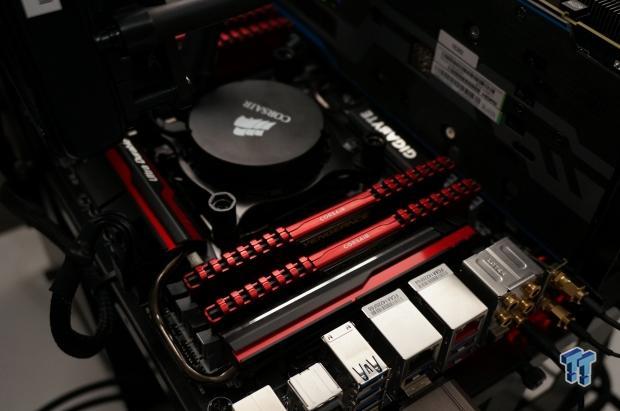 As for our in-game settings, here we have the graphic settings, then under that the advanced graphic settings.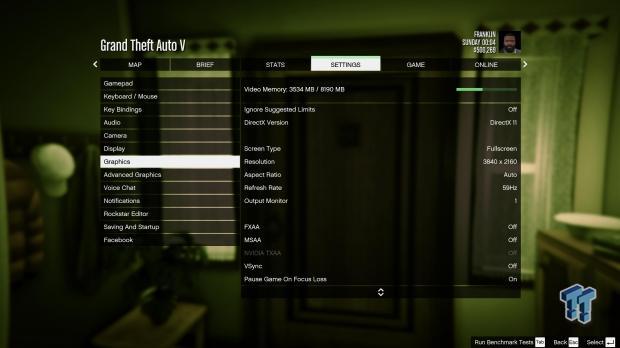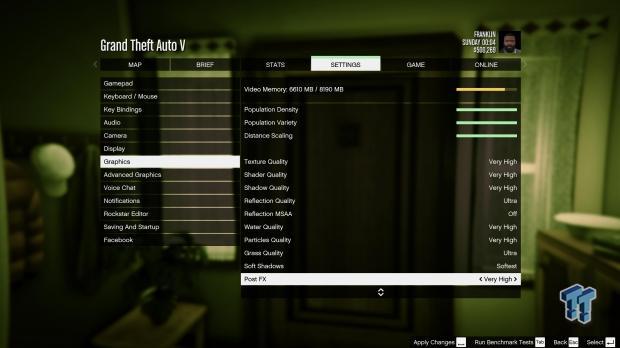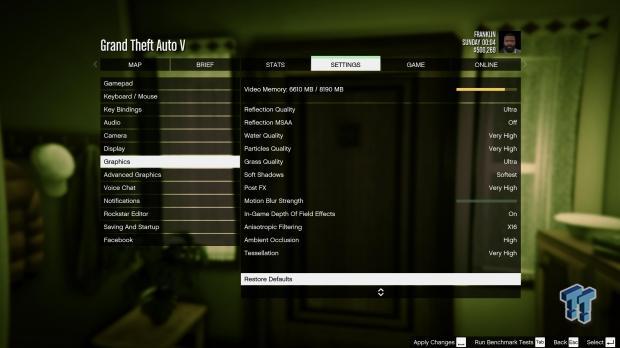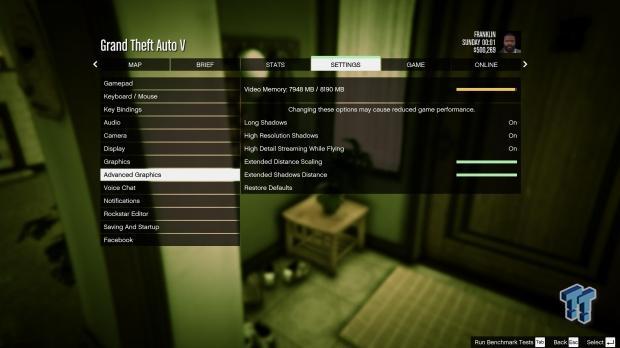 Now that we have our VGA lineup and our test bed out of the way, let's see how all of these cards perform in Grand Theft Auto V!
GTA V - 1080p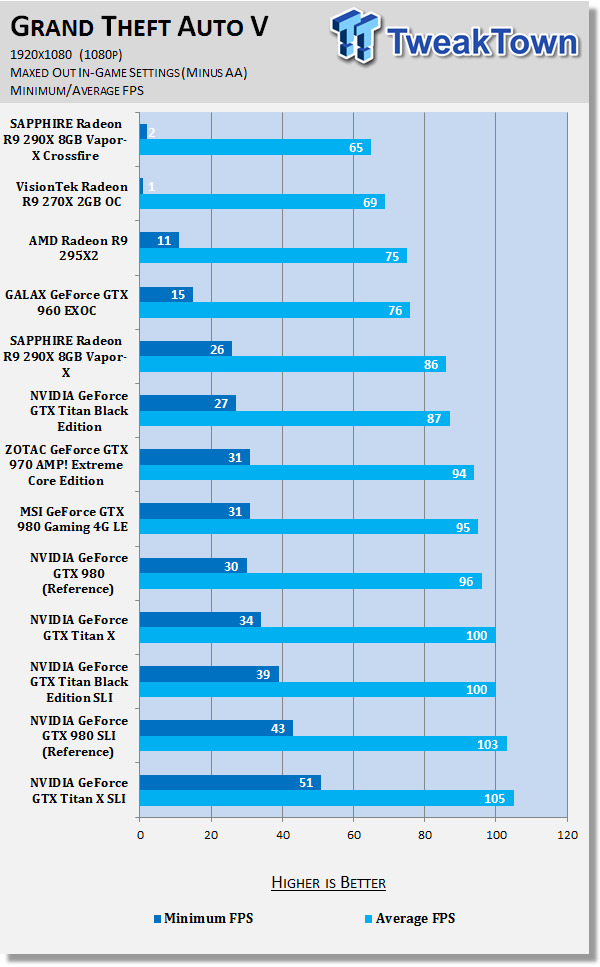 GTA V - 1440p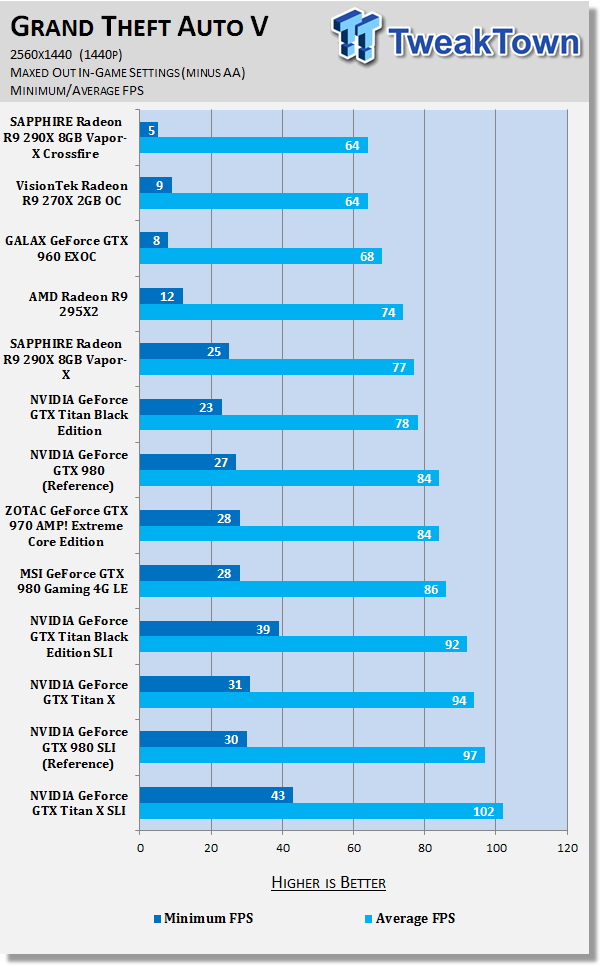 GTA V - 4K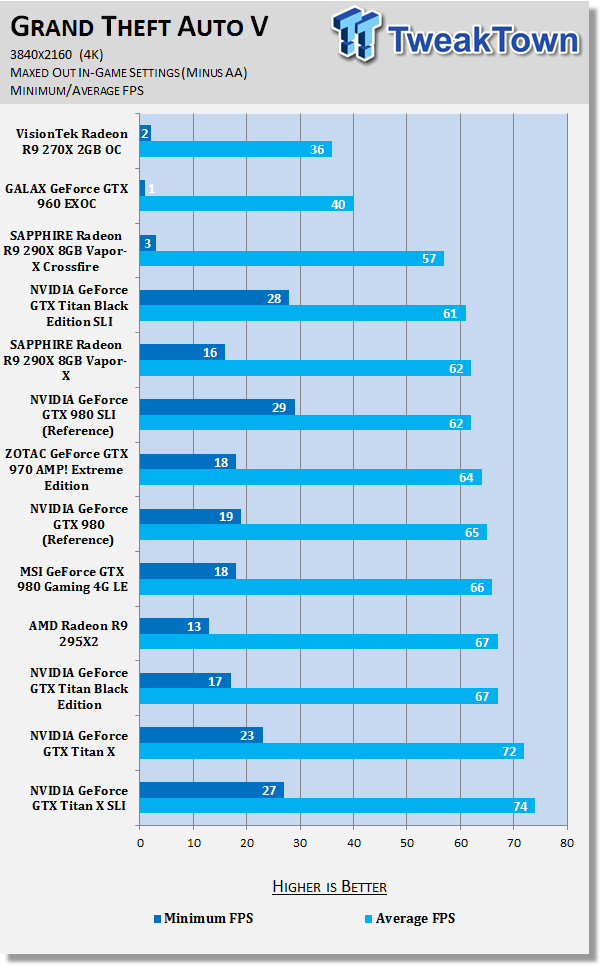 Performance Analysis
So here we are. Hundreds of benchmark runs, picking up and caressing these beautiful VGA cards and what do we think? Well, to start off with: Rockstar has to be commended on an excellent port to the PC from consoles. I didn't think we'd see this level of performance from a game that looks quite impressive (facial animation, and other parts of the game have their downsides).
Starting with 1080p, every single card, including our VisionTek Radeon R9 270X and GeForce GTX 960 runs the game at more than 60FPS. This completely demolishes the consoles in every way imaginable. Not only are you running GTA V at a higher resolution than the 'next-gen' consoles, but you're doing so at 60FPS average, or more.
The thing is, at 1440p, we have the same to say. We were running everything cranked all the way to maximum apart from AA, and still enjoying 60FPS+ at 2560x1440. Our VisionTek Radeon R9 270X 2GB OC managed 64FPS average, while right at the top our Titan X cards in SLI pushed 102FPS.
At 4K, this is where the fun begins - but we still have great news to report: most of our cards did surprisingly well. The VisionTek Radeon R9 270X 2GB OC still managed 36FPS average, while our GALAX GeForce GTX 960 EXOC pushed 40FPS. But in order to enjoy Rockstar Games' open-world title at 4K 60FPS, you don't need that much hardware.
An AMD Radeon R9 290X or NVIDIA GeForce GTX 970/980 will be enough, and that's a surprising thing to say. The GTX 970 from ZOTAC provided 64FPS, while the R9 290X from SAPPHIRE wasn't far behind with 62FPS. The Titan Black on its own was capable of 67FPS, as was the Radeon R9 295X2. The Titan X in SLI won the medal here, with 74FPS.
Final Thoughts
Rockstar has done an astonishing job here folks, with $300-$400 cards capable of 4K at 60FPS, this is amazing. You don't need to buy a second or third VGA card for 3-way SLI or Crossfire, as you might have noticed, SLI and Crossfire didn't fare that well, or weren't providing a huge benefit to the game right now.
I decided to run all of the cards at all three resolutions, to give the best look at the performance - from the VisionTek Radeon R9 270X 2GB OC right up to the Radeon R9 295X2 and Titan X SLI. This gives the world the best look at scaling on the faster VGA cards, and how SLI and Crossfire don't add too much to the performance whirlwind in GTA V.
The question I have now is: how long do we have to wait for Grand Theft Auto VI, Rockstar?
Last updated: Nov 3, 2020 at 07:12 pm CST