"COOLING FAN" content on TweakTown - Page 1
We found 1 items for the tag: COOLING FAN

GUIDES
Case Smithing: Getting Started with DIY Cable Sleeving
John Williamson aka Pwnography6 is back again with another case modding guide. This time he shows you how to "sleeve" the cables of your power supply and cooling fans.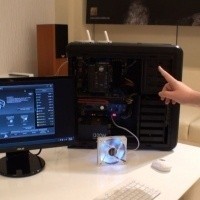 NEWS
ASUS Fan Xpert 2 video hands-on shows how to do PC cooling fan control right
ASUS have really nailed it when it comes to Z77 software features.