NewerTech Nuguard KXs Impact Galaxy S4 Screen Protector Review
This screen protector costs more than the rest, but offers you protection that claims to protect your phone against a direct hammer blow.
Published Wed, May 13 2015 9:10 PM CDT
|
Updated Tue, Nov 3 2020 6:59 PM CST
Introduction
With three layers listed as protection, absorption and adhesion, the Nuguard Kxs for Galaxy S4 claims it can withstand a direct hammer hit thanks to its absorption technology.
Screen protectors are something that many people are picking up for $2 from various Chinese import websites, however, these covers lift easily, are scratched easily, don't protect your phone against impacts on the screen and are often hard to lay down. Will the KXs fix these common issues with its premium price? Read on to find out.
Specifications
Compatible with various phone models ranging from iPhone to Android depending on what model you purchase, this shock absorbing protector will deflect energy from impacting objects as displayed in the video above.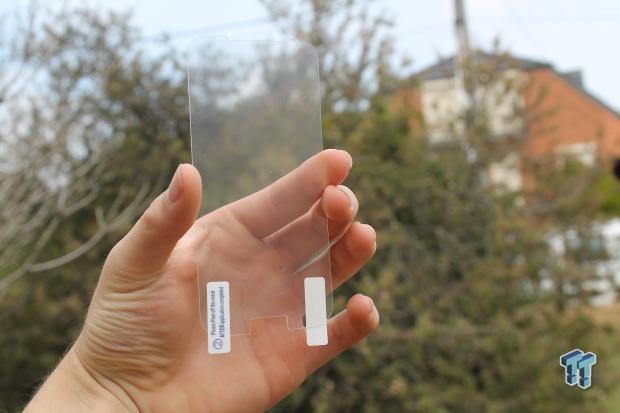 The first layer will protect your screen overall. Said to protect against scratches and everyday wear and tear, Nuguard claim there will be no yellowing tint to occur as seen with various cheaper models.
The second layer is for impact protection and as mentioned a few times previously, will withstand impacts from solid objects by deflecting the energy and spreading it around the phone. Lastly there is the adhesive layer, set out to connect everything together and boasts a 'no accessories needed' method alongside protection against bubbles occurring upon instillation. All three layers wrap up in a 0.22mm thick package in one single screen with nothing else needed.
Pricing & Availability
Setting you back $8.50 plus shipping costs from Amazon, this product seems extremely useful and well-priced. It's a little more than what you'd expect to see with Chinese imports as listed above, but for the few extra dollars, it's helpful to protect against some impacts for sure.
What's in the box?
This comes complete with the screen protector itself, an application pad (similar to a credit card), a screen cleaning cloth, and a 'blue sticky sheet'.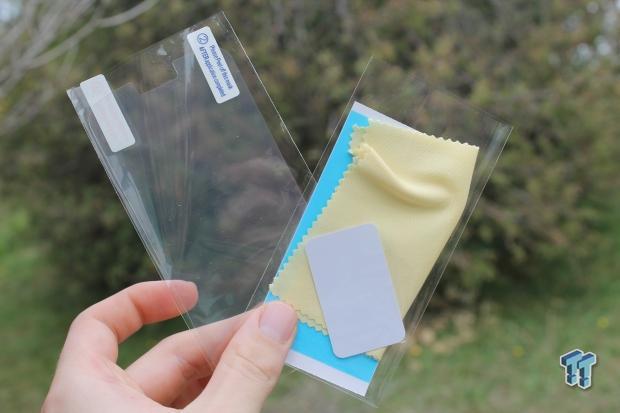 The blue sticky sheet is there in order to clean off any stubborn grease and grime that may be present on your phone's surface. This is anything that you would realistically want with your screen protector, unless you can think of something else or are expecting a second screen to be bundled - which isn't a terrible idea.
Touch and feel
The application process was very simple and all bubbles were removed once I had ironed them out with the card applicator provided. It took a few tries to get it all lined up properly, but the video below was helpful in explaining the process from start to finish. Although it may seem simple and straightforward, it's always good to see the process from the manufacturer just to have peace of mind - too bad an application manual isn't included and their website doesn't have a readily available video either.
The one we're testing here is the 'case friendly' version so it looks a little odd when there is no case present. The reason you can tell it's case friendly is because there has been a little bit of space left on each outer edge of the phone clear from being protected in order to give you case a solid mounting point and to not disturb the screen protection qualities at all.
The cover itself feels a little different from a straight glass screen as it's a little more 'grippy' in nature, but all of the presses are fine and it doesn't take long to get used to - the weirdest feeling comes when you're trying to drag across the screen or swipe in certain applications or games. I was extremely hesitant to test this product out to it's fullest because I only have one phone in my possession and I don't think my warranty would cover "product testing" as a category, but what the heck let's do it anyway.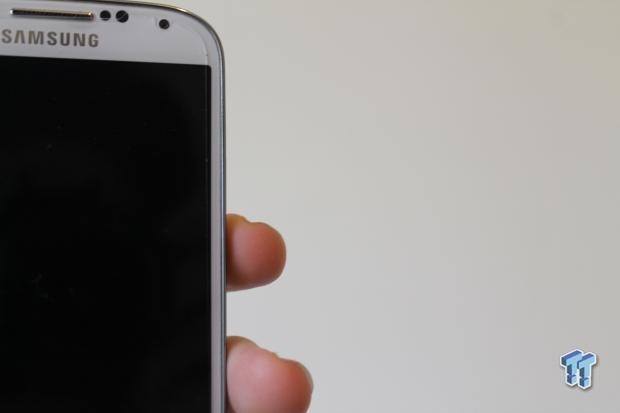 I decided to use a money tin of mine and hit the screen all over a few times in order to see if anything would happen. With my breath held, I used the corner of the metal money tin to strike the screen several times, brandishing only a small mark in the screen (as seen in the previous video) with no cracking taking place. This would show that the cover works exactly as intended, and ensured I breathed a sigh of relief.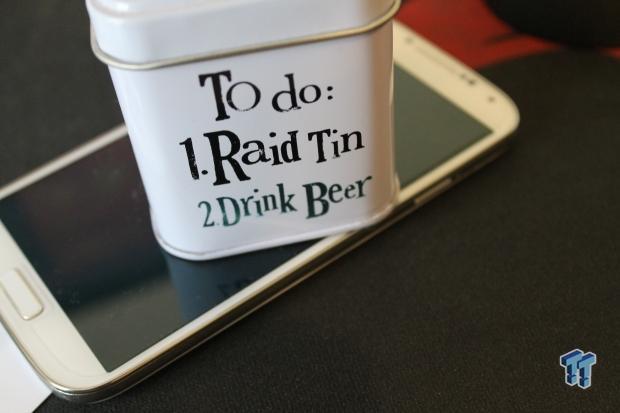 What's Hot
Sturdy: This product will ensure your phone is kept clean and safe.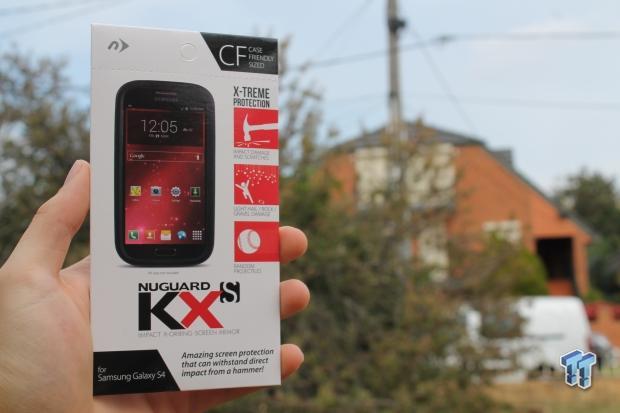 Easy to use: The application process was simple and effective, must better than cheaper products I have used in the past for various phone models.
What's Not
Grip feel: Your finger feels like it grips the screen a little too much and this would be due to the soft impact layer nature, I would assume. It's easy to get used to but a niggling issue for heavy game players.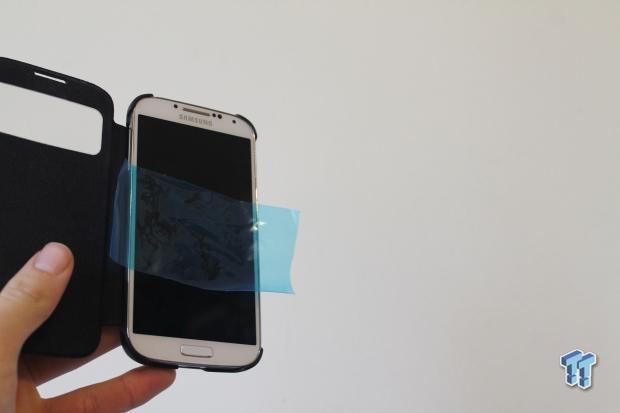 Final Thoughts
Thanks to the success of this protector, I will be next moving on to using the Nuguard protective case and seeing how it also performs in the wild.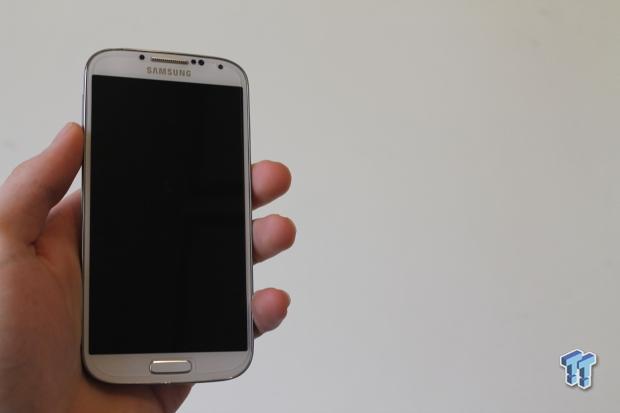 The cover feels like it has a little bit too much grip when in use and might annoy those who love to play games on their phone constantly. It was pretty easy for me to get used to, but for only $8.50, I think it's worth a purchase just to test - if you don't like it, just throw it away and keep the cleaning cloth for future use.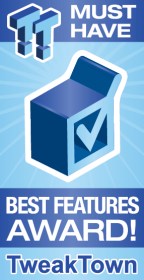 | | |
| --- | --- |
| Performance | 95% |
| Quality including Design and Build | 95% |
| General Features | 80% |
| Bundle and Packaging | 90% |
| Value for Money | 85% |
The Bottom Line: NewerTech's Nuguard KXs Impact Galaxy S4 Screen Protector will actually protect your phone against scratches and direct impact hits, we tested it ourselves just to be sure.
PRICING: You can find products similar to this one for sale below.

United States: Find other tech and computer products like this over at Amazon.com

United Kingdom: Find other tech and computer products like this over at Amazon.co.uk

Australia: Find other tech and computer products like this over at Amazon.com.au

Canada: Find other tech and computer products like this over at Amazon.ca

Deutschland: Finde andere Technik- und Computerprodukte wie dieses auf Amazon.de