HIS Turbo Charger QC 2.0 AC Wall Charger Review
Lost the USB charger your product came with or looking for a spare? HIS has a solution in the form of a single USB port 2.1A output wall charger.
Published Wed, Apr 29 2015 9:12 PM CDT
|
Updated Tue, Nov 3 2020 6:59 PM CST
Introduction
This small charger sets out to be a replacement or addition to the charging accessories already owned for your products of choice. Much faster than a normal PC/Mac USB port, wall-chargers are a great solution of products to have sitting next to your bed, on your kitchen bench or in common areas.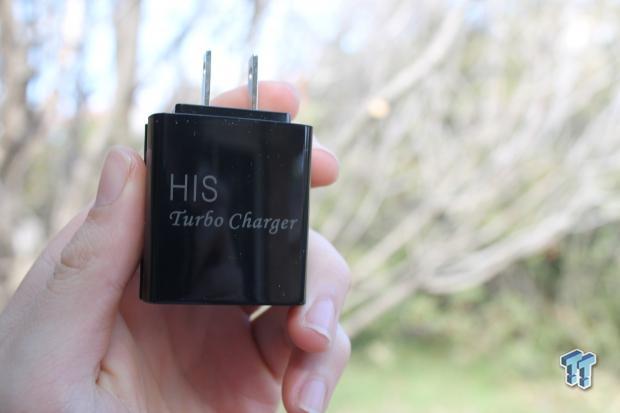 HIS has set out to make their product stand out from the rest by providing a maximum 2.1A output speed, rated at around 75% faster than most wall chargers and 4x faster than your general USB port.
Specifications
The single USB output can be run at 1.5, 2.0 and 2.1A depending on what your product will draw from it and will work in wall sockets ranging from 100-240v AC. The charger claims that it will provide you four hours talking time on a mobile for only 20 minutes of charging, likely to be set as a standard on an older phone like an iPhone 4 or Samsung Galaxy S3.
Most chargers will offer you a 1-1.5A output from the wall, rating this as similar or faster. As with charging, generally faster is better as you're looking for a quick fix before heading out to a party, university or work. Also laden with Qualcomm's Quick Charge 2.0 technology, speeds are said to be ensured through this implementation.
Pricing & Availability
Unable to find the product on Amazon, you can purchase it directly from HIS for the reasonable price of $24.99 plus shipping costs. It's a little more than similar products listed on Amazon, but HIS has a proven professional warranty history and are a brand in which you can trust. It is also listed over at Newegg for $9.99 plus shipping costs.
What's in the box?
The product itself - that's it.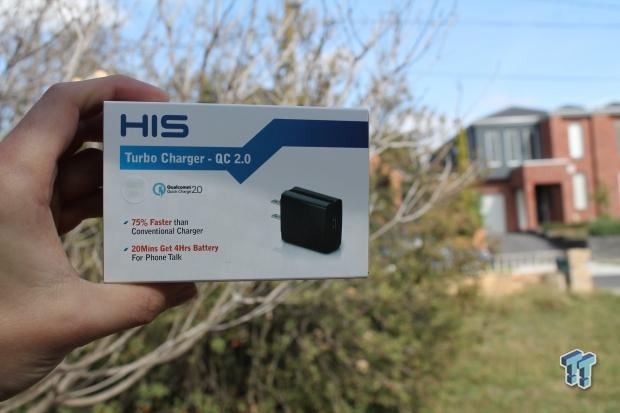 Seeing as you can buy micro USB cables for about $2 and Apple equivalents for similar pricing, it would have been great if HIS could've included both options as a bundle. I see this as something that will raise the cost maybe $1 overall and keep customers much more happy - who doesn't like free stuff?
Let's dig deeper
If feels quite nice, the shiny exterior makes for some unwanted fingerprint marks when being used but this downside is made up for the great compact size that it offers.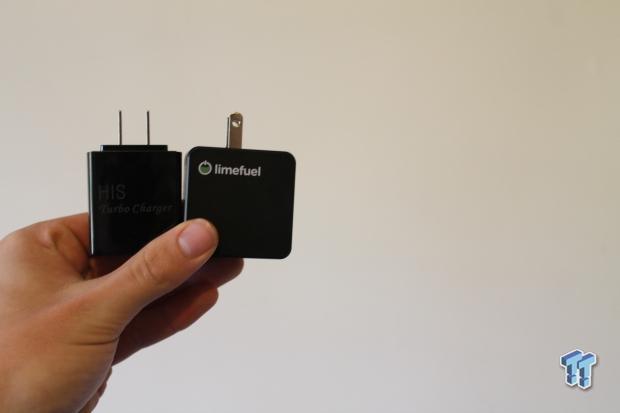 Comparing this to the two-USB port laden Limefuel 4.8A charger, you can see that it's an extremely small product, measuring not much wider than my Samsung Galaxy S4 battery. The fact it only has one port is a little annoying though, especially when you see how small the 2-port Limefuel is, but it's nothing like a massive double adapter or DC power pack hanging off your power board, that's for sure.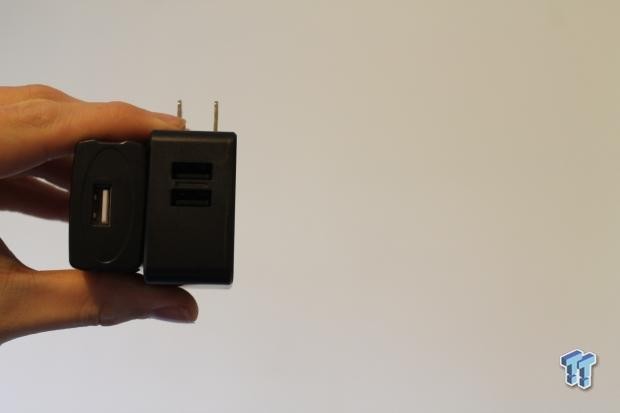 Plug it in
Providing a fast charge for my Samsung Galaxy S4 when compared to my USB port and giving me similar speeds to the standard Apple iPhone 6 and Samsung Galaxy S4 chargers on hand, it's realistically not going to blow you out of the water as the marketing may suggest.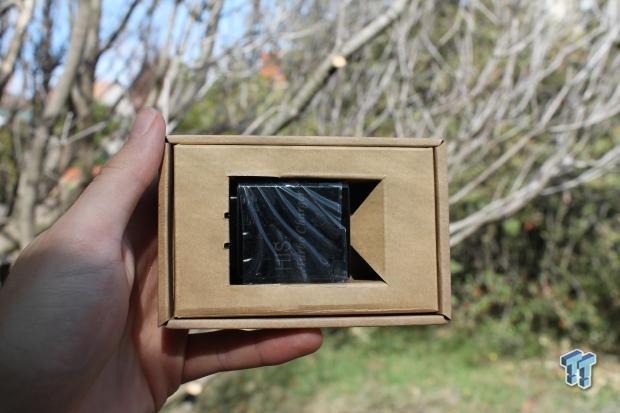 Thanks to my girlfriend moving in and us having to fight over one USB port next to the bed, it has once again highlighted the fact that I want a dual-port USB charger for ease of use. Single USB can be accepted when being provided with a singular technological product as a bundle, but for an aftermarket extra, you're really wanting to buy something because it offers just that much more than you already have. HIS falls short in this department, providing you with slight improvements over a stock charger and an acceptable price, but nothing great, flashy or amazing.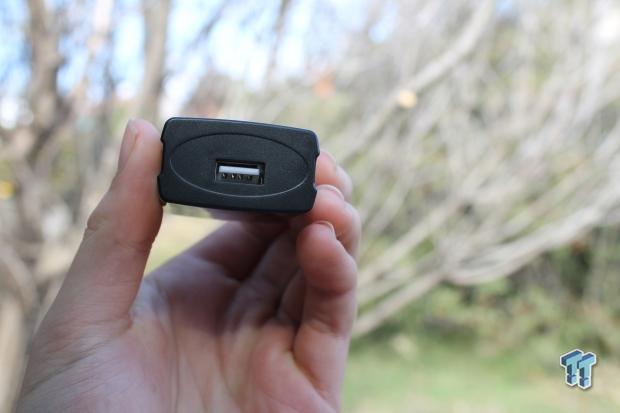 What's Hot
The looks and sizing: It looks nice and is compact.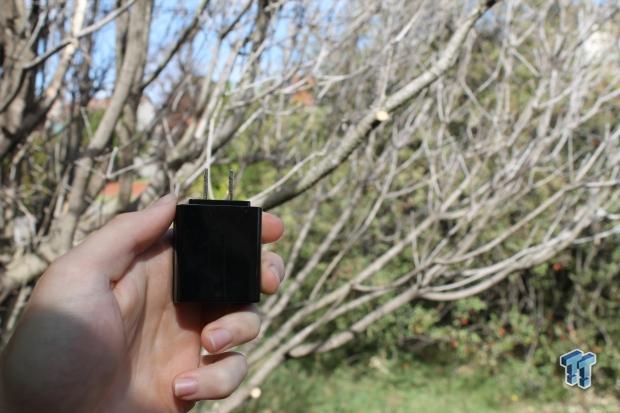 The charging speed: It offers just that bit more than your computer or standard wall-charger would.
What's Not
The fingerprints: The glossy exterior ensures fingerprints will run rampant.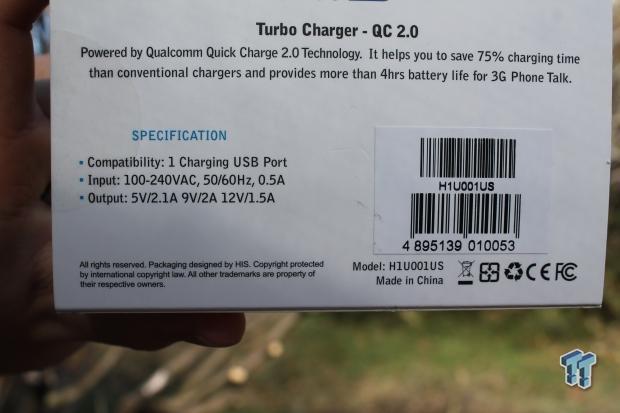 The specifications: It just doesn't offer enough, not enough to warrant an 'upgrade' from a stock charger and not enough to be classified as a great optional extra.
Final Thoughts
As outlined previously, what this product offers is just 'ok' and what you're really wanting in an aftermarket accessory is something much more.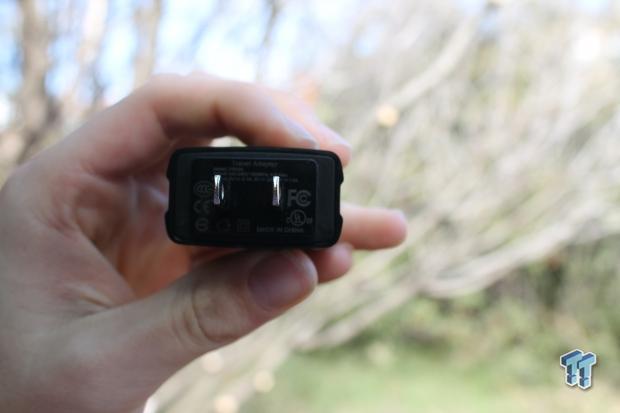 Sure, it gives you up to 2.5A charging speeds and looks nice, but compared to a standard Samsung or Apple charger, it really isn't that much. Add an extra USB port connector and even $5 onto the price, and you'll have a winner HIS, but at this stage, your product really doesn't offer anything special compared to the rest.
| | |
| --- | --- |
| Performance | 80% |
| Quality including Design and Build | 85% |
| General Features | 55% |
| Bundle and Packaging | 60% |
| Value for Money | 70% |
The Bottom Line: Add an extra USB port connector and even $5 onto the price and you'll have a winner HIS, but at this stage, your product really doesn't offer anything special compared to the rest.
PRICING: You can find products similar to this one for sale below.

United States: Find other tech and computer products like this over at Amazon.com

United Kingdom: Find other tech and computer products like this over at Amazon.co.uk

Australia: Find other tech and computer products like this over at Amazon.com.au

Canada: Find other tech and computer products like this over at Amazon.ca

Deutschland: Finde andere Technik- und Computerprodukte wie dieses auf Amazon.de