Ever since the announcement of the HTC Nexus One in late 2009, I've been an Android fan. I had wanted a smartphone, but having never been an Apple fan, I was reticent to embrace the iOS platform and this seemed to tick all the boxes. Once I got the phone in my hand some months later, I was pretty much in love - and I've not looked back.
In those two years, Google have released multiple incarnations of the Android operating system which has propelled the platform to even greater heights, extending operability, rectifying bugs and slowly catching up with iOS.
With Ice Cream Sandwich (otherwise known as Android 4.0), I believe they've not only caught Apple, but they've surpassed it. The first Android phone to ship with Ice Cream Sandwich - the Samsung Nexus Galaxy, was released in Australia last week, and will make its way around the United States before the end of this week.
I've had the phone for a week now and had ample opportunity to put it through its paces, and I'd like to tell you a bit about it and how it compares to the first Nexus - the Nexus One.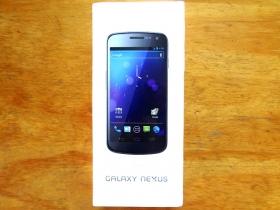 You might have read about how large the screen is, but nothing prepares you for the first meeting - holding the slim body and realizing how massive the screen is, yet how light and comfortable it feels in the hand. At 4.65 inches, I believe it has one of the biggest available on the market, but at 130 grams (with battery) this still weighs in at 5 grams lighter than the Nexus One, but its larger form size allows for a more even distribution of weight, giving the illusion of even further weight reduction.
I fumbled with the relatively flimsy feeling battery cover for a few minutes, struggling to get all the notches to align and properly close. I doubt the notches would snap off easily, but I'd recommend slight caution.
The build quality for the unit is quite good; it feels like a solid piece of architecture and the non-slip back plate seems to have done the job, considering I've not dropped it yet (my Nexus One on the other hand looks like it's been through both World Wars). The slightly curved design is a nice touch, which aids in protecting the phone whilst in leg pockets and refracting light on the display.
The front of the screen houses the forward-facing 1.3 MP camera, light sensor and earpiece, the right side a volume rocker, and the left side the power button and pogo pins - the wireless contacts for charging (however, you'll need to purchase accessories in order to use this function).
When the screen turns on, you'll likely not believe your eyes. This really is quite an amazing screen. I've read much about the PenTile screen matrix and how inferior it supposedly is, but trust me, I don't think anyone would be disappointed with what's on show here. Sporting a 720p resolution screen, a very high resolution that finally allows Android to show off a display that rivals the iPhone 4.
Just like that screen, you'll struggle to see the individual lines of resolution - a pleasing benchmark for a phone, which I suspect we will see a lot more of from now on. The extra screen real estate does make a massive difference in usability. Previous tasks, such as browsing the web and searching Google Maps, is now a much easier and less frustrating process. Again, it makes a massive difference and I no longer feel like I am fighting my phone simply in order to use it.
[img]2[/img]
Call quality seems to be quite good, but the earpiece volume seems to be a tad lower than the Nexus One. The rear speaker too seems to be a little lower than I'd like, however there is an app for that (Volume+ on the Android Market).
The 1.2GHz dual core processor efficiently deals with pretty much everything you can throw at it, whilst simultaneously laughing and screaming "is that all you've got?" - Make no mistake, this is one fast phone and in conjunction with the optimizations of Ice Cream Sandwich, means you'll not be frustrated by any lack of power.
I've not yet been able to fault anything here, and pleasingly it can play my 720p Tron: Legacy HD rip without stuttering (coupled with the MX Video app) and recording 1080p video at a near constant 30 FPS.
[img]3[/img]
Unfortunately, this brings me to the only real downside of the phone, and the one part reviewers have picked on - and rightly so. The 5MP rear facing camera is capable of some good shots, but also capable of some truly awful photos - especially struggling at times such as dusk. The annoying part is that there is no real rhyme or reason either. Comparisons to the 5MP sensor found in the Nexus One were even more confusing. Some shots looked better on either camera - some shots are darker, some lighter, some blurry and some even 'foggy'. I've experimented with some other third party camera apps, and while I get slightly better results with a combination, ultimately the poor sensor is mostly at fault (although I would not be surprised if there is some tinkering with the camera software soon).
The one thing that you'll not be able to fault is the speed of the auto-focus - a seriously fast affair that rivals most point and shoot cameras I've seen. The long and the short of it is that the camera is just OK - but compared to the massive leaps in almost every other aspect of the camera, it's just a little more than disappointing - and it's the one element which will prematurely age this phone in the near future.
To illustrate, take this picture below. It's a photo taken by the app HDR Camera+ and then the same area a few hours later (approaching dusk). Whilst neither photo is particularly great, I am astonished that both images came from the same camera just a few hours apart. Both are cropped at 100% with only slight jpeg recompression at full resolution (hover mouse over image to reveal). A particularly poor result.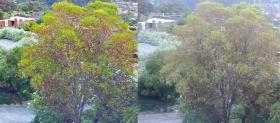 Another feature I've been hanging out for some time for - Near Field Communication (NFC) can be found inside. Unfortunately, I've not been able to test this part yet, but some exciting features are in store for NFC enabled handsets in the very near future. Apart from the glorious ability to wireless pay for items using Google Wallet, based on the same technology found in PayPass branded credit cards (which should be widely rolled out in Australia in 2012) Ice Cream Sandwich has some other clever uses, such as file and contact sharing which whilst might appear a bit wanky, is certainly rather cool.
Despite the massive screen, battery life gives a similar life as the Nexus One - that is, survives a working day of around 14-15 hours with light usage of Twitter and Facebook, a few phone calls and a few photos and general playing around.
Just like the Nexus One, the Galaxy Nexus features a hidden RGB notification light, however is nicely hidden under the screen, towards the bottom of the front panel. Unlike the Nexus One on stock Android, users can change the colour of the individual notifications using the app Light Flow, so you can always check the status of the phone from a distance. Seems a small thing, but after becoming so reliant on this feature, I wouldn't have a phone that didn't offer it.
Overall, the Samsung Galaxy Nexus is the first phone I've felt is a logical progression for owners of the Nexus One (and similarly time-framed phones), which offers a mostly universal set of upgrades to both the hardware and software, whilst streamlining the process and making phones even more user-friendly than before.
I'm certainly pleased that I'm now a Galaxy Nexus owner, and whilst this may be the most complete and friendliest version of Android yet available, competitors won't stop, keeping competition at cold-war levels. Ultimately, the winners are consumers.