Quick Review: Skin your life with GelaSkins
Sick of seeing your friend's iPad look like yours? Their 360 look like yours? iPhone 4 look like yours? Well, we add some flair to these products and more with GelaSkins.
Published Nov 9, 2010 6:24 AM CST
|
Updated Tue, Nov 3 2020 7:02 PM CST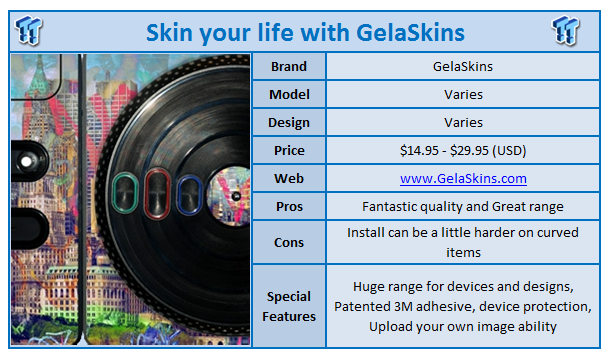 Like me, you may've heard of GelaSkins before. You might've also thought the company really only did skins for mobile phones. I now know they don't; instead they do skins for a large amount of devices and we're going to show you what's going on with them in a big way today.
The first skins we'll be looking at are the iPhone 4 and iPad ones, with the first being the "Keep Calm" design that costs $14.95 and the iPad design is "Cohabitations" which carries with it a higher $29.95 price tag. Along with the skins themselves, you will also get a wallpaper that fits with the design which you can see in our photos.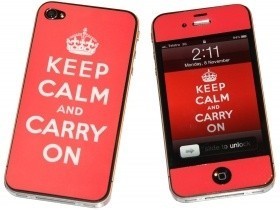 The iPhone 4 skin is one of the easier ones to install because the device is so flat. The hardest bit would have to be the bottom front and making sure you don't go over any of the home button. We've also got two strips that run down the side of the phone and cover that pesky antenna spot. I'm not a huge fan of this actual design, but when on it looks nice. It's a bit simpler than some of the other ones we'll be looking at.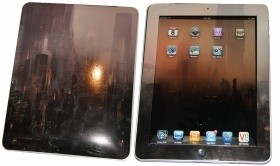 The iPad install is a little tougher due to the back not being flat, but with a bit of time it went on and looked really good. You can see the wallpaper that is provided as well, which just helps bring it all together. The quality of the skin can be really felt here because it's a larger device and you feel comfortable using the device without a cover which is great.
Along with phones and the iPad, GelaSkins offer us skins for a large amount of consoles and console accessories with all the major items being covered. Checking out the original chubby PS3 "Swinging DAIM" skin which comes in at $29.99, you really begin to see how they start to add another level to your devices.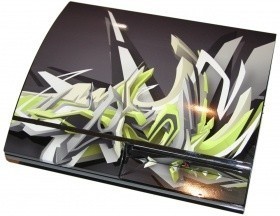 Consisting of three pieces, the PS3 skin is fairly easy to install. The larger piece will test your patience a little once again because of the huge curve in design, but once you get it on the overall effect is really rewarding and you just see a bit of color come to a device which sits normally quiet plain.
It wouldn't be fair to look at the PS3 skin and ignore the XBOX 360 one, and again looking at the original 360 "Baltimore Docks" skin at $29.95 you've got something that really helps brighten up a quite a dull looking product.
There are a number of pieces to this one with the main two being the top which you can see leaves room for the heat to escape, and the other is the one that goes over the main cover. We've got a couple of other pieces that help complete everything, going over the memory card slots, the power button and USB ports cover.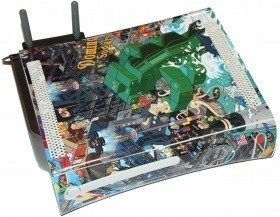 Looking at this, I knew it was going to be one of the worst to install because of the front cover which proved to take a little longer than others. Fortunately everything came together in the end and quality really lets you ease it on and peel it back at times if you're a little crooked.
Here was where I had the only real gripe with the product. In the event you stand your console up, which is something I do with my XBOX 360, you're still going to have one side plain. It's not a huge deal, but the option to add an extra side for a small fee would be nice.
Once the consoles had been dealt with, it was time to check out how we could add some flair to our controllers. The left PS3 controllers use the "Flair" skin and the right XBOX 360 controller uses the "Boombox II" design. Both carry a $14.95 price tag and each packet consists of two skins to cover two controllers.
Installation was a breeze and I'm not sure if I'm saying a breeze because it was just a lot easier than I thought it would be, or if it was really just that easy. Because of all the curves, etc. I thought the whole process on the controllers would be one of the hardest, but it was so much easier and the main thing for that seems to be that there's no hard edge like the consoles. They don't go right to the edge so you've got a little bit more wiggle room.
Once on, I thought about how fantastic the PS3 controller looked. It really looks fantastic; the XBOX 360 I was a little disappointed in, though, as we had these caps on the side. I picked up the controller, though, and your hand covers those black bits perfectly and in hand the controller looks fantastic. If you had a beige controller it probably wouldn't look as great, so that's something worth considering when you pick a design.
With all that out the way, it was time to look at a skin for something a little different. DJ Hero has quickly become one of my favourite music games because it just adds a different element into the mix with the controller and kind of gameplay.
The $24.95 "Graffiti Skyline" skin for the DJ Hero controller is my favourite out of the batch here for a few reasons. I love the design, the installation is easy and once on it just adds another element and takes the controller to another level.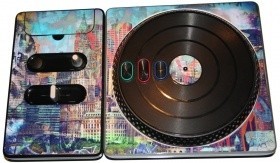 Considering the kind of controller and the game it's for, the ability to have your DJ Hero controller look unique is just great. Throw on some headphones and fire up DJ Hero 2 and you really feel like you're getting the club pumping with your unique deck.
GelaSkins has just got a fantastic product here and if you thought that what we've looked at is a large amount of devices, it's only a small part to the whole line-up GelaSkins offer which includes the newer 360 Slim and PS3 Slim, and the whole PSP line up including the new Go. Nintendo are also covered with the Wii and its controller, DSi, DSi XL and DS Lite. We've also got a bunch of guitars from Rockband and Guitar Hero covered.
Outside of just the consoles we've got a large range of e-Book readers, just about iPod everything including the brand new Nano and Touch. Microsoft also gets some love with skins available for the Zune. Laptop / Netbook support is really strong with particular models being covered also just general sizes being covered. Of course, you've also got phone support which just covers an absolute huge array of brands and models.
Like I just said, GelaSkins do have a really fantastic product here and we're sure you could find a couple of really nice designs that suit you and your devices.
PRICING: You can find products similar to this one for sale below.

United States: Find other tech and computer products like this over at Amazon.com

United Kingdom: Find other tech and computer products like this over at Amazon.co.uk

Australia: Find other tech and computer products like this over at Amazon.com.au

Canada: Find other tech and computer products like this over at Amazon.ca

Deutschland: Finde andere Technik- und Computerprodukte wie dieses auf Amazon.de