Provides Enterprise-Class Speakerphone Experience on Mobile PC Applications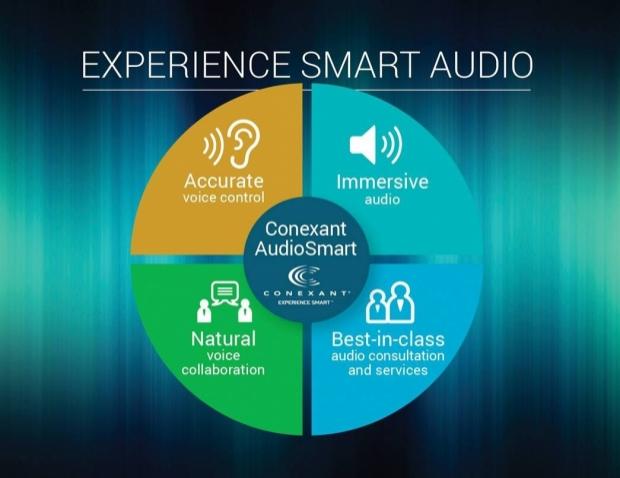 Today at COMPUTEX TAIPEI 2015, Conexant Systems, Inc. introduced an ultra-low power, high-performance HD Audio CODEC: the CX8200. Targeted to mobile PC applications including notebooks, ultrabooks and tablets, the new CX8200 intelligently drives speakers to optimize sound pressure level (SPL) while providing best-in-class speaker protection and eliminating background noise. Part of the AudioSmart 2.0 product family, the CX8200 features a fully integrated Class-D smart amplifier and interfaces directly with Conexant's innovative software to deliver flawless speech recognition and audio output that is up to several times louder using existing PC/tablet speakers.
Pushing the Limits of Sound in Tablets and PCs
Voice and speech communications play a critical role in people's personal and professional lives; however, the background noises and echoes that occur during Skype or Lync calls can effectively shut down communication and ruin collaboration. Conexant's AudioSmart 2.0 solutions improve the audio experience in noisy, real-world conditions and allow for a more natural collaboration experience with crystal clear playback and no background noise. The CX8200 allows users to hear what others are saying, speak naturally, listen to multimedia content at higher volume levels, make use of Automatic Speech Recognition (ASR) for dictation and virtual assistant applications (such as Cortana), and much more.
"Conexant offers a complete range of audio solutions that provide consistent benefits for all of the devices/applications in the mobile PC ecosystem," noted Saleel Awsare, Conexant vice president and general manager. "Our software radically improves the quality of voice and audio performance and is tightly coupled with our next-generation CODEC and amplifier products for a truly innovative, comprehensive solution. With the CX8200, we're giving consumers an enterprise-class speakerphone experience - effectively a new appliance - on the same PC or tablet platform that they're already using every day for communication and collaboration."
The Whole is Better than the Sum of its Parts
A single-chip solution optimized for use on any platform with an integrated speaker, Conexant's CX8200 uses a proprietary "SoftAware" link to interconnect amplifier hardware sensors with software algorithms. The dataflow between hardware sensors and software enables dynamic updates to the algorithms performing speaker control and Acoustic Echo Cancellation functions, which radically improves overall system performance.
The CX8200 features a ProCoustic capless stereo headphone output that includes offset calibration to eliminate pops and clicks. Integrated headset support includes CTIA/OMTP auto-detect and switch functionality. Inline command sensing and multi-button headset detection enable control of third-party applications, system wake, and satisfies Google requirements for Chromebook. Up to four digital microphones can be connected with integrated boost and DC offset removal, and smart microphone interfaces are supported for Wake-on-Voice applications.
Additional features include:
Real-time speaker sensing and protection

Programmable, 14-band hardware EQ and DRC

Industry-leading, load-based short circuit, DC, and temperature detection/protection

Universal jack support

Fully compliant with standard industry specifications and regulations

Supports Windows 10, Android 5.x, Chrome OS, and Linux platforms

Support for Lync/Skype Unified Premium and Cortana Premium experiences

Support for latest Intel Automatic Speech Recognition requirements
COMPUTEX TAIPEI attendees are encouraged to stop by Conexant's suite #1022-10F at the Grand Hyatt Taipei during the show to view a demo and see the new audio CODEC features in action. Please visit www.conexant.com for more details.
Last updated: Apr 7, 2020 at 12:09 pm CDT