Toshiba's Digital Products Division (DPD), a division of Toshiba America Information Systems, Inc., today introduced the Toshiba Encrypted USB Flash Drive, a device that utilizes a hardware based encryption process to deliver a robust, secure (military grade AES 256-bit encryption), easy to use and affordable solution to safely make sensitive data portable. Ideal for enterprise companies, government agencies and concerned consumers, the Toshiba Encrypted USB Flash Drive offers a higher assurance of security.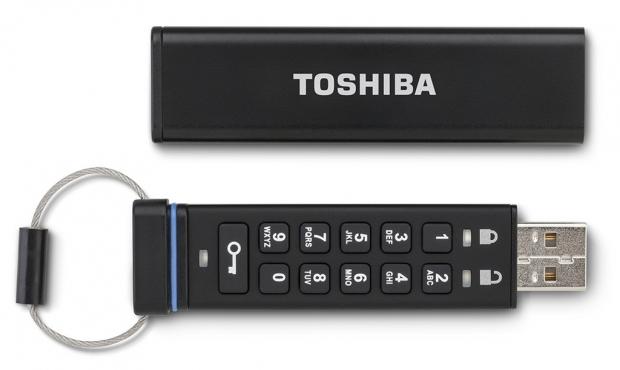 Available in 4GB, 8GB, 16GB and 32GB capacities, the Toshiba Encrypted USB Flash Drive uses a built-in mini-keyboard to authenticate access, incorporating a rechargeable battery so the user can enter a secure code before plugging into a USB port. Users simply enter their secure PIN and plug the drive into any USB 2.0 port on a compatible device. Once access is granted, the drive "unlocks" the media, permitting clearance to all of the content stored on the drive. When the drive is removed from a USB port, the drive automatically re-locks and encrypts the stored media.
"There is a heightened sense of awareness that confidential content is at risk," said Maciek Brzeski, Vice President of Branded Storage Products, Toshiba Digital Products Division. "Toshiba developed the Encrypted USB Flash Drive as a new way to provide portable data security with one of the highest encryption standards available on the market."
Should the Toshiba Encrypted USB Flash Drive become lost or stolen, it is equipped with a Brute Force Hack Defense Mechanism that will render all stored information irrecoverable after 10 consecutive unsuccessful attempts to enter the secure PIN. The Toshiba Encrypted USB Flash Drive also carries a FIPS (Federal Information Processing Standards) Publication 140-2 Level 3 certification, issued by the National Institute of Standards and Technology (NIST), a certification often required by government agencies and other data security sensitive industries, such as healthcare and finance. The Toshiba Encrypted USB Flash Drive incorporates DataLock Technology by ClevX, LLC.
Pricing and Availability
Beginning today, the Encrypted USB Flash Drive is available for purchase at select retailers and on toshiba.com/us/flash-drives for $95.00 MSRP for the 4GB model, $112.00 MSRP for the 8GB model, $140.00 MSRP for the 16GB and $200.00 MSRP for the 32GB model. A 3 Year Standard Limited Warranty is included with all models.
Last updated: Apr 7, 2020 at 12:09 pm CDT