ViewSonic Corp., a leading global provider of visual solution products, announces the availability of the CDE8451-TL, an 84-inch, six-point simultaneous touch, interactive large-format display with 4K Ultra-HD resolution. The CDE8451-TL delivers vibrant and detailed picture quality for ultra-high resolution imaging and touch applications, making it especially applicable for corporate, government, science and medical sectors.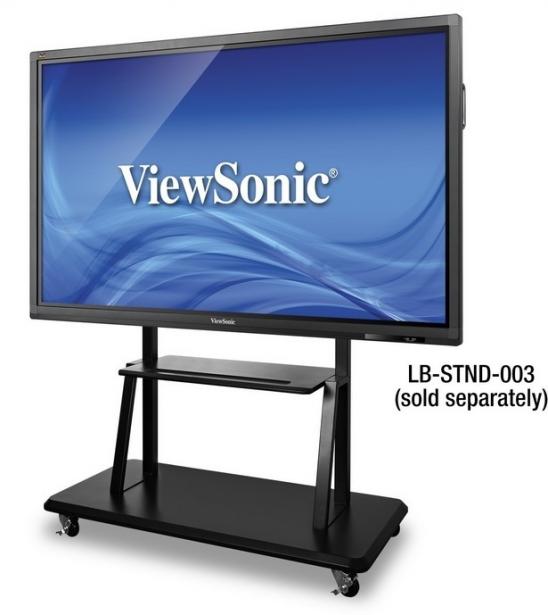 With four times the detail of 1080p Full HD displays, the 4K Ultra-HD resolution of the ViewSonic CDE8451-TL is stunning. The large format LED-based screen and 4K (3840x2160) resolution delivers the finest in color, clarity and image detail. It also features a six-point touch-enabled surface that allows up to six users to simultaneously write, draw or annotate with fingers or stylus devices. The combined touch-interactive performance and ultra-high resolution make the ViewSonic CDE8451-TL the ultimate large-screen display solution.
"By combining 4K resolution with interactive touch technology, two great innovations in the display market, the CDE8451-TL offers a best-in-class solution to customers that want high-performance displays," said Gene Ornstead, director of Product Marketing at ViewSonic Corp. "With its tempered glass overlay, scratch-resistant surface and anti-glare treatment, the CDE8451-TL is the ideal display for resolution critical applications like graphic imaging, mapping, wayfinding, education or corporate boardrooms."
ViewSonic's CDE8451-TL features a variety of connectivity options, including HDMI, USB and VGA, as well as RS232 for multiple display and device manageability. Fit with an ARM dual-core processor, 8GB storage and an Android 4.2 operating system, the CDE8451-TL provides smooth and fast computing, and responsive touch capabilities regardless of applications that are running. The on-board Android-based system allows users to experience the expanding range of Android applications for business and educational environments.
The CDE8451-TL comes with ViewSonic's ViewBoard software that allows users to write and edit documents and images on the screen in real-time. With the optional ViewSonic NMP-708 slot-in PC, the CDE8451-TL can be converted into a dual OS interactive large format display. The NMP-708 utilizes an Intel i5 processor and an NVIDIA GPU, ensuring accelerated video performance needed for 4K content. With a built-in Windows 8 operating system, the NMP-708 provides Windows-compatible touch functionality and access to MS Office Suite applications. The ViewSonic NMP-708 also delivers additional computing power for users requiring X86 PC architectures.
The CDE8451-TL 84-inch Interactive Display is shipping for an MSRP of $18,999.99(USD). The NMP-708 Slot-in PC Network Media Player is also available for an MSRP of $1,199.99(USD).
Last updated: Apr 7, 2020 at 12:08 pm CDT