Acer America is now offering its three LED monitors offering ultra-high resolution and large 27- and 29-inch screens for consumers and commercial users in the United States.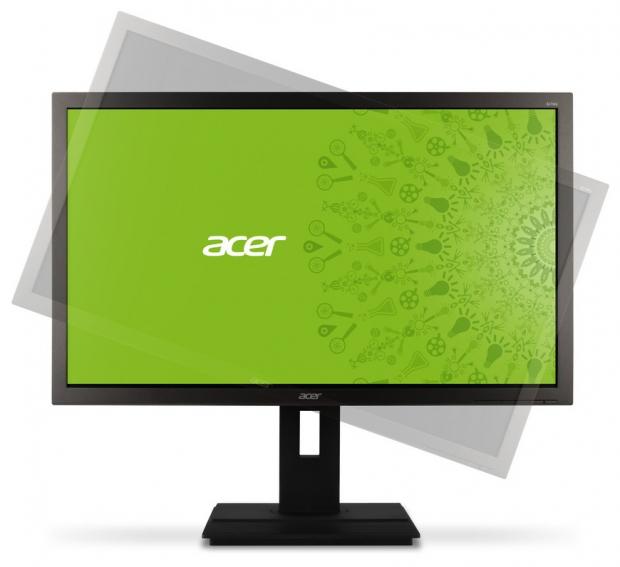 Boasting high pixel density, these new monitors display brilliant images, ideal for presentations, digital photography, gaming, video and social media. In addition, the large screens make them well-suited for productivity tasks, such as working with large spreadsheets and viewing two images at once, whether it's tracking email while creating a presentation, comparing two Word documents or viewing the entire page of a website with little to no scrolling. In some cases, these large displays can replace a multi-monitor set-up.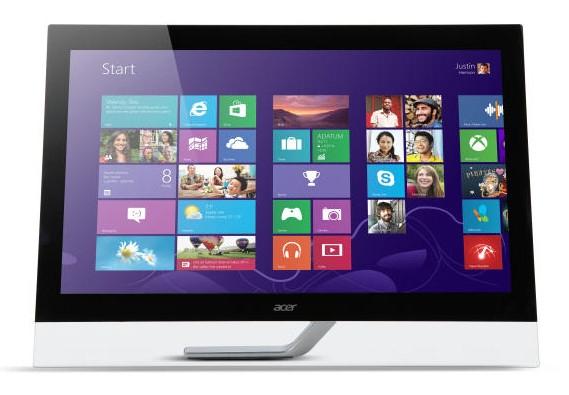 The new displays include a touch model for consumers and two non-touch monitors designed for both consumers and professionals. The Acer T272HUL is a 27-inch consumer model offering 2560 x 1440 WQHD resolution and 10-point capacitive touch technology in a Windows 8 compliant design. The prosumer-oriented monitors include the Acer B276HUL with a 27-inch screen and a WQHD 2560 x 1440 resolution and the Acer B296CL with a 29-inch screen and a 2560 x 1080 resolution.
"With the goal of providing our customers a superb viewing experience, our new monitors deliver brilliant images, flexibility in viewing options and generous screen real estate," said Frank Chang, director of product management for Acer America. "Whether it's a gamer, an entrepreneur or a multimedia enthusiast, users will appreciate the stunning image quality, comfortable ergonomics and size of these new monitors, which are easy on the eyes and enable better multitasking."
Acer T272HUL For Consumers: 10-Point Touch, Ergonomic Stand
The Acer T272HUL provides a very high level of clarity with its high 1.07 billion colors and fast 5 ms response time. Windows 8 compliant, it enables consumers to take advantage of the features in Windows 8 with a 10-point multi-touch screen, whether using a new PC or an old PC upgraded to the new operating system. The multi-touch technology is very easy to use. Users just need to tap on the screen to open documents and websites. They can scroll through web pages, documents, play lists and photo albums and use their two fingers to rotate, expand or reduce them to the size desired. They can also write notes directly on the screen.
Supported by an asymmetrical stand, the Acer T272HUL has an aesthetically-pleasing look. The stand enables users to view images tilted back from 30 - 80 degrees, which is practically flush with the desk for enhancing comfort and ergonomics to make the most of the capacitive-touch capabilities. This tilt feature is especially beneficial for touch-friendly activities like playing games, viewing photo albums and cookbooks as well as Web surfing. For connectivity, it's outfitted with VGA, DVI, HDMI and a USB 3.0 hub (1 up, 2 down).
Acer B276HUL & B296CL Displays for Consumers and Professionals: Clever Design, Great Connectivity
The Acer B276HUL and the Acer B296CL tout a slim and clean design with venting integrated into the grooves for sleek and simple aesthetics. Neat cable management keeps cables organized, a storage tray houses common office items and a magnetic surface on the stand base accommodates paper clips. In addition to being VESA compliant, an easy-release button makes changing the display's location from stand to wall simple.
The Acer B276HUL and Acer B296CL feature a multi-function ErgoStand with tilt, swivel, pivot and height adjustment. The displays can be pivoted 90 degrees clockwise for both horizontal and vertical viewing. They can also be tilted from -5 to 35 degrees back in the high position and from -5 to 25 degrees in the low position. A 120-degree swivel provides more viewing angles with the ability to move the panel 60 degrees to the right or left without moving the base.
Offering excellent connectivity, these displays come with DVI-D (dual link), 2 x HDMI, DisplayPort and a USB 3.0 hub (1 up, 4 down), so users can connect to and view multiple displays simultaneously for more efficient multi-tasking. HDMI delivers both audio and visual content via one small cable to eliminate clutter and maximize space. In addition, DisplayPort delivers every pixel to the screen as rendered by the PC with the highest accuracy and fastest response required to support the display's high resolution, refresh rate and color depth.
Acer's advanced technology makes every pixel colorful and clear. These displays deliver 16.7 million colors and a fast response time of 6 ms for the B276HUL and 8 ms for the B296CL. Acer ComfyView provides a polarizer material to reflect less ambient light and reduce glare, which provides a more comfortable viewing experience, even over prolonged periods.
All Displays: IPS Panels for Wide Angle Viewing, Substantial Energy Savings
The new models offer excellent viewing angles up to 178 degrees horizontally and vertically, making them excellent for collaboration and multi-monitor set-ups. With an impressive 100,000,000:1 contrast ratio, they combine bright whites and rich blacks with superb gradation and detail, especially in dim or bright scenes. Outfitted with the Acer eColor Management tool, users can optimize image performance under different viewing scenarios at the touch of a button.
All models also come with dual speakers and USB 3.0 with power-off charging for smartphones and other digital devices. LED-backlit, they reduce energy costs by consuming up to 68 percent less power than standard CCFL-backlit displays. ENERGY STAR and TCO qualified, the monitors adhere to strict environmental, performance and ergonomic design standards.
Pricing and Availability
The Acer T272HUL will be available at leading retailers in late Aug. with a MSRP of $999. The Acer B276HUL and Acer B296CL are available now at Acer resellers in the U.S. with suggested prices starting at $599. Like all Acer displays, all three models feature a standard three-year warranty.
Last updated: Apr 7, 2020 at 12:08 pm CDT