Monster Digital, a leading innovator and developer of advanced memory and storage solutions, is introducing its first line of external Solid State Drives (SSD), which make the jump to SSD technology even easier for professionals and consumers to adopt for additional computer storage needs.
Simply put, Overdrive 3.0 is the fastest and easiest way to add storage to your computer. Inside the laser etched stainless steel enclosure is an advanced, high-speed, solid state drive that is available in four storage capacities of 128 GB, 256 GB, 512 GB and 1 TB for the suggested retail prices of $179.99, $299.99, $599.99, $1399.99 respectively.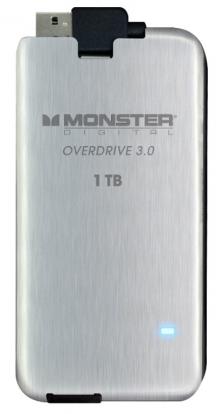 Small, lightweight, and similar in size to an iPhone 4, each drive travels easily and is unobtrusive on a desktop or in the field on location. Conveniently wrapped around each drive is an integrated USB 3.0 "Super-Speed" cable, so you'll never again be without a connection cable when you need it most (the drive also works with USB 2.0). Rated at 250/150 MB/s read/write speeds, all Overdrive 3.0's include a built in blue LED data transfer indicator and soft travel pouch. Because the technology is so energy efficient, there is no external power needed, and it won't drain your laptop battery like a traditional rotating hard drive can.
The Overdrive 3.0 series is the future of digital storage, and with speeds about 4x as fast as a traditional external hard drive, backups are easy, and the quickness is astounding. Since there are no moving parts, the drives are incredibly quiet, and durable, so if one is inadvertently dropped, aside from a potential cosmetic blemish, there are virtually no worries when it comes to your precious data stored inside. Configured to work with either PC or Mac, the drives are ready to go to work straight out of the box. All Overdrive 3.0's include a 3-year warranty for your protection.
"As solid state technology continues to grow, we've found ourselves adapting to the future needs of both the professional and the everyday computer user. We've introduced a professional drive tested under the harshest conditions for the people who need them most, while making sure we considered the needs for the educated consumer who is about to make the jump to SSDs," says Monster Digital CEO Jay Tandon about the release of the Overdrive 3.0 series, adding "these products are already in-use with photographers, recording engineers and musicians and are Monster Digital's answer to the need for reliability, speed, and convenience for the professional. MacBook Pro, MacBook Air and Ultrabook users are also embracing the Overdrive 3.0 series, enhancing those device's already robust abilities. It's clear that Overdrive 3.0 is our most well rounded, and proven storage device we've introduced yet, and we're proud to say its Monster Digital's new flagship product."
If you are ready to give your computer the extra capacity it needs, and feel it's time to step into solid state technology for your storage solutions, the super slim, super fast, Overdrive 3.0 external SSD by Monster Digital is your clear choice. The drives are available now at Adorama, Crutchfield.com, DataVision, Fry's Electronics, Guitar Center, J&R, Micro Center, TigerDirect.com and other fine retailers. Check monsterdigital.com for the most up to date retail partners near you.
Last updated: Apr 7, 2020 at 12:08 pm CDT