NETGEAR, Inc., a global networking company that delivers innovative products to consumers, businesses and service providers, is expanding its market-leading family of next-generation 802.11ac wireless products with the R6250 Smart WiFi Router. The industry's newest router to support the upcoming 802.11ac wireless standard, the R6250 is designed for customers who want the best possible 802.11ac WiFi performance but don't feel the need to have the fastest 802.11n WiFi performance in the 2.4 Ghz band.
The router includes Gigabit Ethernet ports and a USB 3.0 port so that you can make the most of the outstanding performance it delivers with 802.11ac WiFi. The NETGEAR R6250 is ideal for HD streaming to multiple devices, including the latest smartphones with 802.11ac, such as the Samsung Galaxy S4 and the HTC One.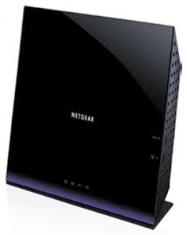 With a powerful dual-core 800 MHz engine to enable combined WiFi connections at Gigabit speeds up to 1600 Mbps (300 Mbps @ 2.4 Ghz 802.11n + 1300 Mbps @ 5 Ghz 802.11ac), the R6250 Smart WiFi Router offers optimal wireless coverage for large homes. It also has a new SuperSpeed USB 3.0 port, capable of transferring data from your hard drive up to 10 times faster than a USB 2.0 interface. These features make the R6250 ideal for enabling your increasingly connected digital lifestyle. The R6250 is particularly useful as the network hub for families with eight or more WiFi devices, and works especially well with dual-band WiFi devices such as the Apple iPad and iPhone 5.
"At NETGEAR, we recognize that your home network today has become increasingly complex and must support multiple diverse Internet-enabled devices - smartphones, tablets, computers, game consoles and more - with an ever-expanding library of digital content," said Sandeep Harpalani , NETGEAR Director of Product Marketing for Core Networking.
He added, "802.11ac is the wireless standard you need for your network to cope with the growing demands you're placing on it for smoother HD video streaming and low-latency online gaming. The R6250, our newest addition to the 802.11ac WiFi router lineup, will help your network achieve the high performance you expect to support your increasingly digital lifestyle and premium WiFi devices - now, and for years to come."
The upcoming 802.11ac wireless standard (www.netgear.com/80211ac) is the world's fastest WiFi, providing Gigabit WiFi speeds so you can download web content faster and synchronize large video or music files more quickly. The increased speed of 802.11ac technology is ideal for mobile devices such as smartphones and tablets by providing three times the performance for a similar amount of battery consumption of devices using the current 802.11n WiFi standard. As a result, many companies, such as Samsung and HTC, are now releasing smartphones with 802.11ac WiFi, with additional 802.11ac-enabled smartphones, tablets and TVs from other leading manufacturers anticipated to debut in the coming year.
The NETGEAR 802.11ac Product Family
January 2013 Retail Tracking Service data from global information company The NPD Group shows NETGEAR to be the market share leader, in both units and dollars, in 802.11ac wireless routers. The new NETGEAR R6250 Smart WiFi Router joins the growing NETGEAR family of next-generation 802.11ac products:
The R6300 WiFi Router (the industry's first 802.11ac router), that supports approximate combined WiFi speeds up to 1750 Mbps

The new R6250 WiFi Router, that supports approximate combined WiFi speeds up to 1600 Mbps

The R6200 WiFi Router, for approximate combined WiFi speeds up to 1200 Mbps

The A6200 WiFi Adapter, a first-to-market 802.11ac dual band WiFi USB adapter that enables consumers to easily upgrade their existing PC or laptop to 802.11ac performance

The D6300 WiFi Modem Router, with a built-in ADSL2+ modem for approximate combined WiFi speeds up to 1600 Mbps

The D6200 WiFi Modem Router, with a built-in ADSL2+ modem for approximate combined WiFi speeds up to 1200 Mbps
All devices in the next-generation 802.11ac product line, including the new R6250, are backward compatible with 802.11a/b/g/n to provide optimal interoperability with legacy WiFi devices and for maintaining maximum performance on Wireless-N networks.
Here are some of the additional advanced features of the NETGEAR R6250 Smart WiFi Router that you will enjoy:
NETGEAR genie: This free app for PCs, Macs, iOS and Android smartphones and tablets enables home users to control, monitor, repair and manage their home networks easily through a simple, elegant dashboard. NETGEAR customers can download the utility at http://www.netgear.com/genie or from the Google Play or App Store.

NETGEAR MyMedia: The NETGEAR genie app provides the ability to find photos, video or music files anywhere on the network and play them on any DLNA media player.

AirPrint Support: The NETGEAR genie app enables you to print to any USB or networked printer directly from an Apple iPad or Apple iPhone.

Guest network access: The guest network prevents other people from seeing and accessing your household's computers, printers, storage devices and other home network devices.

NETGEAR EZ Mobile Connect: This is an incredibly easy way to enable your guests' smartphones or tablets to connect to your home Wi-Fi network, simply by scanning the QR code from the genie WiFi screen without typing in security keys or SSIDs.

NETGEAR ReadySHARE Printer: This feature makes it easy for the router to turn any existing USB printer into a fully functional networked printer that is fully compatible with Macs and PCs.

Media Server-DLNA: The router is DLNA-ready and can stream to any DLNA-compatible device in your house, including the latest smart TVs, Blu-ray players, media players, game consoles, handheld devices, tablets and more.

NETGEAR Live Parental Controls: This is a centralized, flexible, and reliable parental control solution for all the devices on the network, including Macs, PCs, smartphones and tablets, for a safe online environment for children and teenagers. No subscription is required.

Automatic WiFi Security: The router comes with wireless security turned on out-of-the-box, complete with a pre-configured network name and password, protecting home WiFi networks by default.

Easy installation: There's no CD required, so you can set up the router with smartphones, tablets, ultrabooks and even a MacBook Air.

USB port: The R6250 Router features one USB 3.0 port, offering up to 10 times faster USB hard drive access as compared to USB 2.0. It can support a USB hard drive for storage or a printer, to wirelessly access and share within the home.

AC Beamforming-Ready: Smart, signal-focusing technology boosts the speed, reliability, and range of your 802.11ac WiFi connections. A firmware update available in early summer will support NETGEAR Beamforming+, which recognizes the location of a wireless device on your network and directs the WiFi signal directly at the device, constantly checking and tracking moving devices such as your mobile phones and tablets. This targeted approach improves WiFi performance at long range and enhances video streaming and the online gaming experience.
Pricing and Availability
The NETGEAR R6250 WiFi Router is available now via major retailers and online at an MSRP in the U.S. of $169.99.
Last updated: Apr 7, 2020 at 12:08 pm CDT