Netgear Launches New ReadyNAS Servers
Mar 19, 2013 10:42 PM CDT
NETGEAR, Inc., a global networking company that delivers innovative products to consumers, businesses and service providers, today announced a new portfolio of networked-attached-storage (NAS) products which run on the newly developed ReadyNAS OS 6. These revolutionary devices are built on a custom platform designed as "storage made easy" for both the home and small to medium-sized businesses (SMB). NETGEAR also unveiled a suite of new downloadable applications for these products on the genie+ marketplace.
With a sleek new interface and a rich set of embedded or easily downloadable applications, this NAS storage portfolio pairs the latest in performance and scalability with cutting-edge technologies such as unlimited snapshots and cloud-managed replication, which dramatically reduces any possibility of data loss. Once again, NETGEAR is taking features and capabilities previously available only from expensive, large-enterprise vendors and lowering the cost while dramatically simplifying deployment and manageability to provide users with affordable, powerful, and reliable NAS storage.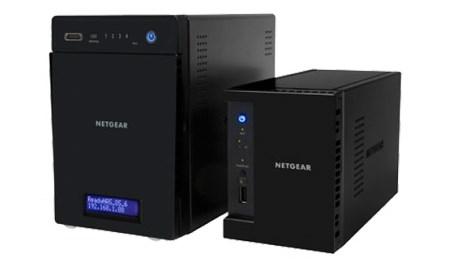 Photographs, video clips, songs, websites, email, client files, and application data on physical or virtual servers - the type of information that enriches our lives and is essential to business can seem endless. With ReadyNAS, customers finally have an advanced, easy-to-use solution for centralizing, securing, and controlling access to digital assets. What's more, cloud-based discovery and file management through NETGEAR's ReadyCLOUD simplifies the set-up experience and enables full ongoing management of data from any web-connected device.
"As a photographer, my images are the foundation of my various photography businesses," explains Colby Brown, professional photographer and photo educator. "ReadyNAS is a full-featured file server providing access to all my data while on the road, an easy ability to backup data while outside of the office, and the ability to collaborate with other colleagues when I am in the field. With the new ReadyNAS operating system, I don't need an entire IT department to get up and running, and the clean new interface takes all the challenges out of running effective backups of my valuable data."
The latest additions to the award-wining ReadyNAS product family (www.netgear.com/readynas) are available in three new series of desktop models and a 1U rackmount, each designed for the unique needs of home users and small to medium-sized businesses.
The entry level ReadyNAS 100 Series (RN102xx, RN104xx) is designed for home use, and comes in two-bay and four-bay models that are offered as either diskless or populated with drives.

The ReadyNAS 300 Series (RN312xx, RN314xx, RN316xx) is optimized for small business networks and remote or branch office needs, and offers two-bay, four-bay, and six-bay versions that are either diskless or populated with drives.

The four-bay ReadyNAS 2120 is a 1U form factor for easy rack deployment in small data center environments and comes either diskless or populated with drives.

The six-bay ReadyNAS 500 Series (RN516xx) offers the highest performance and is designed for small to medium sized business networks supporting up to 250 concurrent users, and also comes diskless or populated with drives.
"We designed the new ReadyNAS OS from the ground up with ease-of-use in mind, so users can confidently centralize and back up all their data," said Matt Pahnke, senior product marketing manager for NETGEAR Storage. "Customers could not be more excited about our revolutionary ReadyCLOUD technology for cloud-based set-up, provisioning, and management. The cloud-based set-up and comprehensive, but simple-to-use interface is unlike anything else in the NAS market."
Each ReadyNAS features advanced on-box data protection in the form of unlimited snapshot capability, cloud-managed replication, and XRAID automatic volume expansion. In addition, each unit showcases native encryption, enabling prosumer and business users to securely share, store, and protect sensitive data across their network. Every NAS device in the new ReadyNAS Series supports SATA (up to 4TB) and SSD drives. ReadyNAS 300 and 500 models include an eSATA expansion port for scaling capacity as the storage needs of a business grows (up to 84TB).
Pahnke added, "We want to give our customers productivity-enhancing, innovative, and entertaining ways to do more with their NAS than they ever thought possible. With this in mind, ReadyNAS devices feature a rich set of embedded apps in addition to the growing library of add-ons found in the genie+ marketplace (genie.netgear.com/)."
Launched last year, genie+ marketplace is a platform for third party developers to deliver exciting, new applications which can be installed on ReadyNAS boxes with a single click. The suite of new applications includes productivity tools, media sharing applications, and a variety of other useful apps. Along with the currently available apps, NETGEAR has over 600 developers registered to create additional apps supporting the products announced today. Among the 40+ applications available are the Polkast media sharing application that allows owners to enjoy all of the content stored on their device from their mobile devices, the QNext FB social cloud application that enables users to share any of their content with any Facebook friend without having to upload the content, and the Symform Cloud Backup application that enables free online cloud backup.
ReadyNAS continues to be compatible with all leading backup software providers, and is one of the first SMB NAS devices to feature real-time anti-virus protection, providing peace of mind knowing that sensitive data is automatically protected and secure from virtually any threat.
The new product line also features seamless cloud-like file synchronization with ReadyDROP and Dropbox integration. In addition, ReadyNAS Remote from NETGEAR enables you to easily access files from anywhere in the world on any web-connected device. NETGEAR is the first company to offer prosumers and small businesses the ability to back up Mac data from any location in the world, without paying a monthly fee for cloud storage.
Pricing and Availability
Select models of the NETGEAR ReadyNAS 100 and 300 series are now available worldwide through reseller channels and a variety of e-commerce sites. The full line of new ReadyNAS models will be available in the second quarter of 2013 through authorized NETGEAR PowerSHIFT channel partners (http://powershift.netgear.com/) and other reseller channels and e-commerce sites.
Suggested US retail pricing for the ReadyNAS series is as follows:
ReadyNAS 100 Series, starting at $199.

ReadyNAS 300 Series, starting at $449.

ReadyNAS 2120, starting at $1,229.

ReadyNAS 500 Series, starting at $1,299.
Last updated: Apr 7, 2020 at 12:07 pm CDT
PRICING: You can find products similar to this one for sale below.

United States: Find other tech and computer products like this over at Amazon.com

United Kingdom: Find other tech and computer products like this over at Amazon.co.uk

Australia: Find other tech and computer products like this over at Amazon.com.au

Canada: Find other tech and computer products like this over at Amazon.ca

Deutschland: Finde andere Technik- und Computerprodukte wie dieses auf Amazon.de
Related Tags