February 22, 2013 - Taipei, Taiwan - Innodisk, an industry-leading manufacturer and solution provider of industrial embedded flash and DRAM storage products and technologies, will be showing its new range of products for 2013 at the Embedded World 2013 exhibition and conference from 26-28 February in Nuremberg, Germany.
Innodisk's complete series of industrial SATA III products includes SSD, SATADOM, SATA Slim, mSATA, and CFast, with a wide variety of form factors and interfaces. With SATA III, Innodisk products can offer sequential read and write speeds two times faster than SATA II, to satisfy almost any embedded systems requirement.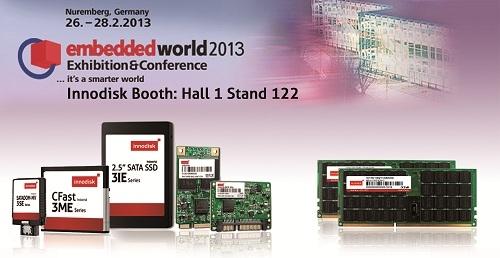 Products on display at the Innodisk booth in Nuremberg will also include the Innodisk InnoRobust series of SATA SSDs which are compliant with military standards for ruggedness, durability and reliability in even the most extreme operating environments.
Building on its research and development strengths, with the upgrade to SATA III, Innodisk offers support for temperatures ranging from -45C to ~85C, customized firmware for specific system applications ranging from entertainment to aerospace, power outage data protection and other advanced functions, moving the industrial PC application market forward into the next generation. As well as almost doubling read and write speeds, the upgraded SATA III 2.5-inch SSDs provide a lower power design with enhanced power saving sleep modes. New products are expected to be on the market in March 2013.
Innodisk turns a product into a true solution with the exclusive iSMART disk health monitoring tool to protect customer's investments in SSDs and HDDs. Powerful and easy-to-use, iSMART does not just display passive information and a disk lifespan prediction, but can also save hours of setup and maintenance time by giving users easy one button access to write-protection, ATA Security, quick erase, and power saving features.
Innodisk will also be introducing advanced LR-DIMM memory modules for capacities up to 64GB. With Innodisk 64GB 1333MHz LR-DIMM, servers can break through existing memory capacity constraints for improved performance, greater reliability, and lower operating costs. Finally meeting the demanding requirements of the latest cloud computing applications, these exciting new products are expected to be on the market in the second quarter of 2013.
As well as these new products, Innodisk will be showing other popular products and recent innovations from its existing range. These devices feature iSLC technology that greatly extends the lifetime of NAND flash with similar performance of SLC-based flash, but at a significantly lower cost. There will also be DRAM products with support for the ARM architecture, 32 bit modules, rugged mounting pads, and module height of 17.9mm for small form factor systems.
With a very wide range of popular products and new innovations to offer, Innodisk welcomes your questions, advice and comments, and looks forward to meeting friends from the industry, as well as potential new customers, at Embedded World 2013.
Meet Innodisk at Embedded World 2013
Date 26 to 28 February, 2013
Location: Nuremberg, Germany
You will find Innodisk in Hall 1, at Stand 122
Last updated: Apr 7, 2020 at 12:07 pm CDT