Using ASUS' very own F2A85-V PRO and AMD's latest A-series APU, ASUS set a new record of 10297 marks in 3DMark Vantage Performance for APUs. ASUS is committed in providing only the best quality and performance motherboard for AMD new A-series APUs.
The ASUS F2A85-V PRO coupled with the AMD A10-5800K APU set a new record of 10297 marks in 3DMark Vantage Performance[1], cooled by liquid nitrogen and aided by 2 DIMMS of memory running stably at a speed of 2720MHz. Even under air cooling, it still achieved a commendable 8070 marks[2], further cementing ASUS FM2 motherboards capabilities in performing well under a wide variety of environments. The new overclocking record in benchmarks such as 3DMark Vantage indicate that ASUS FM2 Series motherboards deliver customers long-lasting stability, reliability and performance as part of the ASUS commitment to the highest quality possible.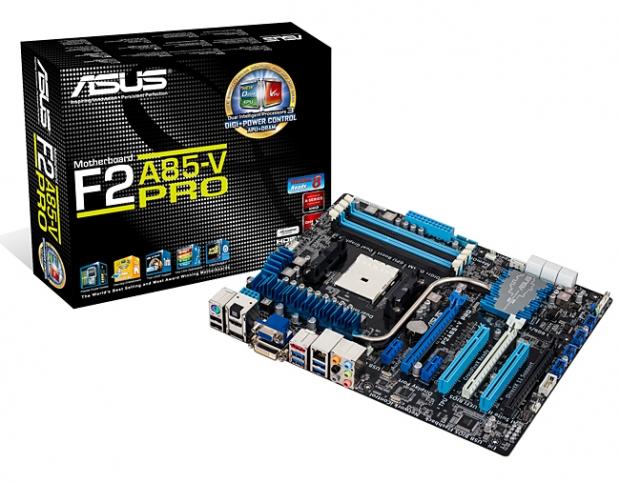 Performance stability with loaded features to satisfy user's needs
ASUS exclusive Dual Intelligent Processors 3 with New DIGI+ Power Control, combining TPU, EPU and digital power controllers give users easy, but robust overclocking performance and overall increased system efficiency for unmatched stability on ASUS FM2 Series motherboards.
For users who are looking for an extra boost in gaming, the ASUS GPU Boost function increases graphics card performance 17% with a single click, providing a smooth gaming experience. The easy to use USB BIOS Flashback offers the most convenient way of flashing the BIOS without the need of the APU or DRAM installed, while the additional Fan Xpert 2 option safely optimizes the control of system fan cooling level thus ensuring a quiet but stable environment.
ASUS FM2 motherboards also offer a myriad of functions for those who are looking into building an HTPC setup. Functions such as ASUS USB 3.0 Boost offers increased transmission speeds up to 1.7 times faster than traditional USB 3.0, while the Remote GO! application has the ability to stream multimedia content from PC to DLNA devices, access data and easily transfer files wirelessly. Additionally, Network iControl can prioritize any favorite software by configuring profiles through the intuitive user interface. With so many extra features, ASUS FM2 Series motherboards are ready to deliver the best home entertainment experience.
In addition to F2A85 Series motherboards, ASUS also features a full range of F2A55 Series motherboards, each catering to a wide variety of user's needs.
For more information please visit this page.
[1] Test configuration: ASUS F2A85-V PRO with BIOS 5108, AMD A10-5800K at 5.95GHz, DDR3-2720MHz CL10 2x4GB, FSB at 170MHz, GPU at 1520MHz, Win7 (64 bit)
[2] Test configuration: ASUS F2A85-V PRO with BIOS 5108, AMD A10-5800K at 4.33GHz, DDR3-2432MHz CL10 2x4GB, FSB 114MHz, GPU at 1155MHz, Win7 (64 bit)
Last updated: Apr 7, 2020 at 12:07 pm CDT