Ciphertex Showcases CX-10K-NAS Portable 40TB 10GbE Secure Server
Sep 18, 2012 1:56 AM CDT
Ciphertex, the leading provider of secure, portable storage systems will exhibit the new CX-10K-NAS secure server at the HTCIA conference in Hershey, Pennsylvania.
The HTCIA conference will provide Ciphertex the opportunity to demonstrate the CX-10K-NAS and discuss its many applications that will benefit the forensic community. During the acquisition of suspect data, Ciphertex encrypted products ensure collected evidence remains unaltered throughout the forensic process using advanced AES-256Bit encryption, from acquisition to the presentation of evidence and eventual archival. The CX-10K-NAS functions as a central storage location of suspect data with the performance necessary to sustain multiple concurrent workflow requests. While performing e-forensics the CX-10K-NAS allows for multiple investigators to simultaneously examine digital evidence reducing the duration of analysis and overhead costs to maintain an investigative team. The CX-10K-NAS connects directly to existing network environments utilizing 10GbE or 1GbE interfaces that support transfer speeds of 1000 MB/s and allows for effortless implementation.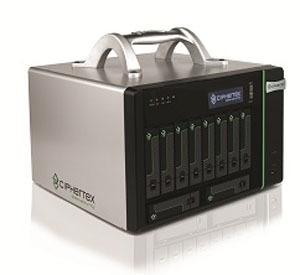 During acquisition of suspect data it is necessary to conduct a full image capture of hard disks in order to uncover criminal activity including fraudulent transactions, web site histories, evidence of hacking, and pirated content. In addition today's forensic software can recover deleted or altered files and identify evidence of tampering. The CX-10K-NAS easily connects to any investigative workstation and integrates seamlessly with all leading forensic tool kits. The CX-10K-NAS functions as a large scale secure networked storage location for collecting vast quantities of suspect data on a single device and can incorporate into any networked environment to securely replicate target hard drive(s) for subsequent forensic analysis.
"Cyber-crime is one of the world's fastest growing aspects of law enforcement investigations, forensic accounting and digital forensics. Although typical storage solutions lack the capacity necessary for full replication and do not possess strong security measures. Ciphertex has worked closely with the law enforcement community to ascertain the features and functionality necessary to more effectively capture and securely store data to properly conduct forensic investigations. Our products combination of military grade encryption and high capacity storage maintains the integrity of the replicated evidence to help convict cyber criminals by maintaining the integrity of the collected evidence" Jerry Kaner, president and CEO, Ciphertex.
"The ever-increasing market adoption of Ciphertex secure data storage technology is a testament of our ongoing commitment to provide the best-in-class storage solutions for business critical environments where security, speed, portability, reliability, and I/O versatility are key requirements," concluded Kaner. "We will continue to drive innovation with industry leading products like our new CX-10K-NAS while investing in emerging technologies that will better serve our customers."
Ciphertex secure AES-256Bit encrypted, portable data storage systems will be on the HTCIA show floor including: the single drives CX-2500E (1TB), CX-2500-ES3 (1TB), CX-3500E (2TB), CX-3500-ES3 (4TB), portable RAIDs CX-RANGER-E (5TB), CX-RANGER-EX (15TB), portable NAS CX-5000NAS (15TB), CX-10K-NAS (30TB).
Last updated: Apr 7, 2020 at 12:07 pm CDT
PRICING: You can find products similar to this one for sale below.

United States: Find other tech and computer products like this over at Amazon.com

United Kingdom: Find other tech and computer products like this over at Amazon.co.uk

Australia: Find other tech and computer products like this over at Amazon.com.au

Canada: Find other tech and computer products like this over at Amazon.ca

Deutschland: Finde andere Technik- und Computerprodukte wie dieses auf Amazon.de
Related Tags