AVADirect, a leading provider of custom computer systems, offers the first personal supercomputer workstation with Dual 8-Core Xeon CPUs, 192GB Memory and Four Graphics Cards. Because of the close partnership with EVGA, AVADirect now offers ground breaking capabilities based on new EVGA SR-X motherboard with wide variety of component combinations to meet the needs of the most demanding professionals or enthusiasts.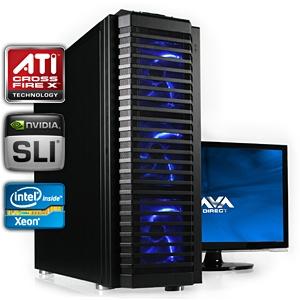 Within the past month, manufacturers began to release new motherboards based on the E5 2600 XEON processors. End-users have seen them offered in rackmount and tower configurations from Supermicro, Asus, and Intel. Now, AVADirect is proud to announce that EVGA has released an enthusiast series motherboard that AVADirect offers in a custom configuration. Supported by the EVGA Classified SR-X dual-socket 2011 motherboard, the configuration boasts a whole new level of performance and expandability, including 7x PCI e expansion slots (with PCI-E 16x 3.0 support), 6x USB 3.0 ports, and 8x internal SATA ports; 4 being SATA III 6Gb/s. More importantly, the system will support up to 192GB of certified, Quad-Channel ECC RAM.
A configuration of this magnitude can utilize applications such as:
Photoshop / Adobe Products

AutoCAD

Lightroom

RevIt

Reason

Cubase

ProTools
Other applications this configuration can increase productivity on are:
Multiphysics 4.3

ALE3D

ANSYS

Various linear system of equations solvers like PARDISO and MUMPS
When asked about the combined efforts of EVGA and AVADirect to create such a solution, Joe Darwin; Director of Technical Marketing at EVGA, had this to say: "EVGA Is proud to partner with AVADirect to bring a powerhouse that boasts an extraordinary 192 GB of memory on the most capable 4-Way SLI and dual processor setups" Misha Troshin, co-owner and CMO of AVADirect, also had this to add: "AVADirect has built a standard based on providing custom solutions for those with custom projects and unique requirements that typically cannot be met by pre-built workstation configurations. Partnerships with EVGA, aid us in our goal to provide unmatched solutions that professionals or enthusiasts need to get the job done right".
SR-X Dual-Socketed Personal Supercomputer offers a new level of performance yet to be explored by any other manufacturer than EVGA. This is a huge step into the serious performance bracket and AVADirect is excited to be right behind EVGA with their mission to break down walls and create a whole new standard for bleeding-edge products available today.
Last updated: Apr 7, 2020 at 12:06 pm CDT