Apple® today announced the launch of the iTunes Store® in Hong Kong, Singapore, Taiwan and nine additional countries in Asia featuring an incredible selection of local and international music from all the major labels and thousands of independent labels. The iTunes Store features local artists including Jay Chou, Girls Generation and Andy Lau, international artists including ADELE, The Beatles and Jason Mraz, and world-renowned classical musicians including Lang Lang, Yo Yo Ma and Yuja Wang. Customers can choose from over 20 million songs available to purchase and download on the iTunes Store.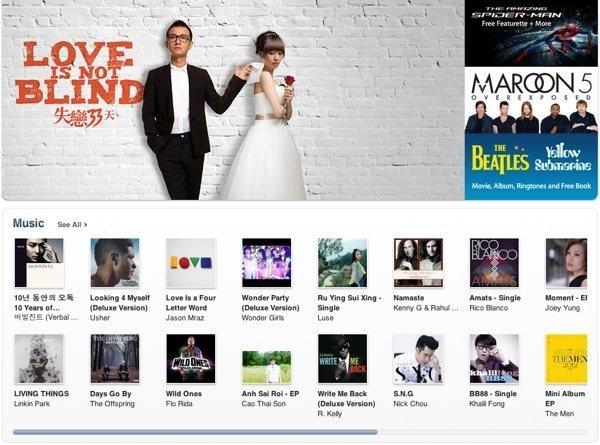 Apple is bringing the iTunes Store to music fans in Brunei, Cambodia, Laos, Macau, Malaysia, Philippines, Thailand, Sri Lanka and Vietnam. Customers can also rent or purchase movies from the iTunes Store, with many available in stunning HD, from major studios including 20th Century Fox, Paramount Pictures, Sony Pictures Home Entertainment, The Walt Disney Studios and Warner Bros. Pictures. The iTunes Store joins the revolutionary App Store™ which offers more than 650,000 apps to consumers in 155 countries.
The iTunes Store is the best way for iPhone®, iPad®, iPod®, Mac® and PC users to legally discover, purchase and download music online. All music on the iTunes Store comes in iTunes Plus®, Apple's DRM-free format with high-quality 256 kbps AAC encoding for audio virtually indistinguishable from the original recordings.
iTunes® in the Cloud lets you download your previously purchased iTunes music to all your iOS devices at no additional cost, and new music purchases can be downloaded automatically to all your devices. In addition, music not purchased from the iTunes Store can gain the same benefits by using iTunes Match℠, a new service that stores your entire music library in iCloud® for access at any time, from any iOS device. iTunes Match is available for purchase in the new countries added today.
Pricing & Availability
iTunes 10.6.3 for Mac and Windows includes the iTunes Store and is available as a free download from apple.com/asia/itunes. iTunes Store purchases require a valid credit card with a billing address in country.
Last updated: Apr 7, 2020 at 12:06 pm CDT