As the leading brand in enthusiastic graphics market, Gainward, again, introduces its Phantom series for GeForce GTX 680 - Gainward GeForce GTX 680 Phantom. The Gainward GTX 680 Phantom, continue the elegant design of the first generation, delivers much better performance than the previous design. The most important is the Gainward GeForce GTX 680 Phantom comes with factory over-clocked setting - 1150MHz boost clock (1084MHz base clock) and 3150MHz (DDR6300) memory clock.
It is really a "silent monster", the fastest GTX 680 in the market and extreme cool under gaming environment. Under 3D benchmark, it is 12.6% higher than reference board (3DMark 2011 Xscore). While in gameplay, it is around 10% higher. To compare with the competing GPU in red camp, it performs 27.7% higher in 3DMark 2011 Xscore and exceeds amazingly 32% in hot titles gaming performance.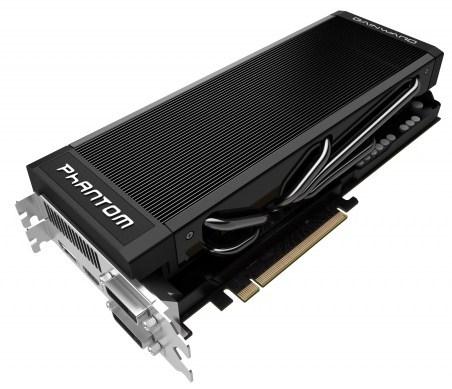 New Phantom II Cooler Design
The new Phantom II comes with brand new fins design (patent pending) that introduces:
Better thermal performance
Lower acoustic level
A more solid structure than previous generation
With this new design, Gainward GTX 680 Phantom delivers Extreme cool and silent acoustics under 3D heavy loading even with factory over-clocked speed. It really is an extreme gaming gear for enthusiast gamers.
Gainward superior hardware design
Beside the cooler performance, the Gainward engineers' contribution for their users is to provide superior hardware design for GeForce GTX 680 Phantom. A 6-phase with DrMOS PWM design for the GTX 680 cores brings a lot more benefits for the over-clocking capability. With factory over-clocked to 1150MHz boost clock (1084MHz base clock) and 3150MHz (DDR6300) memory clock speed, the GTX 680 Phantom also can be over-clocked easily.
Thanks to superior hardware design, Gainward GeForce GTX 680 Phantom gains extra 5% more power efficiency that is 5W saving while performing 8% more in gaming performance.
Gainward Expertool II utility
Along with new Phantom series announcement, Gainward proudly introduces the new Expertool utility for GTX 680's dynamic clocking to tap into this powerful board. Users can utilize this new tool to enjoy the experience of the performance enhanced and quiet gameplay.
QuattroPorts
The QuattroPorts supports up to four displays in the same time on a single GTX 680. Gainward GeForce GTX 680 Phantom also comes with a HDMI to DVI adapter for the users to enjoy NV Surround with three DVI monitors.
Technologies
Microsoft DirectX 11, Shader Model 5.0 support
Microsoft DirectCompute and OpenCL Support
NVIDIA GPU Boost
NVIDIA Adaptive Vertical Sync
NVIDIA Unified Driver Architecture (UDA)
NVIDIA CUDA Technology
NVIDIA PhysX Technology
NVIDIA 3D Vision Surround Ready
NVIDIA PureVideo HD technology
NVIDIA SLI Technology
OpenGL 4.2 support
PCI Express 3.0
Two Dual-link DVI connectors
One DisplayPort connector
One HDMI connector (v1.4a)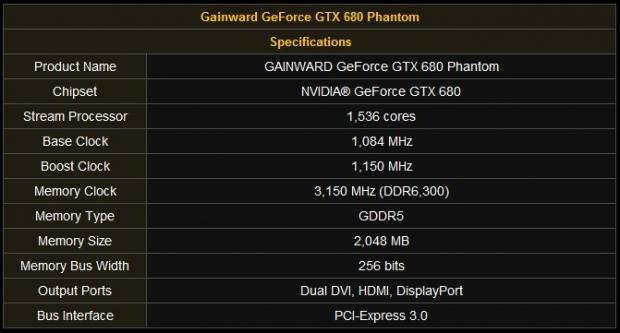 Last updated: Apr 7, 2020 at 12:06 pm CDT