Taipei, Taiwan, 22 March 2012 - GIGABYTE Technology Co. LTD, a leading manufacturer of motherboards and graphics cards, is pleased to introduce the latest GV-N680D5-2GD-B graphics cards. Built with the highly anticipated GeForce® GTX 680 GPU, GV-N680D5-2GD-B utilizes the latest 28nm fabrication process, features GDDR5 memory and adapts 1536 CUDA cores. GIGABYTE GV-N680D5-2GD-B supported Microsoft DirectX® 11 and PCI-Express 3.0 which not only improves the processing ability but provides gamers a faster, smoother and richer gaming experience. Supporting NVIDIA® 3D Vision Surround, 3D Vision™, PhysX®, and 3-way SLI®, GV-N680D5-2GD-B guarantees gamers an ultimate gaming experience. Equipped with the innovative GPU Boost technology, GV-N680D5-2GD-B delivered dynamic clocking with different clock rate - Base clock and Boost Clock. It automatically boosts the clock speed of the GPU to offer enthusiastic gamers extra performance.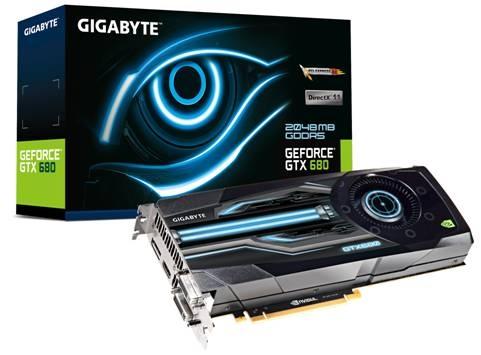 Faster SMX/ GPU Boost
The next-generation SMX units have replaced SM units, and substantially improve the processing ability. It pushes the breathtaking performance of the GV-N680D5-2GD-B to new levels with NVIDIA® GPU Boost. This technology dynamically maximizes clock speeds to bring out the best performance in every game.
Smoother FXAA/ TXAA/ Adaptive VSync
NVIDIA anti-aliasing FXAA is 60% faster than 4X MSAA. The Performance and quality of TXAA is better than 8X MSAA. Get ultra-smooth gaming with NVIDIA gaming innovations like Adaptive Vertical Sync! GV-N680D5-2GD-B dynamically adjusts VSync to current frame rates for maximum playability. Gamers can achieve a smoothly gaming performance and to have the best experience with realistic visuals.
Richer Single GPU 3D Vision Surround PhysX
GV-N680D5-2GD-B supports NVIDIA 3D Vision™ Surround. Users can experience broader, richer gaming environments with the latest technological advancements. Bring games to life with NVIDIA Surround multi-monitor gaming on a single card, supercharged PhysX and 3D Vision, plus the unbeatable power of SLI.
Last updated: Apr 7, 2020 at 12:06 pm CDT