Private Cloud Appliance Delivers a Proven, Interoperable Solution for On-Premise "Private Cloud in a Box"
AMAX, a leading provider of enterprise and cloud computing solutions, has joined the Intel Cloud Builders program, which publishes best practices, hardware blueprints and software architectures on how to deploy cloud infrastructures. The AMAX-Intel reference architecture, published as part of the program, demonstrates how to build private cloud solution using Intel® Xeon® processor-based servers and helps to accelerate the deployment of secure and efficient cloud computing infrastructures.
"We are pleased to welcome AMAX into the Intel® Cloud Builders program with the publication of their reference architecture," said Rick Cecil, Architect, Intel® Enabled Solution Acceleration Alliance at Intel Corporation. "AMAX's detailed guide to the deployment and optimization of a cloud infrastructure will be beneficial to IT managers looking to integrate cloud computing solutions."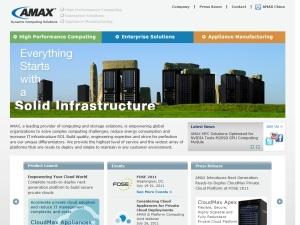 AMAX's cloud appliance reference architecture as published demonstrates use cases for building a complete cloud infrastructure, using standard Intel-Xeon based computing solutions. Through the utilization of Intel's Cloud Builders reference architecture, AMAX and Intel's shared customers will be able to minimize the learning curve for provisioning, administering, operating and maintaining their own cloud. They will also gain a better understanding and solid foundation for building more scalable, resilient, and complex cloud computing architectures adapted to the specific needs of private, public or hybrid cloud deployments.
"For enterprise customers seeking a highly scalable, pre-packaged, fully-integrated high-performance, high-ROI cloud computing solution backed by the engineering experience of a leading manufacturer, the Intel Cloud Builders reference architecture for AMAX's CloudMax appliance is a perfect solution," said Julia Shih, Director of Strategic Alliance, AMAX. "We are pleased to provide a proven cloud appliance to Intel's innovative Cloud Builders and enterprise customers throughout the world."
AMAX CloudMax Cloud Appliance Key Features:
Dramatically accelerates private cloud deployment
Advanced engineering ensures system compatibility
Automated cloud management reduces operational costs
Enables real-time security policy management on the access level without compromising cloud performance
Self-service portal increases end user control and productivity
Dynamically scales applications to meet service level agreements (SLAs)
Optimizes overall resource utilization -- capital expense can be reduced by 75% and operational expense by 25%, with resource utilization increased to 50-60%
Flexible scaling, advanced security, and Professional Services options
Ready-to-deploy starting at under $65k
AMAX is able to provide the CloudMax to enterprises both as an on-premise private cloud solution for internal use or customized as an integrated OEM appliance for cloud ISVs looking to deploy a total "private cloud in a box" solution to clients to increase ROI, brand strength and market share, and to generate product value-add based on a complete solution with ultimate ease of deployment. Beyond the CloudMax private cloud appliance, AMAX is also a leader in datacenter server solutions optimized for virtualization as well as petabyte-scale cloud storage.
Last updated: Jul 27, 2022 at 03:42 am CDT