Patriot Memory and VisionTek are the first partners to bring AMD Memory to market, introducing DDR3 RAM with major retailers throughout North America
SUNNYVALE, Calif. -11/28/2011
AMD (NYSE: AMD) today announced North American retail availability of the first AMD Memory branded desktop system memory modules, debuting with partners Patriot Memory LLC and VisionTek Products, LLC. AMD Memory branded products will help take the guesswork out of DRAM selection, providing an easy and straightforward experience when looking for the ideal match for gaming or multimedia PC needs.
As part of AMD's development of personal computer platforms, the company has used the AMD OverDrive™ performance optimization tool to test and optimize DRAM in conjunction with the company's APUs, CPUs, GPUs and chipset platforms. This unique insight is now helping AMD tune and optimize memory modules for other manufacturers.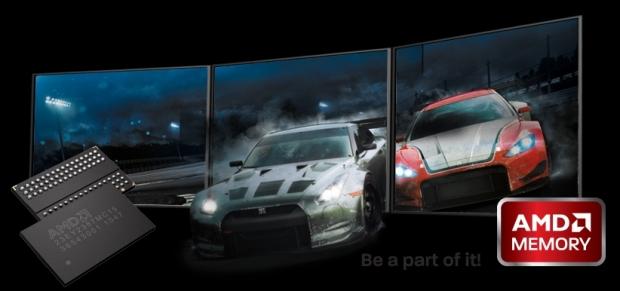 "Patriot Memory will bring over two decades of experience and expertise into this ecosystem," said Paul Jones, CEO of Patriot Memory. "Our proven ability to deliver the best technology at the most competitive prices will help pave the way to success for this memory line."
In addition to leveraging AMD's experience in creating graphics, CPUs, APUs and motherboard chipsets, this new product line also enables retailers to round out AMD bundles with memory, helping to ensure an easy, confident upgrade experience that places a heavy emphasis on compatibility and stability. Customers can purchase a complete package designed to deliver top performance and maximum value.
"AMD has been our strategic technology partner for ten years and VisionTek has focused our efforts on bringing their PC upgrade products to the North American market," said Michael Innes, chief operating officer of VisionTek. "The AMD brand means cutting edge technology, as well as uncompromising quality and compatibility for PC users. AMD Memory will help expand the ability to optimize performance in personal computers of today and tomorrow." VisionTek will have availability of AMD licensed memory through its strategic North American distribution partner D&H. (www.dandh.com).
This initiative builds on AMD's history of helping to supply high-quality DDR3 modules to video card add-in-board manufacturers in an effort to help ensure availability.
"AMD has been supplying and validating memory for AMD Radeon™ graphics cards for several years," said Matt Skynner, corporate vice president and general manager, AMD GPU Division. "Based on this experience, adding system memory to our product line was a clear opportunity for us. This move provides our partners and end-users with a trusted brand synonymous with quality - we can help ensure performance and reliability with AMD Memory."
AMD Memory is available at three different levels - 2GB, 4GB and 8GB sizes - in a range of price points and speeds. The Entertainment category will feature 1333 MHz and 1600 MHz speed RAM, designed for quiet Home Theater PC applications. The Performance version supports speed up to 1600 MHz with low latency and comes in matched pairs. Finally, Radeon™ Edition DRAM will run at 1866 MHz, and is tuned, tested and certified for specific AMD platforms to enable maximum performance at competitive pricing.
AMD is collaborating with memory module makers to create AMD Memory branded products from components qualified to meet certain specifications. By testing and certifying the memory components, end-users can be assured of compatibility with AMD platforms. AMD Memory is also designed to deliver quality and reliability with compatible chipsets and processors from other manufacturers. AMD Memory is coming to major retailers including Amazon.com, Bestbuy.ca, Fry's, Memory Express, Micro Center, NCIX, Newegg, Tiger Direct, VIP Computers (UK) and others.
Resources
- Follow AMD updates on Twitter at @AMDRadeon
- Learn more about AMD Memory here
About AMD
AMD (NYSE: AMD) is a semiconductor design innovator leading the next era of vivid digital experiences with its groundbreaking AMD Fusion Accelerated Processing Units (APUs) that power a wide range of computing devices. AMD's server computing products are focused on driving industry-leading cloud computing and virtualization environments. AMD's superior graphics technologies are found in a variety of solutions ranging from game consoles, PCs to supercomputers. For more information, visit http://www.amd.com.
Last updated: Apr 7, 2020 at 12:05 pm CDT