Best Overclocker on 'Locked' LGA 1155 CPU Wins a GIGABYTE Z68XP-UD4

City of Industry, CA, November 15th 2011 - GIGABYTE TECHNOLGY Co. Ltd., a leading manufacturer of motherboards and graphics cards, today announced the winners of the GIGABYTE Locked 'n' Loaded contest, hosted on HWBOT.org. To create an even playing field, the Locked 'n' Loaded contest featured two stages based on the ability to overclock Intel® Core™ Sandy Bridge processors with a 'Locked' multiplier of 31x. Running from October 1st to October 31st, contestants were invited to use any GIGABYTE socket LGA 1155 motherboard, using any Intel® Core™ processor (aka Sandy Bridge) to reach the highest possible DDR3 speed and Super PI 32 score:
Locked 'n' Loaded Contest Stages
Stage 1: Maximum DDR3 Speed in CPUz
Stage 2: Fastest Super PI 32M
Locked 'n' Loaded Contest Winners
Winner - Coldest
Stage 1: 1182.3 MHz
Stage 2: 9 min 25 sec 625ms with Core i7 2600K at 3415 MHz
Total: 15 points
2nd place - Saichania
Stage 1: 1161.7 MHz
Stage 2: 9 min 22 sec 938ms with Core i7 2600K at 3373.6 MHz
Total: 13 points
3rd place - SuicidePhoenix
Stage 1: 1165.9 MHz
Stage 2: 9 min 24 sec 766ms with Core i7 2600K at 3385.4 MHz
Total: 12 points
First place winner 'Coldest' will take home a GIGABYTE Z68XP-UD4 motherboard with second and third place taking a Z68XP-UD3P.
For complete contest rules, scoring and more details, please visit the contest page hosted on HWBOT.org: http://hwbot.org/competition/gbt_lockednloaded
About the GIGABYTE Z68XP-UD4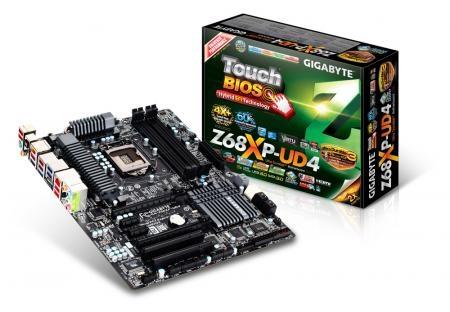 The brand new GIGABYTE Z68XP-UD4 motherboard combines the advantages of the Intel® P67 and H67 platforms in one complete package. Offering the best of both worlds, users can take advantage of the system tuning and overclocking features found in the Intel® P67 platform, as well as the built-in visual features of Intel® H67 platforms when combined with 2nd generation Intel® Core™ processors.
Last updated: Apr 7, 2020 at 12:05 pm CDT