El Monte, CA - November 14, 2011 - iBUYPOWER, a leading innovator in gaming PCs, is excited to announce the availability of new Intel X79 chipset-based systems. New 2nd Generation Intel Core i7 processors are available in new iBUYPOWER systems, including the Paladin XLC (extreme liquid cooling) and Erebus Custom Liquid Cooling systems. The new platform provide gamers with option to add up to 64GB of Memory and natively support DDR3 1600 memory speeds (previously considered overclocked), improving overall gameplay and load times.
The Paladin XLC utilizes an impressive cooling system to keep the new processors running fast and cool, including a large maintenance-free 240mm "dual radiator" liquid CPU cooler. iBUYPOWER's Erebus Custom Liquid Cooling System includes one of the most powerful liquid cooling solutions available on the market, providing up to 3400w thermal dissipation in up to 10x120mm total radiator cooling area.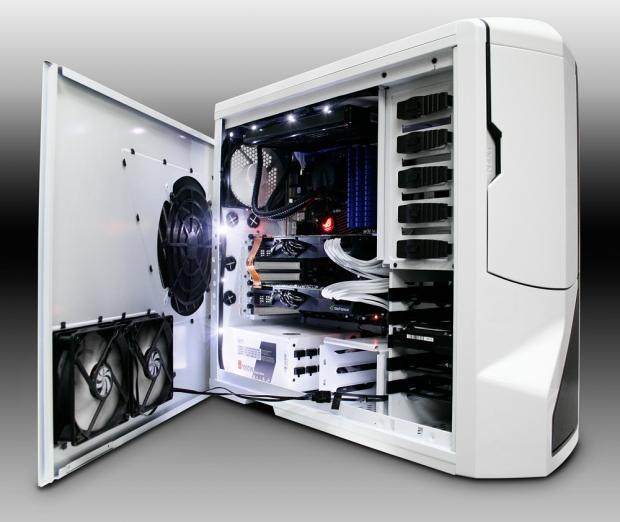 "We are excited to offer the highly anticipated Intel Sandy-Bridge-E Processors," said Darren Su, Vice President of iBUYPOWER. "The new CPUs provide gamers with more power than ever before."
iBUYPOWER's Optimal Game Settings program has been updated to reflect the positive impact of the new X79 processors. Systems with the new X79 chipset and the new 2nd Generation Core i7 CPUs are capable of running every tested game currently available on Ultra settings, including popular games like Battlefield 3 and Starcraft 2, when paired with a proper video card.
Customers with more specific gaming needs can configure a fully customizable gaming PC at iBUYPOWER.com. All iBUYPOWER systems come standard with 1 year limited warranty and lifetime technical support.
For additional information about iBUYPOWER please visit iBUYPOWER.com, or contact PR representative Mark Olson at 305.576.1171 x17 or markolson@maxborgesagency.com.
About iBUYPOWER
iBUYPOWER Computer, an enterprise in association with American Future Technology Corporation (AFT), is one of the largest system builders in the PC gaming industry. Located in Los Angeles County, iBUYPOWER's mission is to provide a complete computing solution to meet the needs of the surrounding community and customers nationwide. Currently, the company's product lines include gaming desktops, gaming notebooks, workstations, media center PCs, peripherals and multimedia products. www.iBUYPOWER.com.
Last updated: Apr 7, 2020 at 12:05 pm CDT