Obtains Certification from GIGABYTE in New Show of R & D Capability
Taipei, Taiwan - October 26 2011 - Following up on the successful launch in May this year of the S511 SATA III solid state drive, which received an enthusiastic industry response and multiple awards, ADATA Technology has introduced the industry's fastest high-performance XM13 mSATA solid state drive. The drive has been certified as compatible with GIGABYTE mSATA motherboards, demonstrating the company's increasingly strong R & D capabilities, and establishing a firm foundation for ADATA in the Small Form Factor (SFF) applications market.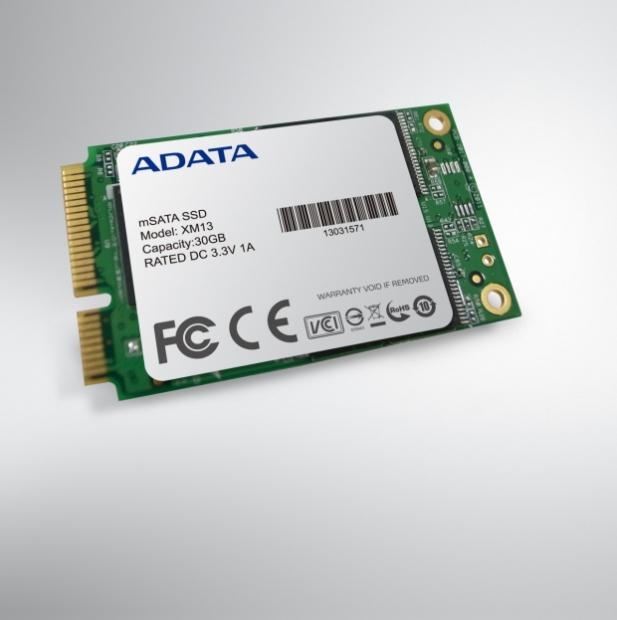 The "rapid start" usage of Tablet PCs has had an impact on the consumer desktop market, causing rising hopes and expectations for performance. The future market is expected to demand that boot devices combine the power of rapid, efficient operation with a thin profile and price competitiveness. To this end, ADATA has set its sights squarely on the market trends of the near future, applying the full force of the company's development capability and years of experience in memory storage. The result is the introduction of the XM13 mSATA SSD, incorporating mSATA memory cache, low power consumption, and implementing the latest Sandforce controller. Interface speeds of 3Gb/sec, and IOPS (random access) speeds up to 12,500, can significantly enhance system performance over traditional hard drives, reducing boot times up to 30%. For multitasking consumers, this means a smoother, more leisurely, and enjoyable computing experience.
The ADATA XM13 mSATA SSD is equipped with 25nm (MLC) NAND Flash, enabling a competitive advantage for price. Users of the XM13 will reap nearly all the benefits of high-priced solid state drives, and half the cost. In addition, the XM13 is small and light, with dimensions of only 50.95 x 30 x 4mm, about half the size of a standard business card. Even with the small profile, the drive's effectiveness is an outstanding example of efficient performance and stability, further evidenced by certified compatibility with a variety of leading motherboards on the market, including the GIGABYTE Z68XP-UD3, Z68XP-D3, Z68AP-D3 and Z68P-DS3 models. The XM13 mSATA mini-SSD will become ADATA's cornerstone victory in the the new generation SFF applications market.
Last updated: Apr 7, 2020 at 12:05 pm CDT