Updates HP Pavilion dm1 Notebook PC, introduces HP Premier Experience
PALO ALTO, Calif., Sept. 8, 2011 - HP today introduced the updated HP Pavilion dm1, a consumer notebook PC featuring a gloss finish or HP
Soft-touch Imprint design, Beats Audio™ and HP Premier Experience - an exclusive set of innovations designed to improve on the Microsoft
Windows® experience.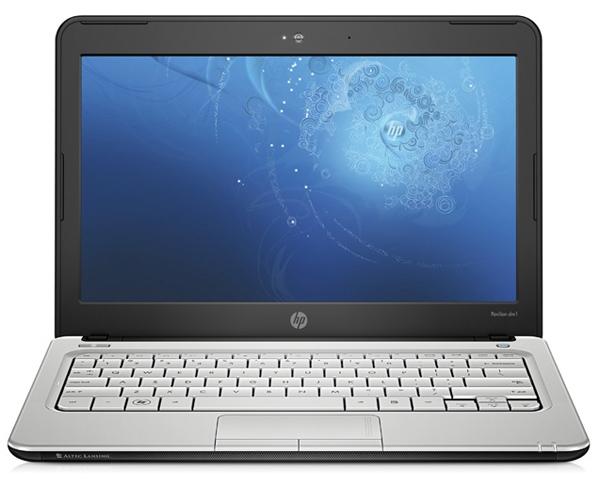 The affordable HP Pavilion dm1 is the ultimate ultraportable PC, blending performance and mobility in a stylish package, and offering a battery life
of up to 11.5 hours.(1)
Building upon HP's MUSE design philosophy, the dm1 is the first notebook to feature HP Soft-touch Imprint technology, a unique printing
process that creates a soft-to-the-touch surface by inlaying graphics into a rubber skin that covers the notebook exterior. The dm1 will be available
in either a traditional charcoal gloss finish or a soft-touch ash black finish with a stylized pattern. The ash black design features a velvety finish that not only provides a tactile experience, but also collects fewer fingerprints compared to gloss surfaces.
With the addition of HP Beats Audio, a unique, high-performance technology developed by HP and Beats by Dr. Dre™, the Pavilion dm1
offers high-quality entertainment for mobile users.
The dm1 features an 11.6-inch high-definition (HD)(2) LED display, and the built-in HP TrueVision HD(2) webcam captures high-quality images even in
low-light conditions.
The compact machine has a range of storage options and also packs power with the latest AMD E-Series Accelerated Processing Units or
Intel® 2nd Generation Core™ processors. AMD models also include AMD Radeon HD(2) discrete-class graphics to enable crisper and more vivid video playback. Thin and light, the dm1 measures less than 1-inch thick in front and weighs 3.52 pounds.(3)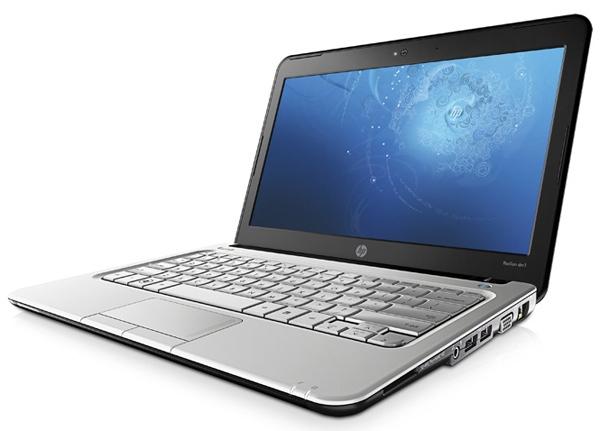 Streamlined Windows 7 experience
HP Premier Experience delivers a streamlined Windows experience that makes HP Pavilion notebooks cleaner, faster and more intuitive.
Part of the HP Premier Experience, HP Launch Box allows applications to be better organized by grouping them for quick access on the Windows
7 taskbar. A simple mouse-over and click launches an application directly from the taskbar, freeing up screen real estate on the PC's desktop.
Including the dm1, HP Launch Box is available on 70 percent of consumer notebook models.
Additionally, a simplified, organized Windows Start Menu allows users to find applications faster.
With HP Premier Experience, consumer notebooks have quicker boot-up, shutdown, sleep and resume times, allowing users to access their content
quickly. The dm1 shows an approximate 29 and 25 percent improvement on shutdown and resume times, respectively. Boot times and sleep times also are improved.
Select models of HP notebooks feature some of the following HP Premier Experience innovations:
- HP CoolSense technology uses advanced hardware and intelligent software to automatically adjust performance and internal fan settings for a noticeably cooler PC. Whether at a desk or on the move, HP CoolSense technology keeps the PC's surface temperature at an optimum level of comfort.
- HP QuickWeb takes users directly to the web within seconds of powering on, bypassing the full operating system start-up. Users are seconds from chatting with friends on Skype™, updating Facebook posts or tweets, and viewing their social calendar all in one place.(4)
- HP ProtectSmart features a built-in accelerometer that detects when a PC is bumped or dropped, locking the hard drive into place within milliseconds to help protect important files. The feature's safeguard modes run without interrupting day-to-day use.
- HP SimplePass provides added online security with a built-in fingerprint reader that auto-populates passwords for online accounts and websites. Valuable account information is locked with a user's fingerprint.
Elements of the HP Premier Experience are available today on 90 percent of HP's consumer notebook models.
Pricing and availability(5)
- The HP Pavilion dm1 with AMD processors is expected to be available in charcoal on Sept. 21 with a starting price of $399.99. The soft-touch ash black model will be available this fall.
- The HP Pavilion dm1 with Intel processors is expected to be available in charcoal on Oct. 30 with an external optical drive included and a
starting price of $599.99. The soft-touch ash black model will be available this fall.
Additional information is available at www.hp.com/personal and http://shopping.hp.com/go/newfromhp.
About HP
HP creates new possibilities for technology to have a meaningful impact on people, businesses, governments and society. The world's largest
technology company, HP brings together a portfolio that spans printing, personal computing, software, services and IT infrastructure at the
convergence of the cloud and connectivity, creating seamless, secure, context-aware experiences for a connected world. More information about HP (NYSE: HPQ) is available at http://www.hp.com.
(1) Battery life will vary depending on the product model, configuration, loaded applications, features use, wireless functionality and power management settings. The maximum capacity of the battery will naturally decrease with time and usage. Additional details are available at Mobile Mark07 battery benchmark: http://www.bapco.com/products/mobilemark2007.
(2) HD content required to view HD images.
(3) Weight will vary depending on configuration.
(4) HP QuickWeb is accessible when the notebook is off in Windows-based systems. Internet access is required. Timing may vary depending on the system configuration. To enable the feature following the removal of the battery, reboot the notebook prior to subsequent use.
(5) Estimated U.S. street prices. Actual prices may vary.
Last updated: Apr 7, 2020 at 12:05 pm CDT