New M-DISC to Provide Up To 1,000 Years of Permanent Data Storage
Aug 16, 2011 4:47 AM CDT
Millenniata, a new optical disc company, ushered in a new era of information storage with the release of its M-DISC and M-READY disc storage technology-technology that permanently etches data onto the write layer of the disc for use anytime and for generations to come without any data loss. The company also announced a manufacturing and marketing partnership with Hitachi-LG Data Storage, Inc. to manufacture Millenniata compatible (M-DISC compatible) DVD drives and market them through its sales channels.
Whether for music, photos, videos, genealogical records, business records, data loss prevention, permanent file backup, medical imaging, government or archive, M-DISC provides long-lasting storage by literally etching data into a rock-like material. The M-DISC will not degrade over time and is usable on a daily basis.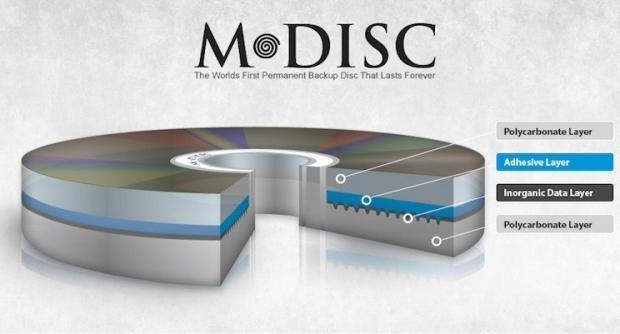 Under the partnership, Hitachi-LG Data Storage, Inc. will manufacture M-READY DVD drives and market and sell them to its U.S. and international retail channels under its DVD brands. All M-DISC compatible aftermarket drives will include the M-DISC logo indicating compatibility to write to M-DISCs. Any DVD drive will read the M-DISC.
Millenniata will manufacture and market the M-DISC to the same LG U.S. and international retail channels as well as to its global value-added reseller channels. The drives and discs will be available on Millenniata's website in September. They will be available at some popular retail outlets in October. They will be available at an additional growing number of retailers at different time periods thereafter.
"We are very excited to partner with such a strong global presence as Hitachi-LG Data Storage as we introduce M-DISC permanent storage to the world," said Scott Shumway, Millenniata CEO. "Millenniata discs capture the essence of how people use their data and information-literally for a thousand years."
"Millenniata's technology has been tested and proven to provide long-lasting data storage," said - Sang Hun Kim, Deputy CMO, Sales and Marketing Division at Hitachi-LG Data Storage, Inc. "We are pleased to partner with Millenniata to provide true permanent storage DVD technology that can stand the test of time."
With a growing need for durable, long-lasting information storage, the M-DISC provides data loss prevention by laser etching data into an inorganic rock-like material that is not available from any other recordable DVD. Other recordable DVDs use organic dyes to hold data, a material that is known to fade and degrade over time.
A recent study proves data loss will occur on all discs, but not with the M-DISC. An accelerated life test performed by the U.S. Naval Air Warfare Center Weapons Division at China Lake, Calif. tested five brands of archival-quality DVD discs including the Millenniata M-DISC for data longevity and reliability. The test found that the M-DISC was the only solution that suffered no degradation or data loss. All other discs tested failed.
The M-DISC has the following MSRP:
One M-DISC: $2.99
M-DISC five pack: $13.89
M-DISC 10 pack: $26.59
One M-DISC has a DVD disc capacity of 4.7GB of space with comparable performance. Millenniata is currently working on a Blu-Ray version of M-DISC that will be announced at a later date.
Millenniata, Inc. is based in Salt Lake City. The company's patented technology is the world's first permanent digital storage solution and is composed of the M-DISC and M-DISC compatible drives. The M-DISC is the first backward compatible non-dye based DVD optical technology constructed of inorganic materials that are known to last centuries. M-DISC compatible drives are a high quality optical drive specifically designed to laser-etch digital information onto the M-DISC. This combination allows information to be written once and read over time and offers the best permanent data storage solution in the industry. www.millenniata.com.
Hitachi-LG Data Storage, Inc. (HLDS), a joint venture of Hitachi Ltd. and LG Electronics Inc., has been maintaining Global No.1 position in the world optical storage market since its establishment in 2001. Based on the source technology from Hitachi Ltd. and the application technology from LG Electronics, Inc., creating a technical synergy effect between each other, HLDS has been able to become the world's leading company in the optical storage industry. Also, due to its powerful market leadership, HLDS was able to maintain No.1 global market share for 9 consecutive years since its establishment. HLDS is still in its challenge to become the new "Total Storage Solution Provider" in the market by extending its business area to new storage devices such as NAS (Network Attached Storage) while also strengthening the existing optical storage leadership through cutting edge technology, strong marketing power and enhanced service structure for DVD-Rewriter, Blu-Ray/DVD-W Combination Drive, Blu-Ray Rewriter etc.
For more information, visit the Millenniata website.
Last updated: Apr 7, 2020 at 12:05 pm CDT
PRICING: You can find products similar to this one for sale below.

United States: Find other tech and computer products like this over at Amazon.com

United Kingdom: Find other tech and computer products like this over at Amazon.co.uk

Australia: Find other tech and computer products like this over at Amazon.com.au

Canada: Find other tech and computer products like this over at Amazon.ca

Deutschland: Finde andere Technik- und Computerprodukte wie dieses auf Amazon.de
Related Tags