Gainward GTX 560 "Phantom" series equipped with revolutionary cooling technology
May 17, 2011 6:24 AM CDT
- extreme silent acoustics, extreme cool gaming performance and over-clocking capability increased more than 10%!
As the leading brand in enthusiastic graphics cards, Gainward proudly launches its Gainward GeForce GTX 560 series. Gainward introduces 3 different customized models to satisfy all hardcore PC gamers' requirements, Gainward GTX 560 2048MB, Gainward GTX 560 1024MB "Phantom" and Gainward GTX 560 1024MB "Golden Sample". Gainward GTX 560 series inherits mighty DNA in GF114 chipset, Fermi architecture 2.0, same as GTX 560 Ti; nevertheless, with more affordable price tag.

Gainward GTX 560 1024MB "Phantom"
As the successful release of "Phantom" cooling series, Gainward GTX 560 1024MB "Phantom" is honored again to demonstrate the best thermal solution, equip with the same revolutionary cooling as GTX 560 Ti "Phantom". "Phantom2 - Power of two", revolutionary cooling technology, is equipped with the best in class material. Phantom2 cooling is reinforced the heat dissipation efficiently by two excellent, extreme silent GR8(Great 8cm) PWM fans; conducting the heat away by remarkable 4 pcs of Gainward Grand-Prix Heat-Pipes Hybrid 6 mm heat-pipes; dispersing overage heat to the air by volumes of delicate shark sink fins.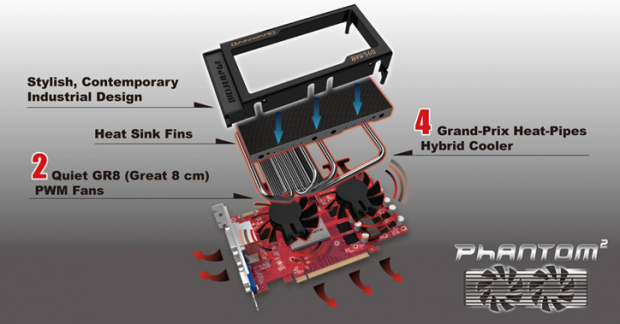 Gainward GTX 560 1024MB "Phantom" is initiated for all 336 CUDA Cores at 822 MHz and 2020MHz for 1024MB GDDR5 256-bit bus wide memory interface with memory bandwidth of 129.3 GB/sec. Thanks to the innovative cooling technology, Gainward GTX 560 1024MB "Phantom" is over-clocker's dream, easily geared up to 10%. It exceeds 28% performance of the historical record, GTX 460 768MB and increases up to 20% Perf/Watt than GTX 460 1GB; for the competing red camp, it can beat the rival in every ways, not only surpasses easily at DirectX10 but also outperforms it proudly by 20% at DirectX11.
Gainward "Phantom" series demonstrates cool gaming performance and silent acoustics running
Gainward "Phantom2" cooler has excellent cooling performance and silent acoustics operation. It is extremely silent under 2D loading, inaudibly running only 6.5dB higher than the environment, almost not detectable. Comparing with other brands' fansink, Gainward "Phantom2" performs amazingly in low acoustic noise scale, which is 13 dB quieter than others. While in 3D heavy loading (FurMark 1.8.2), Gainward "Phantom2" operates extreme low-temperature, amazingly 16C lower than competitors' in the same RPM. Gainward GTX 560 1GB "Phantom" demonstrates the best cooling performance, providing the most silent acoustic operation and sustainability which illustrate its amazing over-clocked capability; you can feel free to test-drive its limit!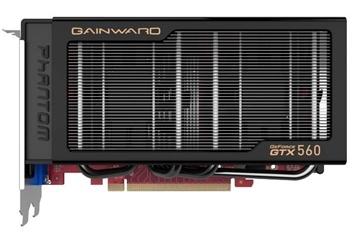 Gainward GTX 560 1024MB "Golden-Sample"
Gainward GTX 560 1024MB "Golden-Sample" sets at the same core and memory speed as GTX 560 1024MB "Phantom". It is equipped with brand new Great 9cm(GR9) silent PWM turbofan; comparing with 8cm fan, it is not only enlarged 26% fan surface but also increased to 15 Helical-shaped turbofan blades, in order to reach optimized airflow and air pressure. Gainward GTX 560 1024MB "GS" has highest C/P value; contributed by the excellent GR9 silent turbo PWM fan, it achieves at the lower temperatures and silent acoustics with outstanding over-clocking ability and sustainability. It retains excellent thermal performance, great stability under aggressive over-clocking which leaves lots of head room for exercising over-clocking maneuver by Gainward awarding winning Expertool utility.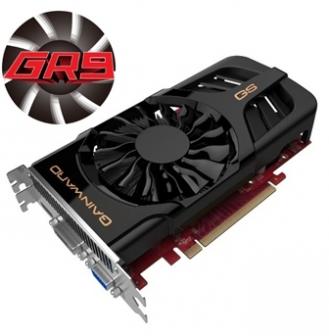 Gainward GTX 560 2048MB
Gainward GTX 560 2048MB runs at default GPU clock 810 MHz, while its shaders and memory ended up at 1620 MHz and 2004 MHz respectively. The huge display memory size offers users a future proof graphics solution for upcoming games with increasing memory requirement. It is not only equipped with QuattroPorts (Dual Dual-Link DVI, HDMI & legacy VGA ports) to fulfill universal connectivity to diverse displays but also benefits of the brand new Great 9cm(GR9) silent PWM turbofan, to demonstrate the excellent thermal performance, great stability.
Gainward GTX 560 series is the perfect upgrade of 1080p premium GTX gaming and it packs Nvidia graphics technologies - PhysX, CUDA & 3D Vision or more immersive 3D Vision Surround in SLI configuration. It has sweet price performance level with better power consumption. With Gainward GTX 560 series cooler, silent acoustics, lower power consumption, excellent over-clocking potential and stability, it outstands on the top among the industry's GTX 560 based and red camp's graphics cards.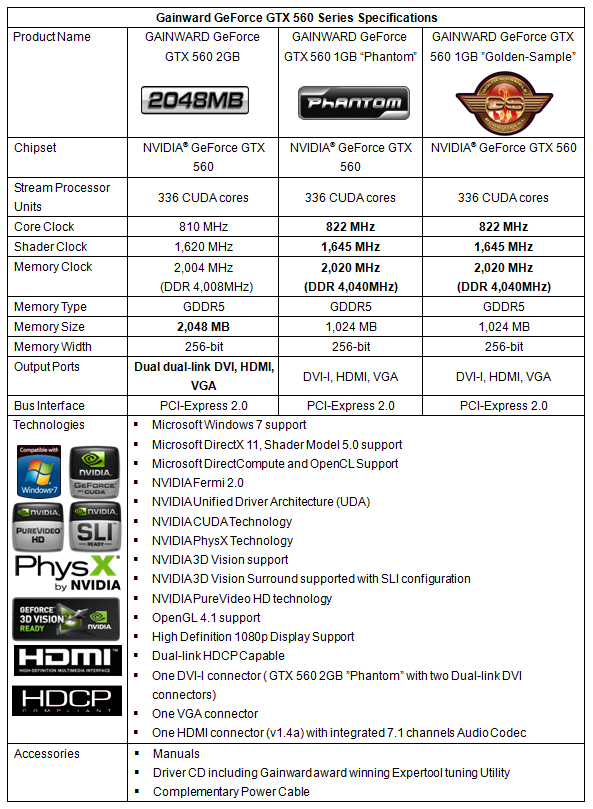 About Gainward
Gainward was founded in 1984 with a commitment to develop the most advanced graphics accelerators in the industry and ensuring the highest level of customer satisfaction. Received great reputation for manufacturing of leading edge products for the enthusiastic market. Gainward "Golden Sample" (GS) and "Golden Sample Goes Like Hell" (GS-GLH) are two signature synonyms for aggressive overclocked and extreme overclocked graphics cards in the gaming society. As one of the top graphics cards leading brands, Gainward continues to provide cutting edge products with excellent quality. Furthermore, Gainward brand name symbolizes our belief in gaining trusts and respects from our valued customers. With Headquarter based in Taipei, Taiwan, factory in Shenzhen, China and European Headquarter in Munich, Germany. Gainward is ambitious to address worldwide market and cooperates closely with its globally localized channel partners.
For further information please visit http://www.gainward.com
Last updated: Apr 7, 2020 at 12:04 pm CDT
PRICING: You can find products similar to this one for sale below.

United States: Find other tech and computer products like this over at Amazon.com

United Kingdom: Find other tech and computer products like this over at Amazon.co.uk

Australia: Find other tech and computer products like this over at Amazon.com.au

Canada: Find other tech and computer products like this over at Amazon.ca

Deutschland: Finde andere Technik- und Computerprodukte wie dieses auf Amazon.de
Related Tags